Equipment Loans
Equipment Loans - Data Projectors and Screens
Equipment Loans - Data Projectors and Screens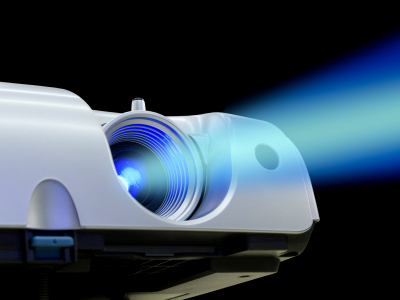 Data projector is a device which takes a video signal from laptop and projects the corresponding image on a screen. Screens are availble in all lecture rooms.
However, portable screens can be supplied to be used in the Hub or the Street.
Procedures to Connect Laptop to Projector
Turn on the projector and the laptop.
Connect the laptop to the projector with the supplied computer video cable VGA.

You may need to bring a VGA cable for some rooms, (check room facilities), and you will find a plug on the podium.

Ensure the correct source is set on the projector controller PC or laptop.
If the image is not displayed on the projector, you have to sync the projector and laptop by holding down the FUNCTION key (Fn) and pressing ONE of the following keys to toggle:

Pressing this key combination (waiting several seconds between pushes) will toggle you through 3 different settings:

Image on projector only.
Image on laptop only.
Image on both laptop and projector.
Projectors and portable screens are available to student and staff. Click here for booking
A video tutorial can explain the procedures in an easy way.
Connecting a Mac laptop:
Connecting a Mac computer to an overhead projector can be a little trickier. You will need a special adapter to connect to a projector using the supplied video cable. This is called a DVI-VGA adapter, and is available both from Apple and other electronics vendors. Plug the adapter to the DVI port on your Mac laptop, and then plug the cable into the projector and the adapter. Turn on the projector, then press and hold the "F7" key on your Mac.
ID Card
When staff or students are borrowing any equipment, they must leave their ID card with the ISS Servicedesk and collect it upon return of the equipment.