Information Systems Services
Desktop Development - Active Directory Migration
Microsoft Active Directory provides central authentication and authorisation services for DCU Windows-based computers. It also allows Network Administrators to assign policies, deploy software, and apply critical updates to networked computers. Active Directory was designed to support thousands of computers simultaneously.
When a user attempts to log on to a windows computer that is in Active Directory, it automatically attempts to verify the users' password with the Active Directory server.
ISS have successfully migrated DCU Windows computers to Microsoft Active Directory, encompassing changes to file, print and authentication services. Benefits of Active Directory include:
Automated software delivery
Patch Management
Remote Inventory & Administration
Improved desktop and laptop security
Better infrastructure management
DCU Company Portal, is the flagship systems management product from Microsoft. It is a comprehensive management solution for computer systems utilising Microsoft Windows operating systems. With Company Portal, ISS staff can proactively manage the entire lifecycle of all Windows-powered devices. This includes deploying and maintaining systems and software, responding to security threats, distributing settings, and analysing inventory data.
Reliability: Your device will quickly receive software updates and patches with little to no interaction on your part.
Time Efficiency: You will stay more productive as deployment and updating processes run in the background, freeing up more time for teaching, research and management.
Flexibility: You can choose when and where to install new software or run maintenance on your device through Self-service portals.
Security: You can rest assured that software patches, antivirus protection, and firewalls are well maintained.
Confidentiality: Your data and files will remain confidential; no personal data is scanned, indexed, or transmitted off your device. Company Portal also keep full audit logs of any actions performed by technicians.
Follow the instructions below and learn how to launch DCU Company Portal and install software.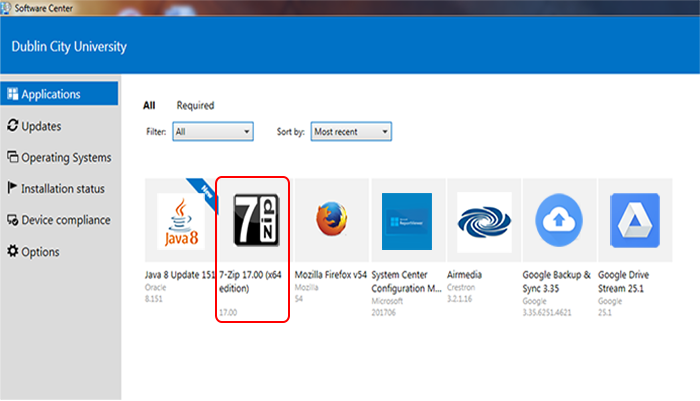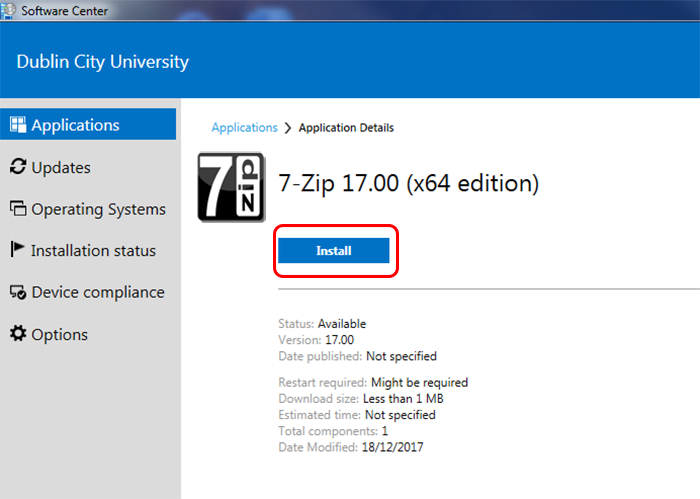 Open the run dialogue box on your PC by clicking the keyboard shortcut [Windows]+[R], see image below.
Type Company Portal into the dialogue box and then click ok.
Choose which software you wish to install, in this instance we have chosen 7 Zip.
Double click on the software icon to proceed to the next step.
Click the install button below the software icon to complete the process.
Once the software is installed it will be searchable via the run dialogue box and can be launched by double clicking on the software.