Information Systems Services
DUO 2FA
DUO - Two Factor Authentication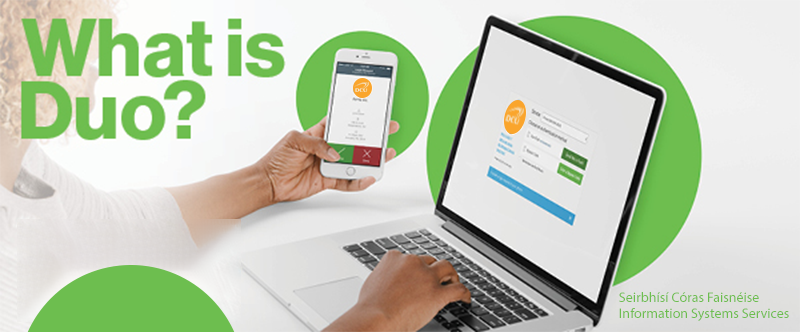 DUO 2 Factor Authentication (DUO 2FA)
DUO 2 Factor Authentication (DUO 2FA) is a security service for DCU staff that adds another layer of security to a suite of DCU systems and services such as DCU Apps & Pulse VPN.
In addition to your DCU password, DUO 2FA provides a second layer of security by sending an approval request to your mobile or tablet.
When you or anyone attempts to log into your DCU Apps account from a remote location a notification will be sent to your smart device which you can then approve with a push of a button.
What does DUO 2FA protect?
Requiring two modes of authentication helps DCU protect:
Your DCU Apps accounts
DCU Pulse VPN
Your privacy from cyber criminals
You from cyber fraud
Phishing attacks
Digital deception that may exploit compromised usernames and passwords.
DUO 2FA Introduction Video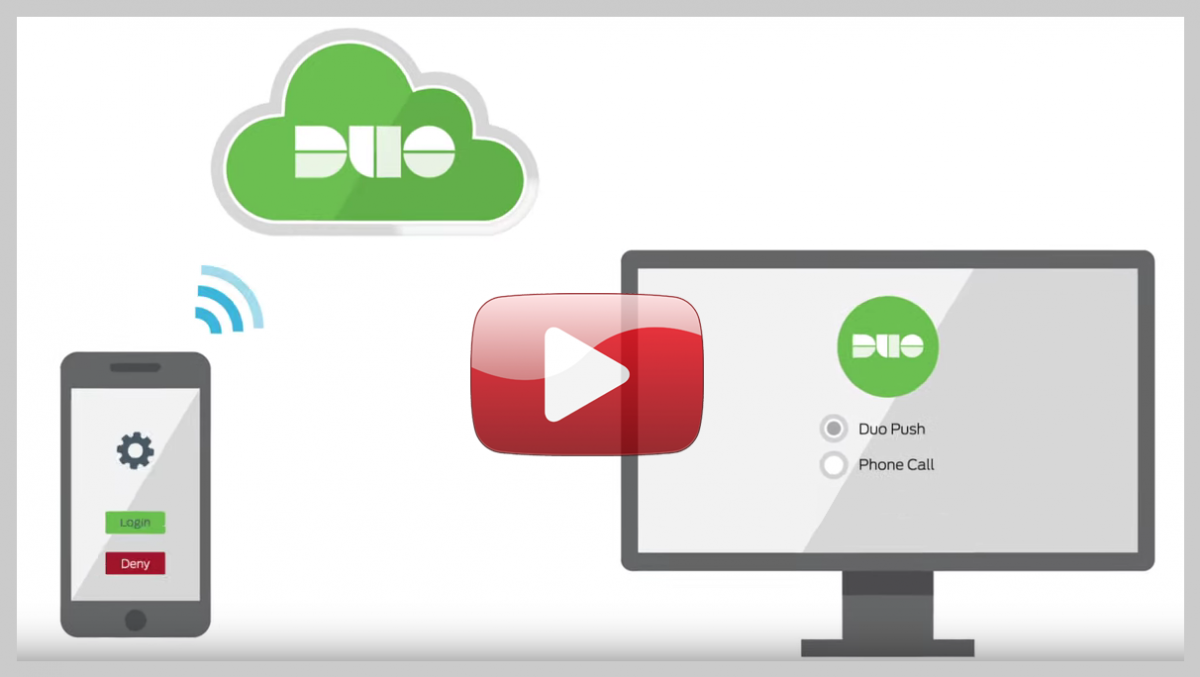 DUO 2FA protect requires 2 modes of authentication?
Once you're enrolled in Duo, you can log in using your DCU username and password, then confirm your identity using the DUO app on your smartphone.
Two modes of authentication include:
Something you know:

A unique username and password.

Something you have:

Usually, a smartphone with an app to approve authentication requests.
Benefits of Duo
Duo protects your account and your data.

To gain access to your account, an attacker would need your passphrase as well as the physical device you use with Duo. If all the attackers have is your password, they can't get in. If they somehow obtain your token or smartphone, they would still need your passphrase. In other words, one factor can fail, and the other will still protect you.

Duo protects DCU.

Duo provides improved security for DCU data assets, including accounts, applications and websites.

Duo offers flexibility.

You have choices in how you use it. You can receive the Duo code via a free mobile app on your smartphone, a hard token (a small device that typically resembles an electronic key or flash drive), or via a phone call or text.

Duo is a simple solution.

Duo offers simple integration with other services, and the app offers an easy interface.
Self enroll to DUO 2FA

Self Enrolment To DUO 2FA
For this process you will need a PC or a laptop and a mobile smart device with the DUO 2FA application installed.
To install the mobile device please visit the platform-specific app store from your mobile smart device, see links below.
You will receive an email from DUOSecurity.com with the following subject line: DCU Duo Security Enrolment
Within this email there is a link which is unique to you that you must click to commence the self enrolment process.
Once the link is clicked, you will be presented with the screens below, please follow the steps as outlined to enrol in DUO.
Welcome Screen.

Click Start setup to begin enrolling your device

Choose Your Authentication Device Type

Select the type of device you'd like to enroll and click Continue.
We recommend using a smartphone for the best experience, but you can also enroll a tablet.

Type Your Phone Number

Select your country from the drop-down list and type your phone number.
Use the number of your smartphone with you when you're logging in to a Duo-protected service.
Double-check that you entered it correctly, check the box, and click Continue.

Choose platform

Choose your device's operating system and click Continue.

Install Duo Mobile

After installing our app, please see links at the top of this page, return to the enrolment window and click I have Duo Mobile installed.

Activate Duo Mobile

Activating the app links it to your account so you can use it for authentication.
To do this you need to have the DUO app installed on your iPhone, Android, Windows Phone or tablet

Scan QR code

On your iPhone, Android, Windows Phone or tablet activate Duo Mobile by scanning the barcode with the DUO 2FA app's built-in barcode scanner.
Follow the platform specific instructions for your device:

Configure Device Options (optional)

You can use Device Options to give your phone a more descriptive name, or you can click Add another device to start the enrolment process again and add a second phone or another authenticator.
If this is the device you'll use most often with Duo then you may want to enable automatic push requests by changing the When I log in: option and changing the setting from "Ask me to choose an authentication method" to "Automatically send this device a Duo Push" or "Automatically call this device" and click Save.
With one of the automatic options enabled Duo automatically sends an authentication request via push notification to the Duo Mobile app on your smartphone or a phone call to your device (depending on your selection).
How to log into DCU Apps with DUO 2FA
Log into DCU Apps via apps.dcu.ie

Open a Chrome browser and type apps.dcu.ie into the search bar.
You will land on the DCU sign in page.
Enter your DCU user name and password and press The blue Login button.

Choose your authentication method

You will be presented with the screen below, please choose our preferred method which is a push notification.
This will open a screen on your mobile device or tablet, please see next step.

Authenticate your identity with DUO 2FA application

On your mobile device you will be presented with a screen from which you have Two options.
To confirm your identity and to proceed to DCU Apps, please tap on the green approve button.
You have now successfully logged into DCU Apps using DUO 2FA.
DUO 2FA - Glossary & FAQ's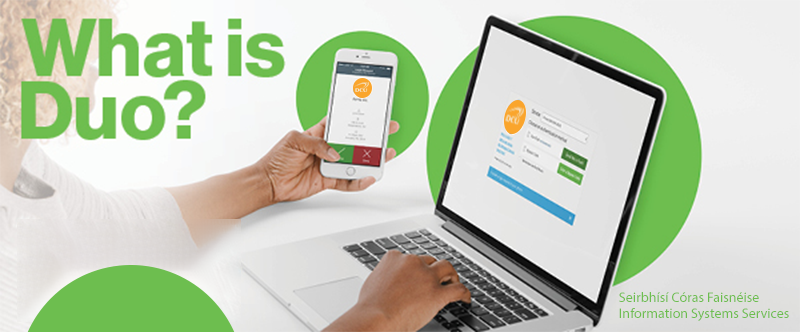 Glossary
2FA (two-factor authentication):
2FA an additional layer of authentication beyond a username and password.
2FA involves something you know (password) plus something you have with you (like DuoMobile on your smartphone) to prevent someone from logging in with only your password.
With Duo 2FA, you still enter your username and password.
The second factor provided by Duo is simply an added layer of security on top of your existing credentials. We recommend using Duo Push via the Duo Mobile app to perform 2FA.
Duo Prompt:
Duo Prompt is an interactive prompt lets you choose how to verify your identity each time you log in (e.g. "Duo Push" or "Call Me") to a web-based application.
The Duo Prompt allows you to enroll and authenticate.
Passcode:
These are numeric codes that can be generated via the Duo Mobile app.
Passcodes may be used at any time and are particularly handy for authenticating when your DUO 2FA device doesn't have internet or cellular service.
Push Notification (Duo Push):
A push authentication request that is sent to the Duo Mobile App on an enrolled device.
Push notifications include information like the geographical location of the access device, IP address of the access device, and the application being accessed so you can verify whether the push is real or fraudulent.
Self-service portal:
If the self-service portal has been enabled for use in the Duo Prompt, you can click "My Settings & Devices" to add additional devices or update authentication method settings right from the Duo Prompt.
FAQ's
What is Duo Mobile?
Duo Mobile is a mobile application (app) that you install on your smartphone or tablet to generate passcodes for login or receive push notifications for easy, one-tap authentication on your mobile device.
It works with Duo Security two-factor authentication (DUO 2FA) service to make your logins more secure.
When will I be asked to use 2FA?
You will be required to use DUO 2FA when accessing DCU Apps when you are not on a DCU campus.
If you are working on a campus and connected to the DCU network, you will not be prompted to authenticate use DUO.
What is the recommended two-factor authentication method?
Is there an alternative way to authenticate?
Does DUO collect personal information?
What if I forget my mobile device?
This is not an issue as DUO 2FA is not required when you are on any DCU campus.
If you are off campus and do not have access to your mobile device you can contact the ISS service desk and you can be granted access.
Do I need a smartphone or data plan to use two-factor authentication?
No, having a smartphone makes for an easier and more secure experience with Duo 2FA, however it is also possible to enroll a non-smartphone mobile device or landline to receive phone calls.
Can Duo see my password?
No, your password is only verified by your organization and never sent to Duo.
Duo provides only the second factor, using your enrolled device to verify it's actually you who is logging in.
How does DUO 2FA work with generic DCU accounts?
How much data does a Duo Push request use?
Duo 2FA requests require a minimal amount of data -- less than 2KB per authentication.
For example, you would only consume 1 megabyte (MB) of data if you were to authenticate 500 times in a given month.
Where do I install the DUO app from?
On Android devices you can download the app from the Google Play Store
On Apple devices you can download the app from the Apple App Store
On Window devices you can download the app from the Window Store
Please ensure that you are signed into the relevant Store prior to commencing the installation process.
Does using Duo give up control of my smartphone?
No, the Duo Mobile app has no access to change settings or remotely wipe your phone.
The visibility Duo Mobile requires is to verify the security of your device, such as OS version, device encryption status, screen lock, etc.
DUO 2FA use this to help recommend security improvements to your device.
You always are in control of whether or not you take action on these recommendations.
Is it possible to add a second device?
What is a DUO 2FA security check up?
DUO 2FA security check up checks the following to ensure that they are all up to date:
Smartphone or Tablet operating system is up to date.
DUO 2FA application is up to date.
Fingerprint is enabled.
Screen lock is enabled.
The device is not jailbroken.