Information Systems Services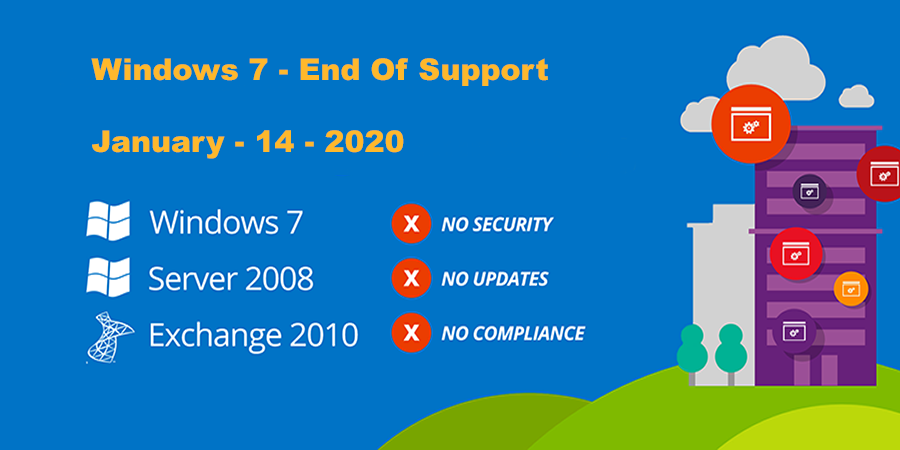 Above Image
How to prepare for Windows 7 End of Life
Microsoft Windows 7 End of Life – 14th January 2020
The Windows 7 End of Life date has been announced: January 14, 2020. This means Microsoft will no longer update or support Windows 7 operating system after that date. Windows 7 is effectively nearing the end of its product lifecycle
What is a Windows Product Life Cycle?
All Windows products have a lifecycle, beginning with their release and ending with the end of support. In the past, these lifecycles lasted anywhere from five to ten years, depending on the product.
Typically, this includes two service periods: mainstream support and extended support. Mainstream support includes security patches as well as new features and often covers several years. Extended support begins once Microsoft is no longer actively developing the product, shifting instead to the release of updates to keep the product safe.
End of life is the point at which no further support will be extended.
What does this mean for me?
Continuing with Windows 7 beyond this date will expose serious risks to the DCU network such as security compromises, data breaches, virus and malware attacks.
Any PC or Laptop running Windows 7 after January 14, 2020, will be blocked from the DCU network until the operating system has been upgraded to Windows 10.
I use a Dell computer, can I upgrade to Windows 10?
Yes, if you are running Windows 7 with the minimum required hardware specifications, it is possible for ISS to upgrade your PC or laptop.
None of your existing applications will be affected but we do advise that you back up all your data before we commence the process.
What should I do next?
If you are running Windows 7 we advise that you contact ISS so we can arrange a time that suits both parties for the upgrade.
ISS has undertaken an analysis of DCU computers running Windows 7 to determine which computers can be upgraded or need to be replaced.
This means you'll experience the minimum of disruption when upgrading to Windows 10. Most programs you use will have been updated to work on Windows 10 as well, and the layout and interface are similar to Windows 7, so you shouldn't find it too hard to adjust.
Windows 7 End of Life: back up your documents.
It is important that you make sure that your documents are safely backed up. If you're upgrading to Windows 10 from Windows 7 on the same machine the transfer of your files is part of the process, but it's best to back up just in case something goes wrong.
The ISS preferred solution is as follows:
PC Requirements
If your desktop or laptop is more than five years old, ISS advise that you should replace it with a new PC or Laptop at your earliest convenience.
To check how old your Dell computer is, click here and enter the 7-character Service TAG number of your computer in the space provided. The Service Tag number can be found on the top, side or back of the computer.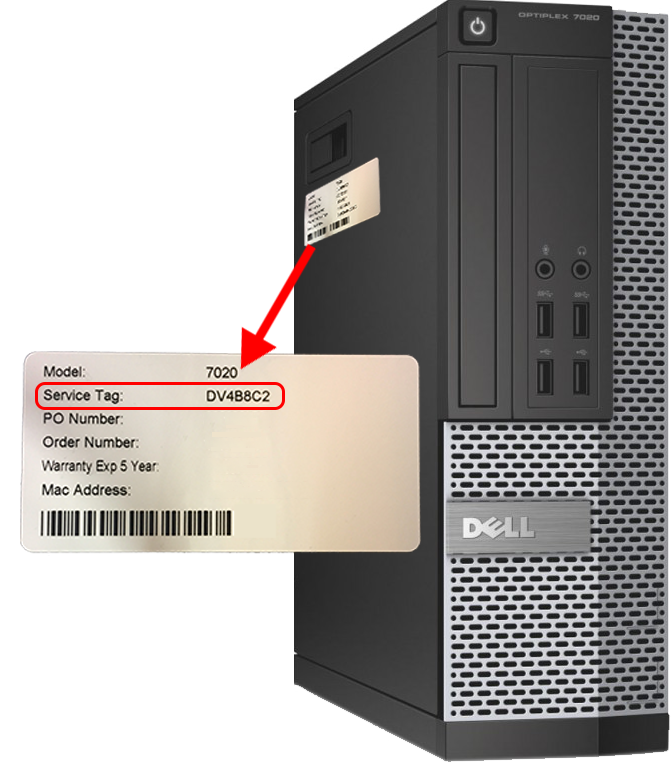 If your Dell desktop computer has less than four digits in its title e.g. Dell OptiPlex 790, then it is not supported for Windows 10 and needs to be replaced.
ISS are happy to provide advice and guidance regarding the requirements for upgrade/replacement as well as the options available.
Full details on how to purchase new computers from Dell yourself once you have decided what is needed are available from the ISS procurement web page.
ISS will be able to upgrade suitable computers and will be engaging with the DCU community throughout 2019.