IRIS Dashboards
To go directly to IRIS click here or otherwise check out the support information below
Programmes Review Information
Programmes Review Information
To log onto IRIS (Dashboard) CLICK HERE
To view Programme Review user guide CLICK HERE
For support on technical issues contact Service desk ext 5007
The Presidents office alongside Research and Innovation Support and ISS have come together to create a series of reports and dashboards based on student and research data. New reports and functionality are in the pipeline.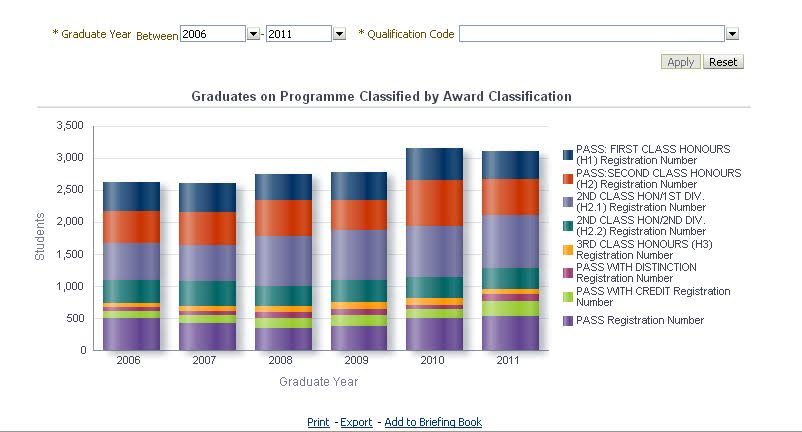 This data is available to authorised users at dashboards Currently only available over the DCU network, fixed or mobile.
Due to the nature of the data, access is strictly controlled and is granted by the Reporting Group Chair. Users are required to have completed DCU data protection courses before accessing the system.
Each report contains its own unique FAQ and help guide to guide you through the report structure and explain the data you are viewing, all fully compatible with MS office and pdf download
The system is intuitive and requires a browser, URL and network password to access. Click HERE to see a video on how to use the system. Users can create their own individual customised dashboards as required using existing reports.
Dashboards work across all browsers and both windows and macintosh environments. All data is fed live from systems, however once displayed in manipulable (sorts, hide columns etc) by a user
Dashboards Mobile
Dashboards Mobile
As part of the roll out of DCU reporting dashboards, those staff with access to student or research dashboards as well as viewing them over the internet can also view these on the move on Iphone or Ipad, using the IPhone mobile app (search App store for Oracle business intelligence mobile).
You can view a promotional video on youtube here.
Initially this service is available on campus wired network and to those users on DCU secured wireless network eduroam.
To configure
Download the app
Select Add server
Name DCU, Host magneto.dcu.ie, enter DCU username and password and select save
Assure you are on the eduroam network (settings, wi fi and select eduroam)
Accessibility
Accessibility
As well as being available on mobile and fixed devices allowing access to the data anywhere on campus, users have the option if required of "data accessibility" , this allows users to display all graphical elements of the report as text. This allows for further screen readers, download to excel tables or if you just to wish to manipulate the data in a table.
To enable accessibility mode using keystrokes:
Sign into Oracle BI EE, as described in "Signing In Using Keystrokes".
Press TAB multiple times to navigate through the global header, until the focus is on your user name in the

Signed In As

area.
Press ENTER, then TAB to highlight the

My Account

link.
Press ENTER to display the "My Account dialog".
Press TAB to select the "My Account dialog: Preferences tab".
Press TAB to navigate through the fields on the tab until you reach the

Accessibility Mode

options.
Use the arrow keys to select the

On

option.
Press ENTER to save your changes and close the dialog.
Refresh the page to see it displayed in accessibility mode.