Staff Printing
STAFF PRINTING
Staff Managed Print Information
Staff Print using the Safe Q print management server. Mono should be the default.
The queues should automatically appear through Active Directory in the Printers section but can be manually added from the following queues;
\\safeq-app-01\DCU-STAFF-BW \\safeq-app-01\DCU-STAFF-COLOUR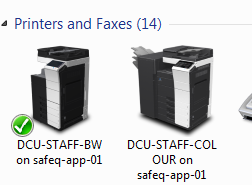 Escalation Information:
MJ Flood monitor all Konica printers for toner levels and organise replacements.
How to Print / Photocopy / Scan
Mobile print
Web Print
Email
To use this feature you must use a DCU email account such as Joe.bloggs@dcu.ie. Then compose an email as per normal in Google mail, attach the document you wish to print and then send it to print@dcu.ie.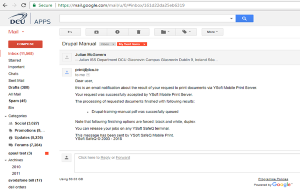 You will then receive an email from the YSoft Mobile Print Server informing you that your file has been queued and ready to be printed in black and white, duplex on your printer.
All major documents formats are supported -
Ms office family of documents - docx, doc, ppt, pptx, xls, xlsx etc.
Html documents - htm, html etc.
Image files - jpeg, png, bmp, gif, etc.
Other - pdf, epub, txt, etc..