UniCam
Video Capture Introduction
UNICAM is a state of the art, video capture platform built specifically for third-level educational institutions which provides intelligent video capture solutions for lecturers and students, linking directly to their DCU accounts.
UNICAM is intuitive and easy to use video solution which can be accessed and controlled via a web browser and does not require users to install any software or apps on their devices.
UNICAM is a robust and proven platform that is geared towards improving learning outcomes at third level educational institutions.
Features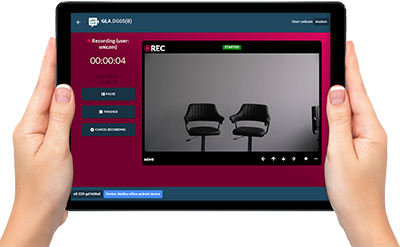 Record and share lectures, tutorials and corse work - High quality video and audio is saved directly into your DCU student apps account.
Live stream lectures - Participants can engage with Live Steam Presentations.
Upload directly to LOOP - DCU students and lectures to updated directly to their LOOP accounts.
Available Rooms for Video Capture in DCU
Lab
Location
Ceiling Mics
Wireless Mics
GLA.SA101
Stokes Extension

✔

available from technician
GLA.SA105
Stokes Extension

✔

available from technician
GLA.SA106
Stokes Extension

✔

available from technician
GLA.SA108
Stokes Extension

✔

GLA.SA216
Stokes Extension

✔

available from technician
GLA.SA217
Stokes Extension

✔

available from technician
GLA.SA301
Stokes Extension

✔

available from technician
GLA.C165
Henry Grattan Building

✔

GLA.CG08A
Henry Grattan Building

✔

GLA.CG08B
Henry Grattan Building

✔

GLA.Q303
DCUBS

✔

available from RM Q320
SPC.F117
St Patricks Campus, F Block

✔

SPC.F119
St Patricks Campus, F Block

✔

SPC.F126
St Patricks Campus, F Block

✔

SPC.F134
St Patricks Campus, F Block

✔
How to Login and Begin Recording
How to Login and Begin Recording
Login to UniCam via: https://dcu.uni.cam
Select the DCU room number that you are in from the list.
Enter the 4 digit access code that is displayed on the top right of the podium touch panel
Click the Connect button and you will have access to the camera in the room
To move the camera angle, click on the arrows below the camera image
Use the + and - buttons to zoom in and out
To begin a recording, click Record. The background colour will turn red to indicate it has started recording
To pause a recording, click on the Pause button and click Resume when ready to re-start
When the recording is over, click on Finish and click Yes, a message will be displayed that the video is processing and will upload once complete
If you are finished recording, click Logout
Once the video is ready, you will receive an email to your DCU mailbox that the video is ready to view and download
How to Record with a Presentation in Picture
How to Record with a Presentation in Picture
If you want to also record your presentation in the video, log in to the video capture system as normal
Open your presentation or document that you want to include in the video as fullscreen
Open the browser with the Video Capture window and click on Share Screen
In the pop-up window, click on Application Window and select the document you want to add to the recording and click Share
If you are using the Chrome browser, you will get a message at the bottom of the screen, click Hide
Click Record when you are ready to begin
When complete, click Finish and Yes
If you are finished recording, click Logout
Once the video is ready, you will receive an email to your DCU mailbox that the video is ready to view and download