Primary Department
School of Language, Literacy & Early Childhood Education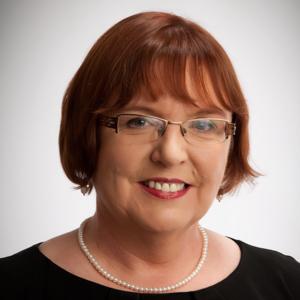 Phone number:
Email Address
bernadette.dwyer@dcu.ie
Campus
St Patrick's Campus
Academic biography
Bernadette Dwyer is an Associate Professor in the school of Language, Literacy and Early Childhood Education where she lectures and researches in the area of Literacy . Since 1979, Bernadette has gained extensive experience in the field of education as a primary teacher, teacher educator, PD consultant, and researcher. She was a classroom teacher and Learning Support teacher, in a variety of settings, including DEIS Band 1, at all levels of the primary school, for over twenty three years. Since joining the faculty in 2002, Bernadette has taught on a wide range of courses in Literacy at both undergraduate and postgraduate levels. She currently serves as the faculty ethics advisor and is the chair of the Faculty Ethics Review Panel (FERP).


She earned her PhD from the University of Nottingham, UK. Her doctoral dissertation entitled, "Scaffolding internet reading: A study of a disadvantaged school community in Ireland" was a distinguished finalist in the Outstanding Dissertation of the Year award (2011) for the International Literacy Association. She has published referred articles in high ranking journals, chapters in books, commissioned reports, and has edited conference proceedings. Her most recent book publication is Using technology to improve reading and learning. Bernadette is a regular presenter at both national and international conferences and has given a range of invited keynote addresses at conferences around the world.

In 2016, Bernadette was awarded the DCU President's award for engagement in the community for the Chekhov Ebook Lit4life project. The project is a partnership between Microsoft, UNESCO, Mediacraft, and DCU. In 2017, she was awarded the Technology in Reading Research Award by the TILE-SIG of the International Literacy Association for her 'scholarly and practical contributions to the field of literacy and technology integration.'

Bernadette served on the executive committee of the Literacy Association of Ireland (LAI) from 2002-2015. She was President of LAI in 2005-2006.

Bernadette was elected to the Board of Directors of the International Literacy Association (ILA) (2013-2016). In 2017, she was elected by members of ILA to serve on the executive of the ILA board. She served as Vice President (2017-2018), President (2018-2019), and Immediate Past President (2019-2020) of the International Literacy Association.

Bernadette is currently engaged in research in the areas of multimodal/ digital literacies; inquiry-based learning; disciplinary literacies; reading comprehension; and supporting struggling readers and writers.
Research interests
Digital and Multimodal Literacies
Disciplinary Literacies
Online reading Comprehension
Internet inquiry skills strategies and dispositions
Inquiry-Based learning
Informational text
Visual Literacies