Primary Department
School of Law and Government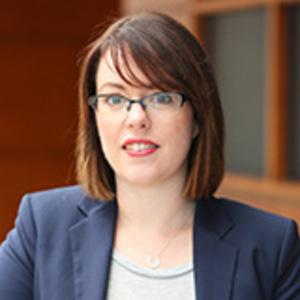 Phone number: 01 700

6049
Email Address
vicky.conway@dcu.ie
Academic biography
Dr Vicky Conway joined the School of Law and Governance in DCU in July 2015, having previously held positions at the University of Kent, Queen's University Belfast, the University of Limerick and the University of Leeds. Vicky is a graduate of UCC (BCL 2001, LLM 2002), the University of Edinburgh (MSSc Criminology 2003) and Queen's University Belfast (PhD 2008, PGCert Higher Education 2010). She was made Associate Professor of Law in 2017 and is the School's first Convenor of Equality, Diversity and Inclusion.
Vicky is a committed socio-legal scholar who believes that academic research should be innovative and challenge and aim to directly inform legislative and policy developments. She is a leading researcher on policing in Ireland with an emphasis on the intersection between social change, police culture and police accountability. Her expertise in this area has been recognised in a number of Government appointments. She has served twice as a member of the Policing Authority, and served on the Commission on the Future of Policing (May 2017- Sept 2018)

Along with colleagues Dr Yvonne Daly (Law and Government) and Dr Yvonne Crotty (Institute of Education) she was part of an EU Commission funded grant called SUPRALAT (
http://www.salduzlawyer.eu/
) which developed training for criminal defence solicitors to enable them to best defend their client's rights in the garda station. Now accredited by the Law Society of Ireland, she and Dr Daly continue to deliver this training.

In 2020 she started an innovative podcast called Policed in Ireland (@policedpodcast) which creates a space to hear the lived experience of being policed in Ireland.

Vicky teaches across a range of modules related to criminal law, criminology and policing. She has held visiting scholar positions in North America, Australia and Ireland.

Vicky regularly contributes to media discussions on policing and criminal justice.
Research interests
The central focus of my research to date has involved a critical analysis of policing in Ireland, the first of its kind to draw on legal, sociological and criminological theories. Applying a diverse range of methods from legislative and case-law analyses, oral history interviews with retired police, and documentary and discourse analyses, I have produced a critical assessment of the development of policing in a post-colonial, post-conflict society. Combined with empirical data part-funded by the British Academy, this work (Policing Twentieth Century Ireland) was published by Routledge in June 2013 to excellent reviews. In Theoretical Criminology 19(3)(2015) Mulcahy described it as "a most welcome—and much needed—addition to the literature on policing in Ireland."
A second aspect of my work investigates the governance and accountability of public police. I have co-organised (with Dermot Walsh) an international conference on police governance which attracted participants from Europe, America and Australia. The papers were disseminated through a double special edition of the leading American journal, Crime Law and Social Change and have been widely accessed and cited. This work is critical to my contribution to the Policing Authority, evidence that I am recognised to be Ireland's expert on police governance and accountability.
A third area of research concerns criminal procedure which builds on previous publications concerning miscarriages of justice, and a textbook Irish Criminal Justice: Theory Process and Procedure. I was part of a European Commission funded project (€580,000) which developed and delivered training for lawyers on attending interviews in police stations. This project was in partnerships with colleagues in Belgium, Hungary and the University of Maastricht. With Prof Yvonne Daly, I am currently writing a book on Criminal Defence Representation in Garda Stations with Bloomsbury.
Finally I am actively engaged in research on Ireland's abortion law. Having been commissioned by Labour Women to draft legislation which could operate post-repeal of the 8th amendment to the Constitution, I have been invited by numerous NGOs and political parties to advise them on the key issues. This work has involved collaboration with a large number of academic and practitioner colleagues. I am currently working on a number of publications concerning the criminalisation of abortion in Ireland.