Information for Staff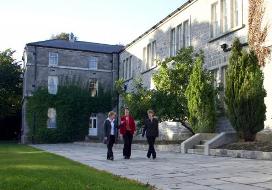 The Library works with all schools, faculties, centres and units to support the teaching and research needs of DCU. To this end, a Subject Librarian is designated as the key contact for each school and research centre.
Your Subject Librarian also works closely with each school's Library Liaison Officer or centre contact on all matters relating to the Library. We strongly recommend that all new staff arrange a meeting with their Subject Librarian at their earliest convenience.
Services
Teaching
Research

ISBNs - The Library is responsible for
issuing ISBNs for DCU publications.
To obtain an ISBN please email
fran.callaghan@dcu.ie




.
How to order books & e- books
Please use the Online Order Form.
For authentication you will need to enter your DCU username and password to access the online order form. Please complete form, compulsory fields have a red asterisk beside them, and it will be sent to your Subject Librarian automatically. If you have any questions please get in touch with your Subject Librarian.
Ordering books & building library collections
The Library allocates a fund for book purchases (print and e-books) to each school on an annual basis. This fund is managed by your Subject Librarian in collaboration with school Library Liaison Officers. The fund is available to ensure the Library has copies of all books from module reading lists, and to support school research activities.
Main Lending Collection
The Main lending collection is where most of the books are located. The loan periods are for 3 weeks or 1 week.
Short Loan Collection
The Short Loan Collection is for essential texts from reading lists with multiple copies. The loan periods for this collection is 48 hours, thereby ensuring maximum availability to students.
Ordering books on reading lists
If you have recently updated your reading lists, please ensure you order new material well in advance of the beginning of each semester. The number of copies of a title will depend on the number of students.
Short-term transfer of material to the Short Loan Collection
Staff can request that items be added to this collection at peak times only, for example around exam time or project time. To request a short-term transfer, contact your Subject Librarian.
Short Loan Collection Review
Material in this collection is reviewed on an annual basis and items not used within the Academic year will be removed from this collection.
Monitor the progress of orders
You can monitor the progress of all orders via the Library's Catalogue:
once a book, or other item, has been ordered, it appears in the Catalogue .
The record will indicate that it is "on order".
When the item comes into the library, this will change to indicate "received".
If you require a "received" item urgently, fill in a Rush Processing Form at the Information Desk or contact your Subject Librarian and this item will be available in three days
When the item has been catalogued and added to the collection, it will indicate "Available" and will be on the shelf to borrow
We will send you an email to notify you that the book you ordered is now available in the library to borrow