Library Search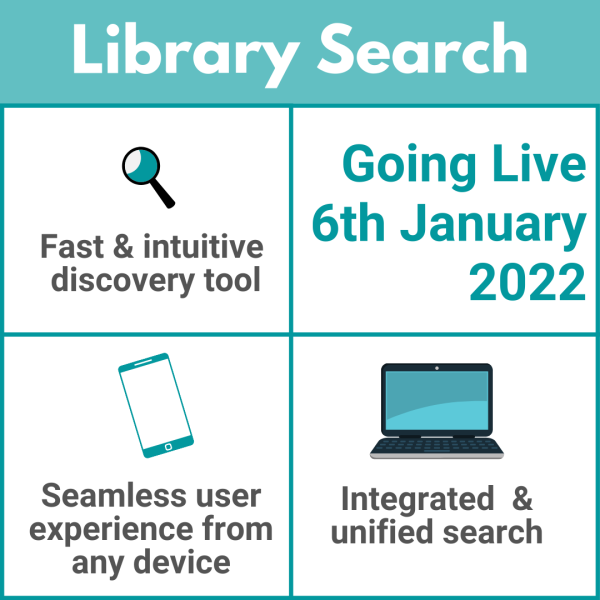 Delighted to announce the launch of our NEW Discovery Tool LIBRARY SEARCH
Single search box 
Library Catalogue & Find Articles search combined
Seamless access to your library account
Advanced searching; increased filter limits
Save results and view search history
Search from any device
Zoom sessions now finished - take a look at our Getting Started tutorials below.
---
We are running 15 minute bite-sized Library Search Introduction Sessions.
           Tuesdays & Thursdays @2pm in January 2022
             Book Online via the online booking form
These sessions will introduce you to our new discovery tool, Library Search and how to :
find a book on a reading list
find a journal article on a reading list
run a general keyword search
reserve an item
view your Library Account
How to find a Journal using Journal Finder
          How to find a Journal Article 
Library Search will combine the best features of what our Library patrons have become accustomed to in the current catalogue with the addition of increased searching functionality. In addition, these features will be provided through a single search point. 
Library Search will offer the discovery of a wide variety of the Library's collection of scholarly resources including books, journal titles, journal articles, research dissertations and more. Additionally, the new system supports Single Sign-on, so DCU Library patrons will be able to use their DCU username and password to access their account and request materials instead of a separate pin.
We are excited to provide the DCU community with an improved discovery experience and increased level of functionality and will transition to Library Search on the 6th January 2022.
Library Search will allow better access and management of the Library's print, electronic, and digital collections as well as an improved usage and discovery of shared items across all Library locations.
Other enhanced features will include:
Quick searching based on Title, Subject, Author, etc.
A better integration of the Library's electronic and digital collections
Advanced searching with Boolean operators and increased filter limits for more precise results
A single, unified catalogue to search for a wide variety of Library items
A Virtual Browse feature for print books to see what's related to the book by subject area
Single Sign-on, so Library patrons can use their DCU username and password (instead of a separate pin) to log in to 'My Account', request books, review what's checked out, and save records and searches
Over time, the world of libraries, information management and accessibility has been completely transformed. The single biggest change has been the move away from a print-dominated environment to one that is increasingly, if not predominantly, online. This change, allied to our mission to provide a seamless user experience when searching our collections, was the catalyst for DCU Library to begin a major project in August 2020 to replace its current Library Management System (LMS). Over the last six months, DCU Library has prepared patron data and library resources to be seamlessly migrated into a new system. The cumulation of this project was the selection, purchase, and implementation of Ex Libris' Alma library services platform (LSP) and Primo VE user interface.
Moving forward, the user interface will be renamed to Library Search.