Summer in DCU Library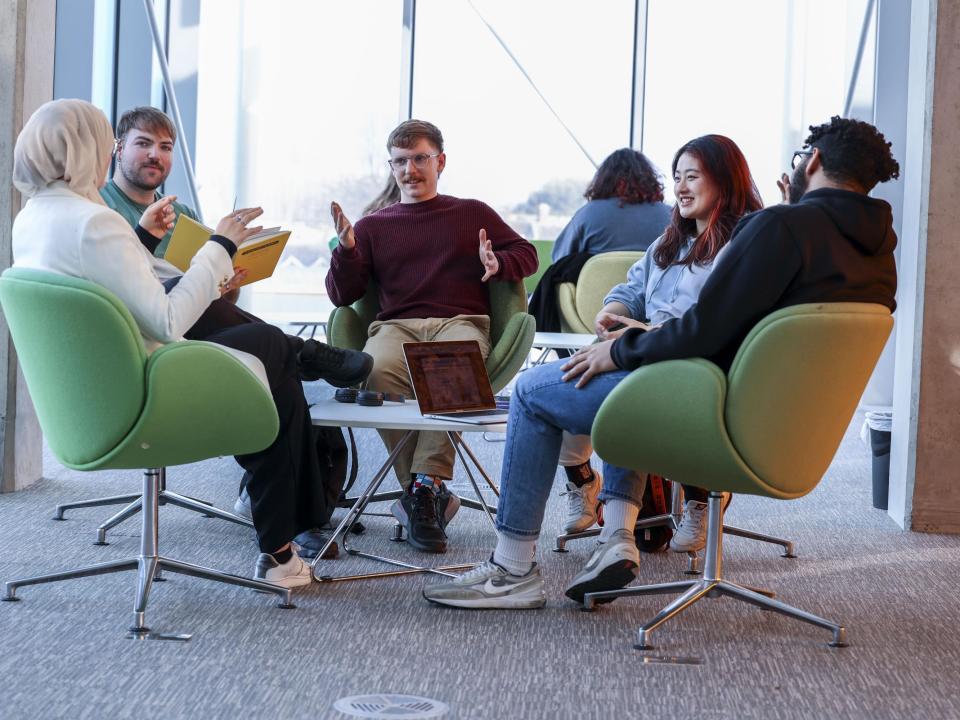 Check out the sections below for more details on the opening hours in Cregan, O' Reilly and Woodlock Hall library, how to contact us, the different ways to access our collections, and even some summer reading recommendations! 
May 2nd - May 7th 2023
| | | | |
| --- | --- | --- | --- |
| Tuesday 2nd May 2023 - Sunday 7th May 2023  | Cregan Library | O' Reilly Library | WoodLock Hall Library |
| Monday - Friday** | 08:30 - 00:00 | 08:30 - 00:00 | 09:30 - 17:00 |
| Saturday | 09:30 - 17:00 | 09:30 - 17:00 | Closed |
| Sunday | Closed | Closed | Closed |
May 8th - May 28th 2023
| | | | |
| --- | --- | --- | --- |
| Monday 8th May 2023 - Sunday 28th May 2023  | Cregan Library | O' Reilly Library | WoodLock Hall Library |
| Monday - Friday** | 08:30 - 00:00 | 08:30 - 00:00 | 09:30 - 13:30 |
| Saturday | 09:30 - 17:00 | 09:30 - 17:00 | Closed |
| Sunday | Closed | Closed | Closed |
DCU Library offers a variety of flexible study spaces to suit all student needs. Whether you prefer group study, casual soft seating, or traditional desk seating, you can find it all across our three library locations. Our study spaces are equipped with reliable and secure wifi (Eduroam), making it easy to stay connected and access resources while studying.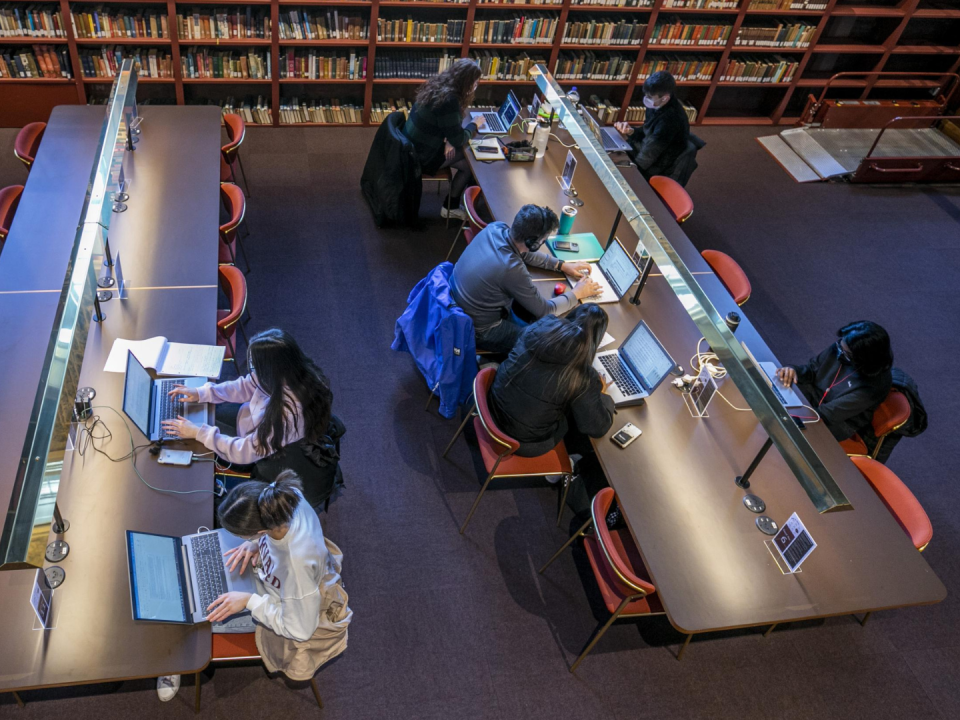 All our library study spaces remain open and accessible during the summer months. However, please note that group study rooms cannot be booked, these rooms are available on a first come, first serve basis. Opening hours have been slightly reduced too, so check the opening times of your chosen library before your visit.
Our aim is to provide an inclusive environment that caters to the diverse needs of our student community. We are committed to providing comfortable, safe, and accessible study spaces for all students, and we invite you to make use of our facilities throughout the summer months.
Borrowing Entitlements
Undergraduates can borrow up to 14 items 
Taught and Research Postgraduates can borrow up to 20 items
Bachelor of Education (B Ed) students can borrow up to 20 items
Some books can only be borrowed for 48 hours. These books can be identified by red tape around the base of the book spine
To borrow, you must have your DCU ID card.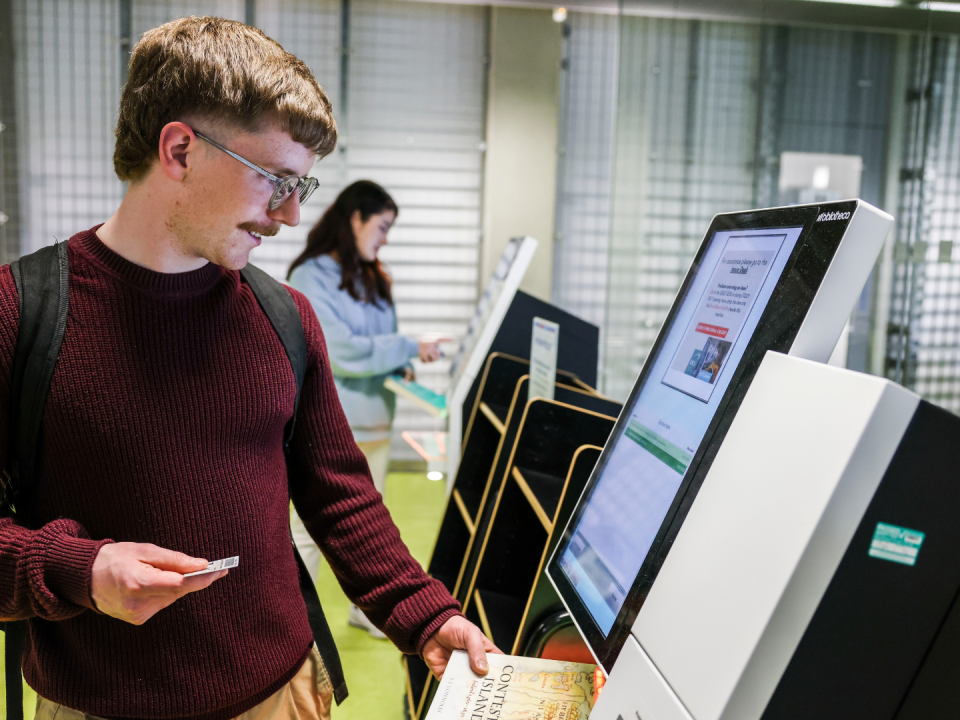 Bring the book to a self service machine found in any of our three libraries.
Press Borrow and follow the onscreen instructions. 
Always print or email an issue receipt to view the due date of when the loan is to be returned to the library.
Remember: Only TWO 48 Hour Loans can be borrowed at a time
Tip: Sign in to My Library Account online to check the due date of each item you have on loan.
To avoid borrowing restrictions, all loans must be returned to any DCU Library site on or before the due date.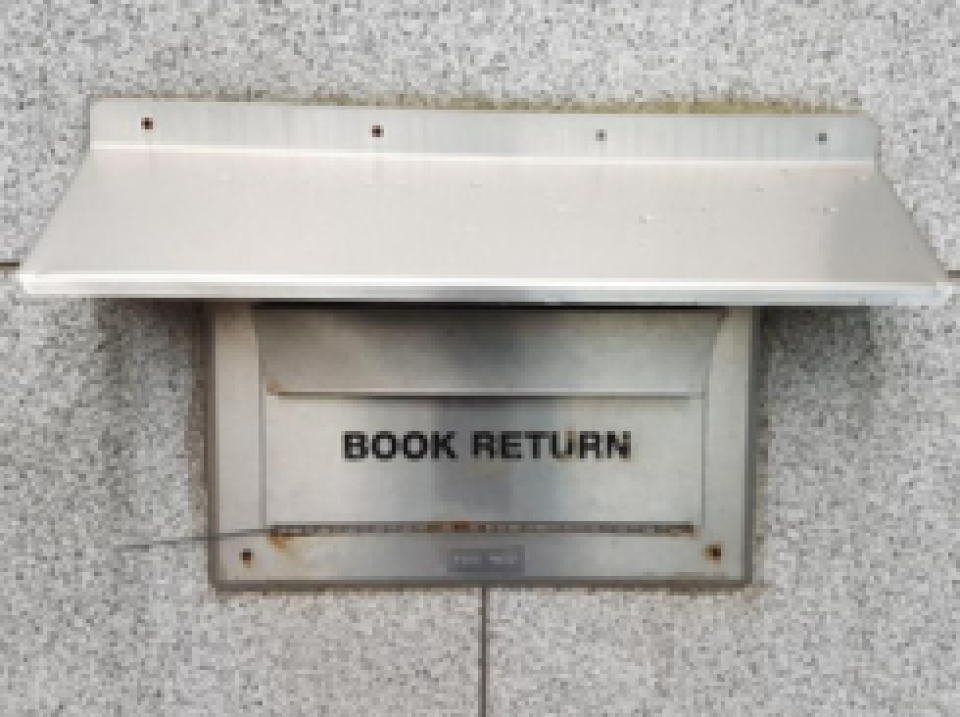 Bring the book to a self service machine found on the ground floor in the library.
Press Return and follow the onscreen instructions.
A book that has been requested by another patron or its home library it cannot be returned on a self service machine.  Return these books to the Issue Desk (or Book Return Facility outside staff service hours).
Always print or email a return receipt to confirm the transaction.
An external Book Return Facility is also located outside the O'Reilly Library and is open to receive materials from all DCU libraries during Study Only and library closure times.
Remember:
There are no fines, however, you may not borrow additional materials or renew loans until all overdue loans are returned. 
It is the responsibility of the patron to be aware of the due date for material and to return material on time regardless of any reminders.
Not finished with a book by its due date? No problem!
It's easy to go online and renew your loan.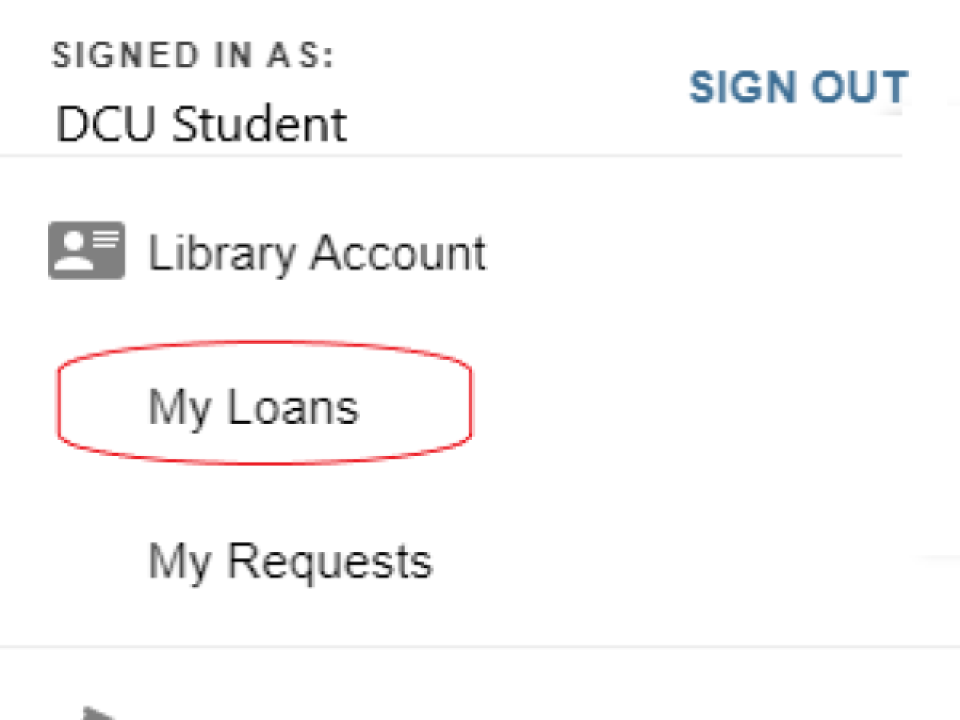 To renew a book, sign in to My Library Account and select the Loans tab.
Click on the Renew button beside the book(s) you wish to extend the loan period.
Books can be renewed a maximum of 3 times before they must be returned to the library.
Books that have been requested by another patron cannot be renewed.
Always renew a loan before the due date as after that date has passed the book will need to be returned to the library.
Contact issuedesk@dcu.ie for assistance.
Remember: 48 Hour Loans CANNOT be renewed.
Tip: The Library will send you a courtesy reminder the day before the due date (to your DCU email account) to indicate an item you have on loan is due for return.
All items in 1 Week and 3 Week loan collections can be requested if they are on loan to another patron. Items from the 48 Hour loan collection: core module materials cannot be requested.
Tip: Always sign in to Library Search to get access to Request options where available.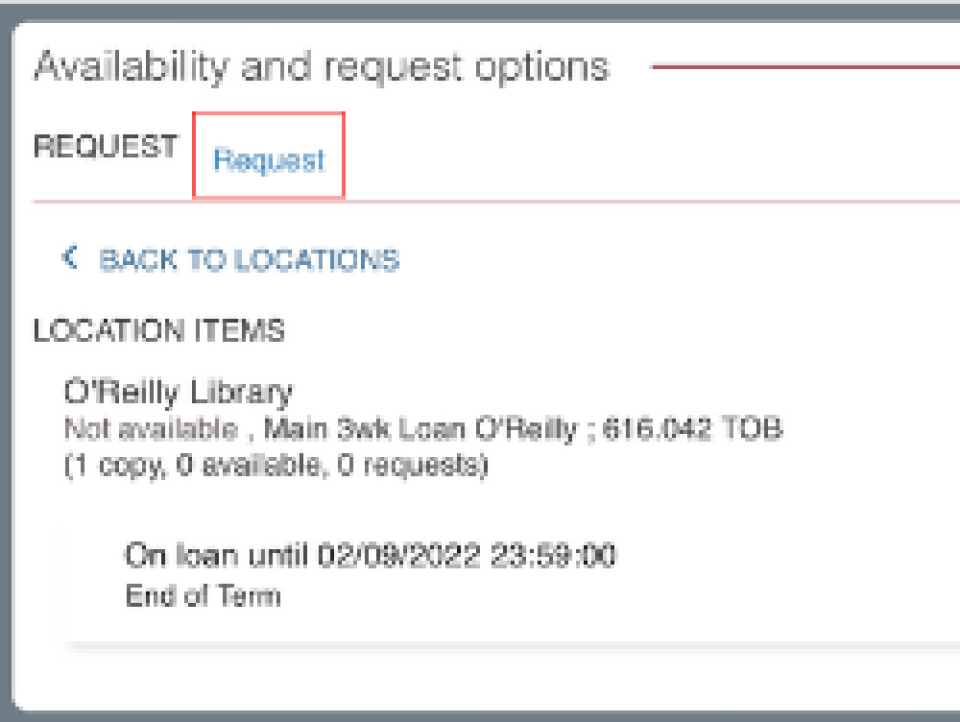 Locate the book record and click on the blue Request link in the Availability and request options box.
Requests can be picked up from the library where it is held.
Click Send Request to confirm.
The library will send you a notification to your DCU email account when the book has been returned and is ready to be picked up.
You will have 3 working days from receipt of this notification to pick up the book from the Issue Desk of your chosen library.
2 requests can be placed at any one time.
To view or cancel requests, log in to My Library Account and select the Requests tab.
Remember: Items available on the shelf (not on loan) cannot be requested and are available to borrow.
Library Store Collection
The Store is a large collection of supplementary material held in storage in O'Reilly Library.
Books from this collection are available only on request via the book record in Library Search and can be picked up from your chosen library.
 
Before submitting a request, please ensure there is no alternative means of accessing the title - either in main collections, or as an eBook.
Requested items are typically supplied within 48 hours when pick up is O'Reilly Library. Supply time to Cregan Library or Woodlock Hall Library is generally 2-3 days.
Library Search is DCU Library's discovery platform. Use it to search the Library's collections: books, eBooks, journal articles, and more. Check out the tabs below for short tutorials on how to use this platform to access our resources
This short video will show you how to do a basic search for books/eBooks via Library Search
Now that you've found the book you want via Library Search, watch this video to learn how to find it on the book shelves
Learn how to search for an article using keywords and how to refine your results using filters with this short video. You'll see how to read an article online or download the PDF of the article. Finally, you'll learn how to save articles and search queries to your library account.
This video is aimed at postgraduate students who'd like to learn more about how to find articles as part of literature review assignments or when writing a dissertation. It will also teach students undertaking a postgraduate diploma, postgraduate degree or Master's degree how to find relevant journals for their research needs.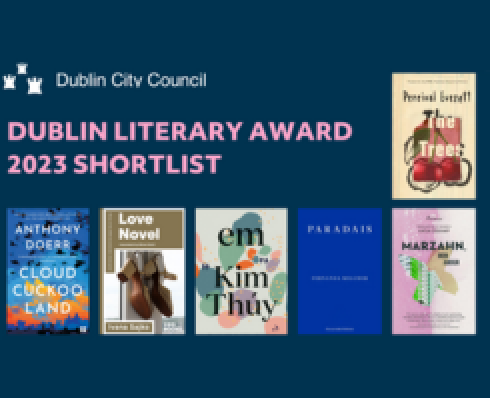 Summer Reading
Summer is the perfect chance to catch up on reading for pleasure, and DCU Library has an extensive fiction collection! 
We also have copies of the six titles shortlisted for the prestigious Dublin Literary Award 2023.
Find out more about this award, and how to borrow either a physical copy or eBook from DCU Library on our Dublin Literary Award 2023 webpage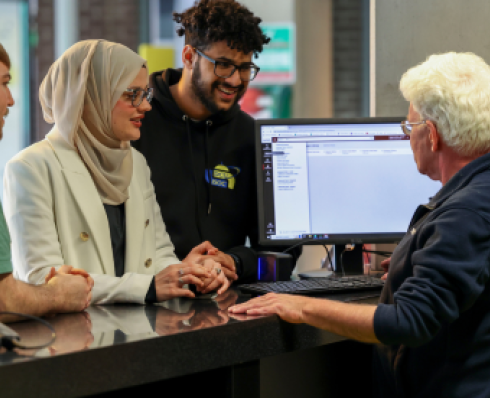 Help & Support
Our team of friendly and professional Library Staff are available all summer to help you get the best out of the wide array of print and online collections, and the support services available to you
Areas we can help with include:
Finding books and eBooks on your reading lists, and using the library catalogue (Library Search)
Borrowing, renewing and requesting print material
Locating subject information for your assignments and class projects
Help searching library databases for academic journal articles 
Help with citing and referencing / avoiding plagiarism queries
General assistance with all library services and collections
Contact us if you have any questions: library@dcu.ie
Contact Us
If you have any questions about the library or need any advice on how to get the best out of our many resources, please feel free to contact us using the details below. We are always happy to help!
Cregan Library

St Patrick's Campus

T: +353 (01) 700 9134

O'Reilly Library

Glasnevin Campus

T: +353 (01) 700 5041

Woodlock Hall Library

All Hallows Campus

T: +353 (01) 700 8517
Live Chat Available: Get answers fast to short queries with our live chat feature. Simply look for the pop-out tab and a member of staff will reply almost instantly.
Available Monday - Friday, 10am - 4pm
Follow Us! 
Twitter @DCULIB 
Instagram dcu_library 
Youtube DCULibrary
Facebook dculibrary