An interview with Declan Raftery on the latest campus developments
DCU is expanding, both physically and virtually. But even after nearly three decades of relentless growth, the most ambitious plans are yet to be fully realized.
The DCU Glasnevin campus began with around 2000 students. In 2013, that number is closer to 11,000. This has naturally led to some unforeseen capacity issues. But more importantly, it has created a somewhat transient atmosphere on campus. "It has effectively been a building site for the last 20 years," says Declan Raftery, Chief Operations Officer at DCU.
"We have seen rapid growth in student numbers in recent years but have not built any new teaching spaces in over ten years. We've had to figure out how to deal with the rising capacity in increasingly difficult economic circumstances."
In the short term some important infrastructural and cosmetic plans are in the pipeline. "Over €320 million euro has been spent since 1989 on this campus but a proper entrance has never been built," says Raftery. "It was just something we overlooked.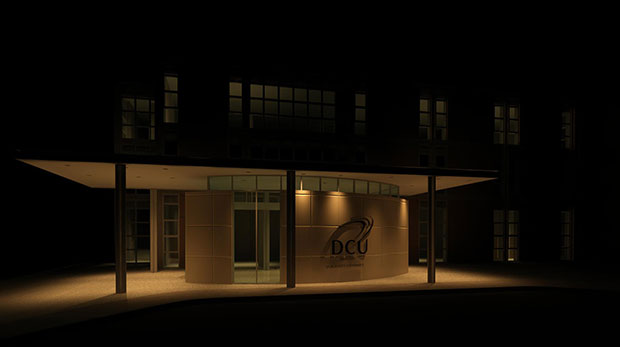 DCU reception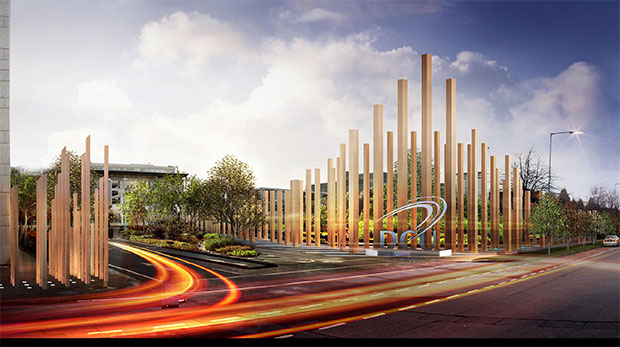 The vision for the DCU main entrance
"We recently ran a competition with the Royal Institute of Architects of Ireland where interested firms had to come up with an iconic entrance to the university." There were 42 blind entries, and the contract went to a small London-based firm called Zap Architects. It should be completed by September. By that time, a new reception area will also have been finished doubling the size of the current space.
In addition plans are in place to make the main mall a greener, more comfortable public space for the university's growing community. "We are investing in what is essentially a small town," he says. "There can be up to 14,000 people at any give time here so it needs to be comfortable. The mall is already the main civic space but we'd like to do more with it. More cross walkways are planned, as well as more trees and seating, to make it into a social space, not just a space you pass through to get somewhere else."
Some of the campus sports facilities are due an upgrade and this has not been overlooked. The university recently got planning permission for a new all weather Croke Park sized flood lit GAA pitch.
Raftery also hopes to oversee an increase in student accommodation. "1100 live on campus at the moment," he says. "We'd like to increase that to 1500 or more. We've also been working with the student union all year on a plan to totally refurbish the student centre."
That's just what's happening on Collins Avenue. 500 metres down the road, building has already begun on the new DCU Innovation Campus which will house a number of companies linking directly with the university and its core research areas. "In January of this year we signed a 100 year lease for our new innovation campus," says Raftery. "Formerly the Enterprise Ireland headquarters in Glasnevin, the buildings – some of which date from the sixties – need significant refurbishment. We expect the campus to house around 500 people five years from now.
It doesn't end there. St Patrick's College Mater Dei Institute of Education in Drumcondra will soon be under the complete auspices of DCU as well. The two institutions have been engaged with each other for 20 years in various different ways but the former will soon be part of DCU. "All of a sudden we have gone from being a single campus university to a multi campus," he says.
In terms of providing additional teaching space, some of that challenge can be resolved virtually. As new technologies render traditional teaching tools obsolete, some distance learning methods have become standard modus operandi on modern course outlines. "At the start of term this year there were 7000 unique devices logged onto the university wifi system on the first day," says Raftery. "Almost every student is coming in with a smart phone and tablet, and are constantly connected. We want to include more blended learning approaches into all our courses, not only to solve the capacity issues that we have, but also because students want it too. They're already beginning to question why they need to go to lectures at all."
This is a challenge for universities globally. As online learning becomes more and more established, DCU, like any other institution, must be able to encourage prospective students of the benefits of actually going to college. "Our library is called the Library and Information Resource Centre," says Raftery. "In all likelihood that name will soon be shortened to the Information Resource Centre as almost all books and journals can be downloaded anyway. It has become a study space more than anything else."
Certain aspects of the traditional university model are fast becoming out dated but there are numerous other benefits to attending college that cannot be replicated online. "We have over 100 clubs and societies, and college is where people make friends and establish networks that stay with them for life. People also get into sport and fitness here." With the ever increasing number of students enrolling at DCU, recruitment certainly doesn't seem to be an issue. Blended learning and the new multi campus layout should ameliorate existing capacity issues in the short term. Plus the presence of the innovation campus will further solidify the university's reputation as the centre of applied learning in Ireland. Raftery is optimistic for the future: "As we expand DCU is making an ever greater footprint in the region and this must be welcomed."