School of Mathematical Sciences
SCEENAC 2019 Local Info
SCEENAC 2019 Local Information
Venue
The meeting will take place in Purcelll House on DCU's All Hallows Campus in Drumcondra. The easiest way to access the All Hallows campus is by bus. The 11, 13 and 16 Dublin Bus routes connect DCU All Hallows with Dublin City Centre. The bus route 16 also connects with Dublin airport. From the bus stop at St. Patrick's College follow Church Avenue to the pedestrian entrance to the All Hallows campus (a 3 minute walk).
DCU All Hallows Campus Map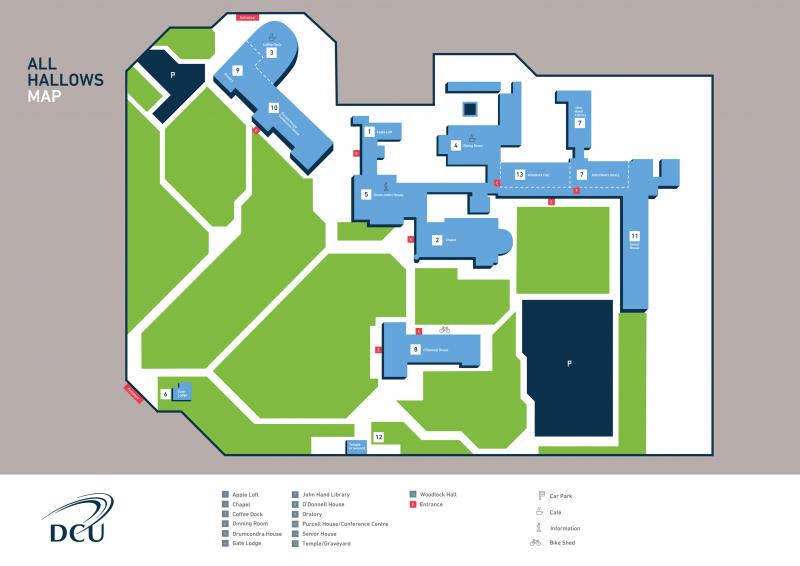 You can download a larger image or pdf file of this map on the DCU website, here.
Accommodation
For those who need accommodation there are several guest houses and B&Bs in and around Drumcondra and also the Skylon Hotel on Drumcondra Road is within easy walking distance from the conference venue. The city centre is 15 minutes by bus to and offers many additional options.
Travel
For those traveling from overseas, Aer Lingus and Ryanair fly direct to Dublin Airport from many European and US cities. There are also several other airlines who provide either direct or indirect flights (often via London).
To get from the airport to the meeting's venue or a hotel in Drumcondra, you can either take Dublin Bus route 16 (note that exact change is required on all buses), or a taxi from the airport (which takes about 10-20 minutes depending on traffic).
Parking
There is limited parking availability for visitors on the All Hallows Campus. Visitor Permits can be obtained from the main reception upon arrival to the grounds. There is also some Pay-by-Text parking spaces across the road in our St. Patrick's College Campus. For further details, please contact the DCU Estates Office.
Lunch
There is a modest canteen on-site which serves coffee, soup, sandwiches and other snacks. For something more substantial, there are several choices in Drumcondra village which is only a couple of minutes walk away. Some choices are: