DCU National Centre for Family Business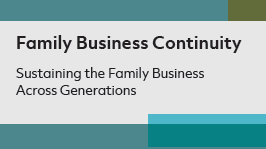 NCFB to deliver second iteration of Family Business Executive Education Programme
June 2021: After the successful launch of Ireland's first Family Business Continuity - executive education programme in January, the National Centre for Family Business at DCU are proud to announce that the programme will be available again in September. 
Family businesses are the bedrock of the Irish economy, accounting for 64% of all firms, and face a variety of unique challenges on a daily basis. External factors such as Covid-19, currency fluctuations, and the economy combine with family dynamics, succession planning, and incumbent generations to form complex scenarios for family firms to navigate. 
This carefully curated programme helps family business leaders tackle issues surrounding succession planning, governance structures, plus much more. Over three consecutive Mondays 13th, 20th and 27th September, the programme's faculty will guide you through the various topics through interactive and stimulating sessions. They consist of leading international family business experts, who will share best-practice insights and tangible steps for businesses of all sizes to take. 
This programme is open to family businesses of all size, sector, and generation, and is designed for family firms who are committed to adapting and evolving their governance structures to prepare for multigenerational growth and continuity. The programme is tailored to family firms that have transitioned, or are about to transition, from the founder(s) stage to the sibling and/or cousin stage.
The CEO is a vital participant and should be accompanied on the programme by at least two other members of the family firm (either family or non-family members). In instances where two generations are actively involved in the business, we encourage the attendance of representatives from both generations.  Listen in to how previous participants enjoyed the programme:
To register your interest in the programme, please contact our team by email at executive.education@dcu.ie using the subject line 'Family Business Continuity Programme Sept2021'. 
The programme brochure can be downloaded at the file button below: 
Executive Education Brochure