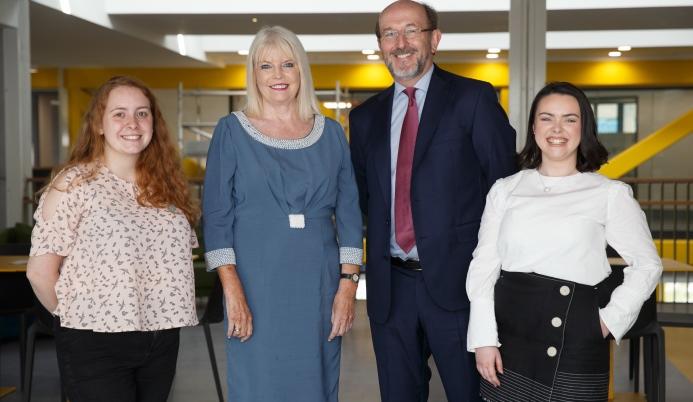 DCU achieve standard of excellence for initiatives to reduce alcohol-related harm among students
Dublin City University was honoured today for its efforts in reducing alcohol-related harm and promoting health and wellbeing at the inaugural REACT awards held at DCU this morning (Wed, August 28th).
REACT (Responding to Excessive Alcohol Consumption in Third-Level) rewards the efforts of Higher Education Institutions to reduce alcohol-related harm among students.
It is a joint initiative between the Union of Students in Ireland (USI), the Irish Student Health Association (ISHA) and UCC Health Matters, funded by the Health Service Executive (HSE) and Healthy Ireland.
DCU was one of ten Higher Education Institutions recognised by the REACT initiative which encourages the implementation of strategic stakeholder led action plans in order to reduce hazardous alcohol consumption among third-level students.
According to the 2014 National Alcohol Diary Survey, harmful drinking is highest among the 18-24 year old age group while 2017 CSO data found that the 18-24 year old group in Ireland had the highest rate of binge drinking in the EU.
DCU achieved a standard of Excellence for the implementation of a series of actions including the introduction of alcohol-free accommodation in campus residences, intervention training for staff and students and an online survey enabling self-assessment of drinking patterns.
The awards were presented by Minister of State for Higher Education​ ​Mary Mitchell O'Connor and Dr Michael Byrne, Principal Investigator at REACT and Head of the Student Health Service in University College Cork (UCC).
The REACT accreditation is an important milestone for the University as part of its commitment to meeting the targets of the United Nations Sustainability Goal- Good Health & Wellbeing.
This latest development follows on from the launch of the DCU Healthy Charter in December 2018 as part of a strategic effort to achieve the designation of a Health Promoting University by 2022.
Speaking at this morning's event Professor Brian MacCraith said:
"We at DCU are very pleased to be among the 10 participating universities in the REACT initiative.

Specific developments over the past few weeks have really put today's event in the context of even greater importance.
We would have all been moved by the sad passing of Jack Downey after taking an, as of yet, unknown substance at a music festival recently,
and those of you who would have heard or read the interview with his parents could not have been but moved,
but apart from the emotional response to this, the actual implications for students, for young people are stark and evident."
USI Report into student mental health
"Yesterday, of course, we had the key findings in the excellent USI report into student mental health.
These together are among some of the key challenges being faced by students in today's world, let me say as a leader of one of the institutions...I'm often asked what keeps me awake at night?

The single thing that keeps me awake at night is student wellbeing.

That whole notion of realising that massive talent of students in one hand, but their fragility on the other hand I think that balance hits a tension for all of us."
Student well-being is a critical part of what we do
"I'm sure I'm speaking for all other university presidents and leaders of higher education institutes, that student wellbeing is a critical part of what we do. We're not just about academic advancement.
We are there to foster the development of people, not just young people but really people of all ages coming through, their wellbeing; physical, mental, sexual are of critical importance to us."

Introduction of initiative as part of REACT initiative
"DCU's REACT committee has introduced a range of initiatives to reduce the harmful effects of alcohol.
Such initiatives include alcohol free accommodation in campus residences and the provision of intervention training for staff and students, as well as other initiatives.

Prof MacCraith said DCU is is aiming for reaching status of a Health Promoting University by 2022.

He thanked the REACT team in DCU, the Ballymun Drug and Alcohol Taskforce, plus the REACT team in UCC for leading a sector wide approach and providing support for the third level institutions taking part in the scheme.
Minister of State for Higher Education, Mary Mitchell O'Connor commented: ​
"​I want to congratulate Dublin City University on receiving their award for excellence as part of the REACT initiative.
The REACT initiative is an integral piece of work to ensure our higher education institutions provide safe environments when it comes to alcohol; helping students to make healthier choices and to support a safe attitude towards alcohol consumption.
I am pleased to see DCU as one of the country's leading higher education institutions playing a strong part in creating an environment that encourages students to make informed decisions.​"​
In a wide ranging address Minister Mitchell O'Connor spoke about the challenges posed by alcohol for past, current and future generations
"Alcohol is an issue, and we believe it is an issue for this generation just as much as it has been for generations gone by.
So what's also true is that our students are continuing to experience harm and negative consequences for drinking alcohol in excessive quantities."
First sector wide initiative
"I really am delighted to be here today to celebrate REACT, the first truly sector wide innovative approach that focuses on evidence and impacts, and translates those intentions into action.

Our students, just like the rest of us, have continued to drink at increasing rates over the time. The need for action has certainly increased too.

Our students have suffered from drinking alcohol as well. Some of our students have dropped out of college altogether, some have never fulfilled their academic potential.
Tragically some never made it to finish their studies or indeed to finish their lives.
And at times Ireland appeared to be riding the crest of a wave with alcohol that washed over us all at the height of the Celtic Tiger.
And although alcohol consumption has fallen in recent years, it's still far too high."
Alcohol consumption

"In 2016, we drank over 11 litres of pure alcohol per person per year.

At least 75pc of all alcohol consumed is during a 'binge' session and according to the World Health Organisation, we are among the highest rate of binge drinking in the world.

We may have past peak alcohol and other drugs and substances have emerged as intoxicants for our students.
Yet we should be in no doubt that alcohol continues to be their drug of choice."
Binge drinking continues to be a real health issue
"It would be wrong to become complacent or to feel that we don't need to continue to respond to the issue of excessive consumption in third level.
Hazardous drinking among students continues to be a real health issue.

Binge drinking remains a problem for our society, including for our student population.
And Ireland is towards the very top of that league as binge drinkers in Europe."
Dr Michael Byrne, PI at REACT and Head of Student Health Service, UCC said: ​
"​REACT is about working in partnership with our students to address the issue of harms from excess alcohol.
It is an innovative way of encouraging institutions to translate good intentions into actions and paper-based policies into whole institution plans.​"​
Pictured at today's REACT awards were (l-r) Olivia Forde, DCU SU VP for Education & Placement, Minister Mary Mitchell O'Connor, Prof Brian MacCraith and Christine Farrell, DCU SU President.