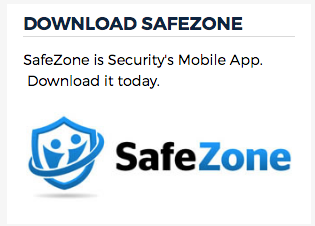 SafeZone at DCU
*** SafeZone is now live University wide! ***

SafeZone - the campus safety app for students and staff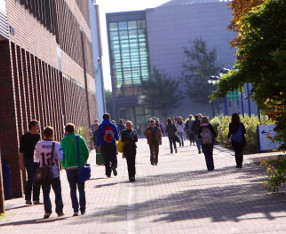 The University has launched a free app service to give round-the-clock safety reassurance to staff and students.
SafeZone is a simple-to-use application that is free to download.
It is designed to allow students and staff to summon security or safety assistance via their mobile phones.
To find out more about setting up and using the app check the instructions below. Further information can be found at the SafeZone website...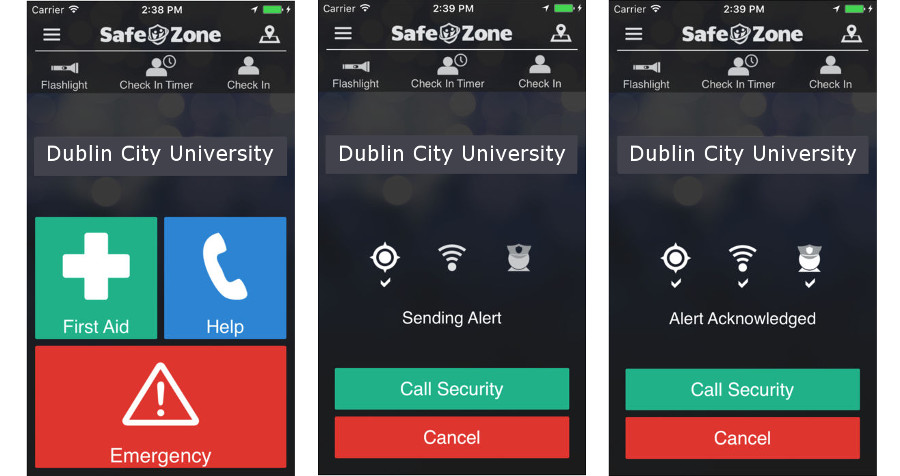 App Set up
Step 1 - Install the app
SafeZone is available for download from any of the following. Just pick the one most suitable for your device:




Step 2 - Download the app and Register with SafeZone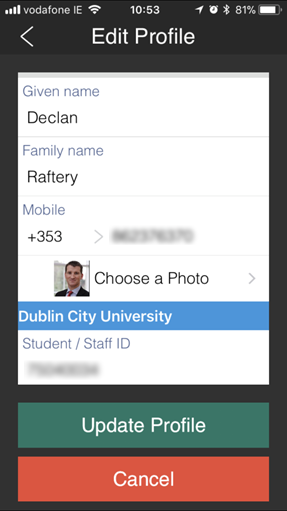 You must use your DCU email address to register, please choose a new password, not the one you use for tour university account. Once you are signed-up for SafeZone, if you make a call or send an alarm, it will be received by the University's Security and Safety Team. They will know your location and will act on your request.
To get started you will need to input some basic information:
Enter your first name (given name)
Enter your surname (family name)
Enter your Mobile phone number
Enter your staff / student number
Upload a photo (Choose a photo) - this is optional
Enter any medical information that would be helpful to emergency services - this is optional
Enter your bike serial number for its added security on campus - this is optional
For the app to function fully Locations Services and Notifications must be turned on.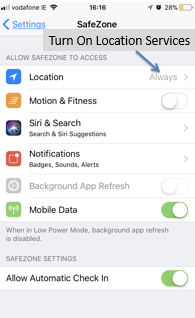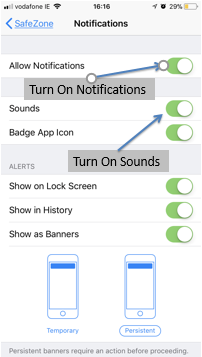 Using the App
Understanding SafeZone App Icons

Reception - For general non-emergency enquiries or support. This will connect you by phone with the reception at the campus you are located on.

Check In - For out-of-hours or working alone please share your location with DCU Security by using the 'Check-In' function on the Safe Zone App (located on the top right of the main screen) for your personal safety and well being. When you leave the University campus the app automatically Checks you out. There is an option in the App under Settings to 'Allow Automatic Check-in'. If you select this option, the App will automatically Check you in when you arrive on one of the University's campuses.
Emergency - If you feel threatened or in need of urgent assistance. When you activate this alert a message is sent to security that you need assistance and your exact location is provided. You also have the option to dial 999 to contact Emergency Services. If you contact 999 using the app DCU security will know you have done this.

First Aid Call - For when you need emergency medical assistance. When you activate this alert a message is sent to security that you need assistance and your exact location is provided. You also have the option to dial 999 to contact Emergency Services. If you contact 999 using the app DCU security will know you have done this.

Privacy - It is important to note that your location will not be known until you send an 'Alert' or 'Check-In'.

Campus Notifications - If there is an incident on campus that requires you to take action e.g. the campus is closing due to severe weather, a mass notification can be sent by the University to Safe Zone users. To enable this function, the App setup under 'Settings' on your phone must be selected to Allow Notifications and Sounds.
Location Services must be turned on for the App in settings
FAQs
SafeZone at DCU - FAQs
Check out our SafeZone FAQs for any questions you may have. If these don't answer your question, email safezone@dcu.ie.
Will I be tracked all the time?
No, the SafeZone app only shares your location with Campus Security when you press one of the three alert buttons (Emergency, First Aid, Help), or Check-In.
Even then, your location is only ever shared with Campus Security.
Your right to privacy is always respected and you can cancel any alert or check-in at any time.
How long will it take Campus Security to reach me?
When your alert is activated, Campus Security will receive the alert within seconds and will either send someone to you immediately and/or call you back.
Will the app drain my battery?
SafeZone's use of location services has been optimised to minimise battery draw-down so that it does not impact your day-to-day use of your smartphone.
SafeZone requires location services to be enabled, however it does not use your location until you press one of the alert or check-in buttons. It is only when you raise an alert, or check-in, that your location will be shared with Campus Security.
Where does SafeZone work?
SafeZone works on all the University Campuses. During the first phase of SafeZone (launched on 23rd October), we are covering the All Hallows Campus. We plan to roll the app out on the remainder of the campuses in November 2017.
View the regions by tapping 'Regions' in the SafeZone app menu.
If you are outside one of the regions e.g campuses and you press a SafeZone button, the app will offer a one-tap call to local emergency services instead. This feature works anywhere in the world. If you contact the emergency services using the app while outside the University Campus, DCU Security will be alerted to this and to your location.
Test Zones - How can I be sure SafeZone will work when I need help?
DCU Security have defined a test zone on each campus where you can go and activate your SafeZone.
Remember these are test zones, so a "real" alert cannot be activated in these zones.
In these zones, you can activate the Emergency button and DCU Security will send you a message to let you know your Emergency Button Test has been sent successfully.
Testing the First Aid button and the Reception button will result in a standard bounce back test confirmation from Safezone.
Test Locations
In your SafeZone App you can use the Menu / Regions function to show all the regions set by DCU – these will be shown with a BLUE boundary on the map. The Test Zone is shown with a GREEN boundary.
How do I download and register for SafeZone?
Go to SafeZone and enter the following basic information:
Name
Staff / student number
Mobile phone number
Photo (optional)
Medical info (optional eg diabetic, epilepsy etc)
Bike Serial number (optonal)
Who else uses SafeZone?
View all the organisations using the app on the SafeZone website.
If you have any other concerns regarding Campus Security please use the following instructions
Campus Security Services - 01 700 5999
Then select one of the following options:
Dial 1 for Emergencies.
Dial 2 for Security on the Glasnevin Campus.
Dial 3 for Security on the St Patricks Campus.
Dial 4 for Security on the All Hallows Campus.