Office of the Chief Operations Officer
Sustainability
Sustainability DCU


DCU and SDG's
DCU's Strategic Plan 2017-2022 'Talent, Discovery and Transformation' clearly articulates our purpose to address the major challenges facing the world today and to develop the talent and knowledge that society needs. In tackling the challenges of an era of unprecedented changes, we see unprecedented opportunities: not only to transform the lives of those who will pass through our doors, but also, through them and through our innovation, to transform society as a whole.
This document attempts to map DCU activities that contribute in whole or part to the SDG goals. This is currently an non-exhaustive list and additions/amendments should be emailed to sustainability@dcu.ie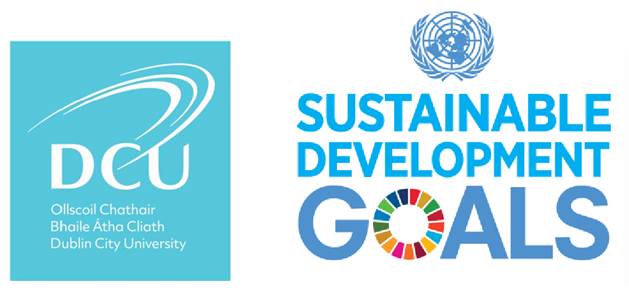 Goal 6- DCU Water Stewardship
DCU is a certified Irish Water Water Steward, meaning water conservation is a priority of university operations and staff are trained to do this. Recently DCU recieved a Water Stewardship award as part of this programme. This programme is accredited by the European Water Stewardship Standards (EWS).
What is Sustainability about?
In a normal day we consume resources from the food we eat to the fuel to drive our cars and the electricity that lights our homes and offices. These resources are grown or manufactured from natural materials that come from the Earth and there is only a limited supply. While some of the resources are renewable i.e. they replenish themselves, many are not and therefore will run out. But the bigger issue is that through the manufacturing and consumption of these resources carbon dioxide is produced and over the last 100 year or so the levels of carbon dioxide in our atmosphere have grown at an exponential rate. The impact of this increased carbon dioxide in the atmosphere is climate change*. So Sustainability is looking for the fair and equitable balance that is needed to share the earth's resources between all its inhabitants while working toward reducing our carbon emissions to zero. It is an enormous task that we must all tackle together.
Sustainability DCU seeks to embed a sustainability ethos at DCU that will underpin all our activities here. Our academics and researchers are working on many of the related issues from Education for Sustainable Development, Green Finance and Business models to Water, Waste and Energy research in our new Sustainable Economies and Societies Research Hub. Our Estates Office works hard to not only save financial resources but also to reduce our impact on the environment through energy efficiencies, greater waste management and enhancing the green environment on campus. Our An Taisce Green Campus Committee supports many initiatives across campus engaging both the students and staff in projects where we can together have an impact on increasing the sustainability of our campus.

DCU is leading by example and instilling in our graduates a knowledge and understanding of sustainability with the vision that they will incorporate this ethos in their future personnel and working lives.
DCU's Sustainability policy can be viewed here.

*For further information on Climate Change please see the IPCC Fifth Report:www.ipcc.ch
Follow us on Facebook :
https://www.facebook.com/sustainabilitydcu
DCU Green Campus and Annual Reports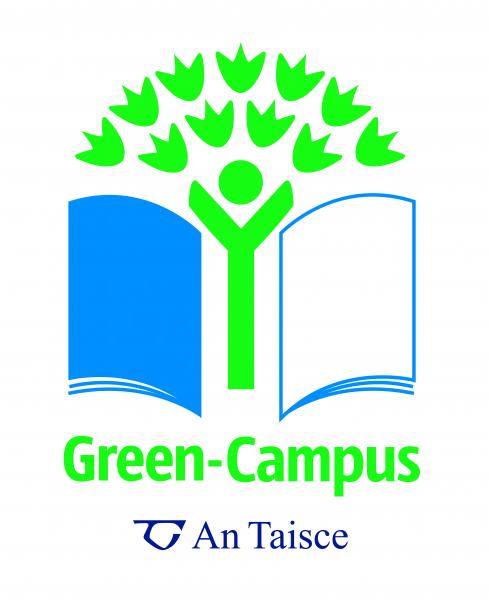 Our aim is to work together with Students and Staff to demonstrate and embed sustainable measures across all our campuses.

DCU has been striving to gain efficiencies and reduce our impact on natural resources and adopt sustainable practices in areas of energy consumption, water usage, biodiversity enhancement and waste generation. More recently areas of green procurement and campus associated transport have been receiving attention in the promotion of sustainable practices.
You can download here a copy of the following documents
DCU Green Campus Annual Report 2014
DCU Green Campus Annual Report 2015
DCU Green Campus Annual Report 2016
DCU Green Campus Annual Report 2017
DCU Green Campus Annual Report 2018
DCU Green Campus Annual Report 2019
or
What are our Targets for 2018/2019
Potential Projects :
Energy
Water
Waste

Maintain and improve ISO50001
Cross campus engagement
33% reduction by 2020
Carbon Neutral Campus

Increase Rain/Grey water use
Monitor and fix leaks

Single use Plastics
One Dublin Cup
Increase recycling awareness
Biowaste Pilot in Residences
Reduce paper waste
Fashion Swap Shops
ReCreate your wardrobe

Biodiversity
Transport
Procurement

DCU Glasnevin Comm Garden
Biodiversity Areas on SPC
School Garden on SPC
Comm Garden at AHC

Reboot your Commute
Cycle Parking
Intercampus Sli na Slainte
Car pooling
BleeperBikes

Green Procurement
Water Fountains
DCU is a registered participant of the national Green Campus programme, run by An Taisce and The Foundation for Environmental Education (FEE). FEE is a non-government, non-profit organisation that operates globally promoting sustainable development through environmental education. An Taisce is the national operator of all FEE programmes in Ireland. In its initial phase DCU is targeting Energy, Waste and Biodiversity. Baseline reports and action plans are under development for implementation in the academic year 2012/2013. This programme engages across the DCU student and staff population and involved strong interaction with local Community through the development of on campus community gardens & allotments and expert seminar series
SEAI Sustainable Energy Community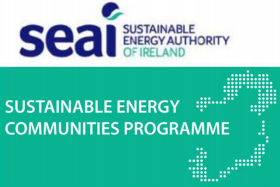 Welcome to the DCU SUSTAINABLE ENERGY COMMUNITY
Taking the hassle out of making energy-efficiency improvements to your home!
As you are all aware DCU is consistently leading by example and Sustainability DCU embeds a sustainability ethos at DCU that underpins all our activities here. Now Sustainability DCU, in partnership with the SEAI is supporting the DCU community to help you make energy efficiency improvements to your home.
The DCU Sustainable Energy Community (SEC) facilitates a one-stop shop where you can find out about; the types of upgrades you could make to your property, the different technologies and their suitability to your individual home energy needs, the grants available and the application process, additional funding options and how to find an energy professional in your area.
Here are a few examples of some of the grants available
A maximum grant of €5,000 is available for qualifying electric vehicles with a List Price of more than €14,000.
Insulation and Heating Controls (homes built and occupied before 2006)
● Attic insulation €400
● Internal insulation 'dry-lining' for an apartment €1600
● External insulation 'the wrap' detached house €6000
Heat Pump Systems and Solar Water Heating (homes built and occupied before 2011).
● Heat Pump (Air to Air) €600
● Heat Pump (Air to Water, Ground Source to Water, Exhaust Air to Water, Water to Water) €3500
● Heating Controls Upgrade €700
● Solar Water Heating €1200
There is also up to a €300 bonus available for multiple upgrades!
Not sure where to start?
The first step is to assess your home's energy efficiency. We have a number of Home Energy Kits available to borrow. They are also available to loan from your local library. (you can put my contact details here if you want)
You could also engage a professional to carry out a home energy report on your dwelling. Click on the links to read case studies of home energy reports supported by the DCU SEC.
Click on the links to presentations from our past events and please join us on the 27th of March when we will be demonstrating how to complete the grant application process for SEAI grant funding.
DCU SEC Presentation Workshop 1 19 September 2019
DCU SEC Presentation Workshop 2 21 November 2019
In the meantime here are some tips to improve your energy efficiency at home.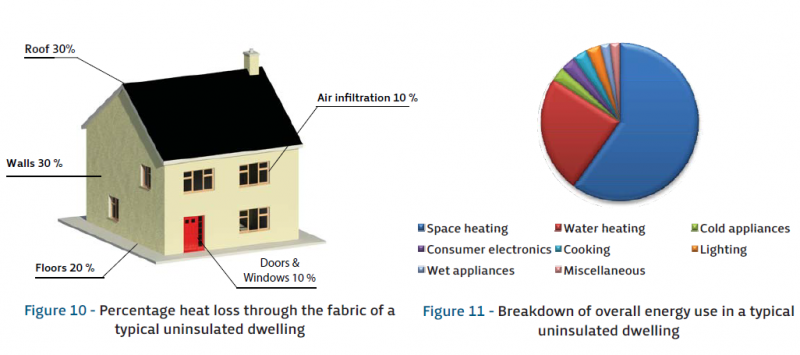 Image source: SEAI (Gillian's presentation)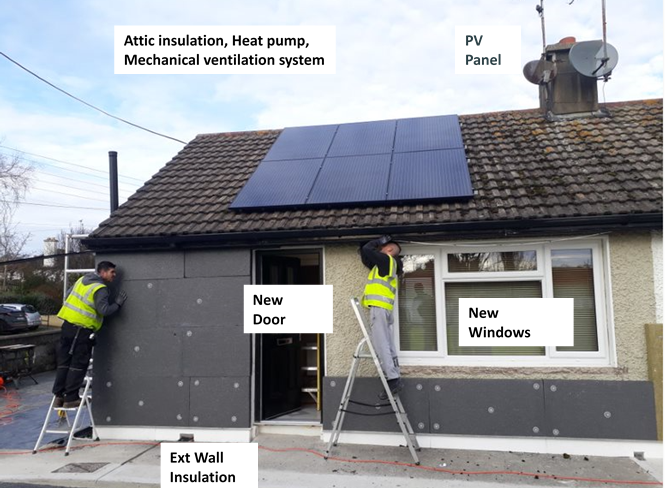 Image source: Plan Energy (Nicola's presentation)
Plastics at DCU
DCU Single-Use Plastic Initiatives
Introduction
Dublin City University's Strategic Plan 2017-2022 commits to placing sustainability at the core of the University's activities. The initiatives proposed here address a key challenge of waste management in the marine environment (i.e. the widespread availability of single-use plastics) and aims to make DCU an exemplar institution through their elimination on our campuses. Six of the seven initiatives proposed will be introduced in 2018. Full elimination is proposed by the end of 2020.
Rationale Plastic pollution is having a significant negative impact on the global environment, with 10% of all waste attributed directly to one-use plastics.
Plastic affects human health: Toxic chemicals leach out of plastic and are found in the blood and tissue of nearly all of us. Exposure to them is linked to cancers, birth defects, impaired immunity, endocrine disruption and other ailments.
Plastic spoils our groundwater: A high proportion of waste plastics end up in landfill where the toxic chemicals from plastics drain out and seep into groundwater, flowing downstream into lakes and rivers.
Plastic threatens wildlife: Wildlife become entangled in plastic, they eat it or mistake it for food and feed it to their young, and it is found littered in even extremely remote areas of the Earth. In our oceans alone, plastic debris outweighs zoo-plankton by a ratio of 36-to-1.
Plastic impact the food chain: Even plankton, the tiniest creatures in our oceans, are eating micro-plastics and absorbing their hazardous chemicals. The tiny, broken down pieces of plastic are displacing the algae needed to sustain larger sea life who feed on them.
Plastic costs billions to abate: Everything suffers because of plastic pollution: tourism, recreation, business, the health of humans, animals, fish and birds.
Proposed Initiatives DCU's Single-Use Plastic Policy Initiatives focuses, in the first instance, on the elimination of the following single-use, disposable plastic items:
• Single-use plastic cups and glasses
• Takeaway coffee cups
• Takeaway food containers
• Takeaway cutlery
• Straws
• Plastic Carrier Bags
• Plastic Bottles
Single-use plastic cups/glasses: Plastic cups/glasses are primarily used for water consumption from water fountains in canteen and restaurant areas and at individual water fountains throughout the campuses. These cups form a large component of the litter stream. In addition such plastic glasses are used in the NuBar and the Helix for drinks. Alternative options include personal water bottles, reusable cups/glasses and compostable glasses.. In special cases reusable plastic/bioplastic glasses can be used. The elimination of single-use plastic cups/glasses is proposed with the following deadlines. Removal Dates DCU Cáfe/Restaurants/Coffee docks: 17 March 2018 Drinking fountains (Unit Specific): 01 July 2018 All Outlets 31 December 2018
Takeaway Coffee Cups: In 2017 DCU consumed in excess of 700,000 non-recyclable disposable cups. Not only are these non-recyclable, but they are also a major contamination factor in the recycling waste streams. It is planned to incentivise the use of personal reusable cups by offering a 20% reduction in costs at all outlets on DCU campuses. The elimination of non-recyclable coffee cups is proposed with the following deadline. Removal Dates All Outlets 31 December 2018
Single-Use Plastic Takeaway Containers: Most single use plastic/tinfoil foodware ends up in landfill. If they are littered or escape from landfill, they can enter waterways where they can fragment and cause serious harm to marine wildlife. Because these items are usually used away from home and in public areas, they tend to be littered more frequently. It is proposed to eliminate single-use plastic containers for food takeaway in DCU with the options available being: • BYO container [restaurant to provide mechanism for pre weighing and post weighing to ensure correct charges]. • Compostable containers Removal Dates All Outlets 31 December 2018
Takeaway Cutlery: Like single use containers, single use plastic cutlery are littered frequently because they are usually used away from home and in public areas. When they enter the marine environment they fragment into smaller plastic pieces and can harm wildlife. It is proposed to eliminate the use of single-use plastic cutlery to be replaced by reusable cutlery and/or compostable cutlery. Removal Dates All Outlets 31 December 2018
Straws: Straws cause significant ingestion hazards for our wildlife. Although plastic straws are used for an average of 20 minutes, they can last in the environment for years and they are one of the top 10 items identified in beach clean-ups. Plastic straws cannot be recycled and fragment in our oceans, making it far easier for wildlife to ingest plastic. It is proposed that single-use plastic straws be eliminated at DCU. If necessary, compostable/biodegradable straws may be used. Removal Dates All Outlets 31 December 2018
Single-Use Plastic Carrier Bags: Plastic carrier bags are one of the most problematic sources of plastic pollution, quite often being the cause of wildlife entanglement and ingestion. They are shown to be targeted by species that mistake them for their food sources and can cause intestinal blockages, causing an animal to starve to death or cause asphyxiation. The impact of plastic bags in Ireland has been significantly reduced following the plastic bag levy. Refuse bags are excluded in Phase I of these initiatives but will be addressed at a later stage. It is proposed to eliminate the use of all plastic carrier bags to be replaced by BYO reusable bags or paper bags. Removal Dates All Outlets 31 December 2018
Plastic Water/Soft-drink Bottles: Beverage containers form a large component of the litter stream. In this context, the sale and use of single-use plastic bottled water and soft drinks, which inevitably leads to littering, mismanagement and escape into the environment, needs to be reduced. Given the existence of commercial contracts with a range of suppliers and the current absence of routine alternatives, it is proposed to engage with suppliers with a view to identifying solutions to this issue but with a commitment to eliminate sale of plastic water/soft-drink bottles on campus by the date specified. Removal Dates All Outlets 01 September 2020
Approved by DCU Executive Committee 20 March 2018
Potable Water Points
DCU offers a number of free potable water points on each campus. It is encouraged staff and students use these points with reusable bottles to prevent single use plastic bottle use. A map of points can be found here (NOTE: this map is currently being updated to include all water points on all campuses)
Climate Action Plan
In our strategic plan 2017-2022 DCU committed to putting Sustainability at the core of the university. The newly established cross institutional Sustainability Council is in the process of developing a new sustainability charter for DCU and a Sustainability Plan (2019-2022) to enable and demonstrate our commitment to transforming ourselves, our institution and the community surrounding us to meet these sustainability challenges.
This is the first Climate Action Plan for Dublin City University. It identifies the scale of the challenge across all University activities and the action we will undertake to address this challenges. We are committed to ensuring that all our graduates understand the challenges of environmental sustainability and have the sustainability competencies that will equip them with them to be Global Citizens, inspired and empowered to take the actions necessary for a sustainable future. A review of programmes and modules that contribute to education for sustainability within different disciplinary areas across DCU will be undertaken, with a view to generating a map of relevant modules relating to sustainability, and identifying areas where sustainability education can be infused or enhanced within particular programmes. Following this it is proposed to provide workshops and materials to up-skill staff on principles, processes and key competencies in educating for sustainability within DCU, and in doing so, further enhance the infusion of education for sustainability within undergraduate programmes in line with DCU's Strategic Plan (2017-2022). We are equally committed to undertaking sustainability focused research and to demonstrating sustainable solutions within our Living Lab campuses.
DCU is also committed to demonstrating leadership in our operational sustainability and is committed to understanding the impacts of all our activities and establishing science based targets and action plans to reduce and mitigate these impacts. It has become apparent thought the work of the Sustainability Council that meeting our science based targets (4.2% annual reduction to 2030 based on a 1.5deg scenario) will be extremely difficult given the current practices and resources available. To meet these challenges systemic changes will be required. This current iterative plan does not address these systemic changes but the actions that can and will be implemented to begin our journey.
What goes in the Bin!!
Below is some infomation on what can go in your Green and Brown Bins - note this is NOT a comprehensive list and you can find more information on recycling at Voice Ireland
What can go in your green bin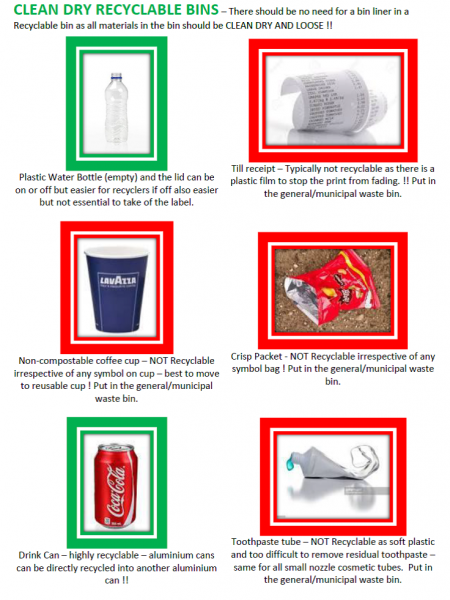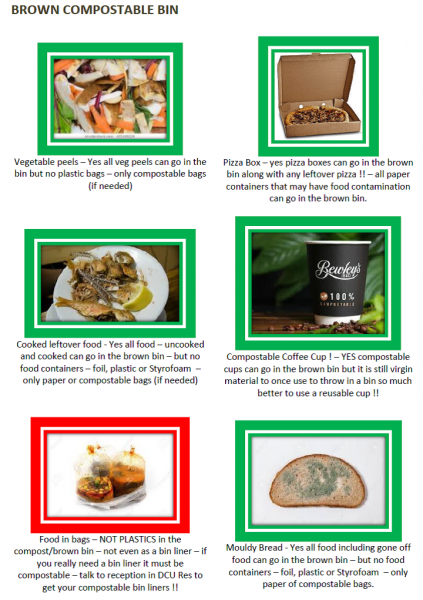 Thorntons bins information lables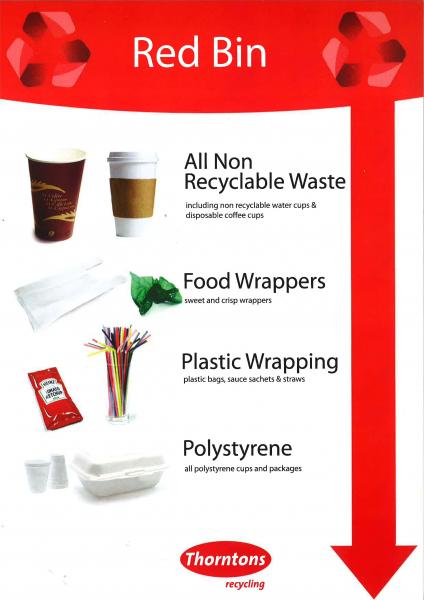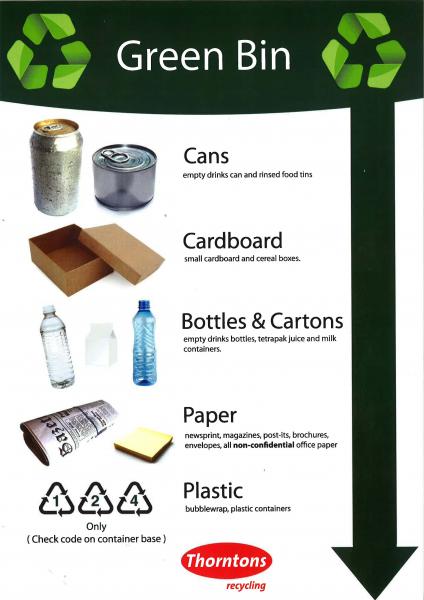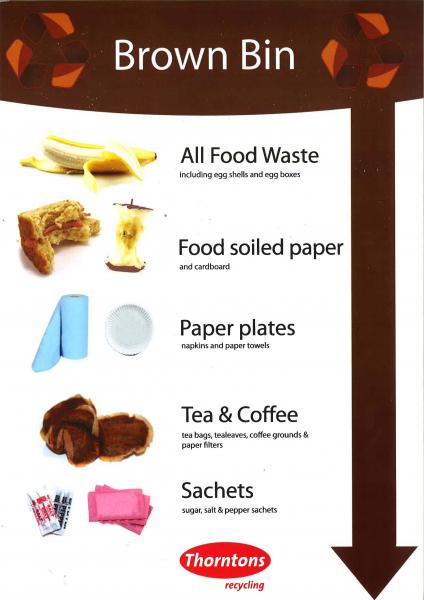 DCU Bicycle Service Clinics
The free bicycle service clinics, run by the Rediscovery Centre and supported by DCU SU and DCU Sustainability/OCOO will recommence next week with the start of semester. These service clinics are open to all DCU students and staff and are operated on a first come first served basis - they are usually very busy so come early.
Please note that while the bike service is free, you will have to pay for any parts needed. Also the bicycle mechanics are not miracle workers and cannot renovate a bike in the time allotted for a service - i.e. your bike should be basically road worthy and in need of a service and not a complete overhaul !! Complete overhauls are available from the Rediscovery Centre at the owners expense !
Dates, times and location for Semester 1 2019/20:
DCU Glasnevin Campus (Tuesdays 12.30 - 16.00)
Location: Foyer in Albert College (outside AG00) across from Main Restaurant entrance.

Sept 24
Oct 01, 08, 15, 22, 29
Nov 05, 12, 19, 26
Dec 03, 10

DCU St Patrick's Campus (Wednesdays 12.00 - 15.00)
Location: Undercroft Block F
Sept 25
Oct 23
Nov 20
Dec 11

DCU All Hallows Campus (Wednesdays 12.00 - 15.00)
Oct 09
Nov 06
Dec 04
If you have more suggestion please send them to sustainability@dcu.ie
How can you make a difference ?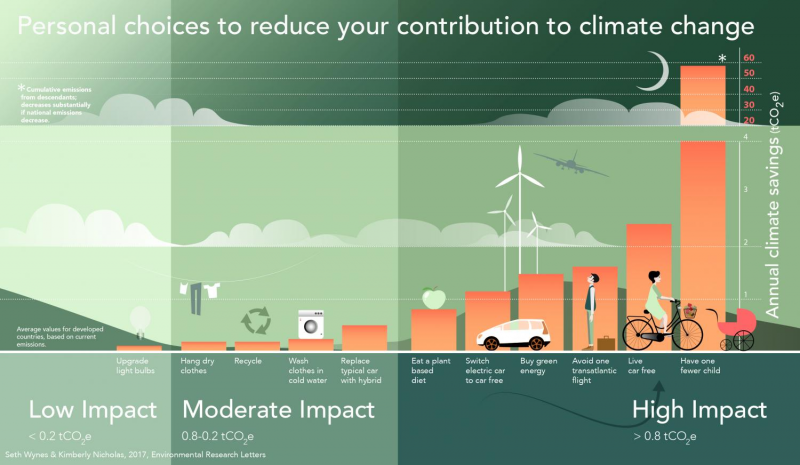 This infographic shows climate choices. Credit: Seth Wynes/Kimberly Nicholas, Environmental Research Letters, 2017
Read more at: https://phys.org/news/2017-07-effective-individual-tackle-climate-discussed.html#jCphttps://3c1703fe8d.site.internapcdn.net/newman/gfx/news/hires/2017/them…
Energy

Insulate your home
Last out – lights out
Turn off heaters before opening windows
Lower your thermostat
Use a clothes line/rack to dry clothes
Use energy saving light bulbs
Turn off and unplug for energy savings and safety

Water

Shorten your showers by at least a minute.
Only boil the water you need.
Try not to run the tap.
Fix drips
Harvest rain water for garden use

Waste

Bring you own Mug – many paper coffee cups are NOT recyclable - Many coffee places in Dublin will give you a discount (DCU 10%) when you bring your own mug.
Reduce food waste – 50% of all food produced is wasted! Only get what you need.
Stop using plastic bags. Bring your own reusable shopping bags with you wherever you go.
Recycle more – not just in the kitchen at home.
Avoid plastic bottled water - carry a refillable bottle instead – there is a map of potable water points on https://www.facebook.com/sustainabilitydcu (include new points if you find them !)
Reduce your printing - Print Double-sided if necessary.
Use recycled paper for brochures/flyers etc
Run digital poster campaigns NOT paper posters
Use refills rather than buying new each time.
Be conscious of packaging and where possible leave unnecessary packaging in the shop to encourage them to reduce it.
Reuse unrecyclable material - Check out the Rediscovery Centre (http://www.rediscoverycentre.ie/) for bicycles, fashion, furniture, paint and lots more
Reduce Meat Consumption – Support Meat Free Mondays

Biodiversity

Start your own vegetable patch either at home or in the DCU Community Garden
Make the switch to natural cleaning products.
Know your own environment and its inherent ecosystems.
Volunteer for at least one environment-related project in your community—maybe a community garden workday or a beach cleanup
Think about the source of your projects – environmentally and ethically
Shop local and in season
Plant a tree

Transport

Walk/Cycle to work/school/college for a healthier environment for all
Use/Promote public transport options
Think before you jump in the car – is the alternative healthier and cheaper for you.
Consider the carbon footprint of your air travel – is teleconference a reasonable option (http://www.carbonfootprint.com/calculator.aspx)
Holiday in Ireland

Communications

Understand the impact of our actions – sustainable development is our only way forward – understand your impact and role.
If you have more suggestion please send them to sustainability@dcu.ie and we can add them to the list.
Making the Post Carbon World
Not optimism, not pessimism but realism
Corrie Mountain Wind Farm, Co. Leitrim, image credit: RTG - CC BY-SA 4.0
This is a new pilot live online conversation aiming to empart an understaning of why and how we might make a post carbon world. MPCW is a free, open-access, online course offered by DCU School of Electronic Engineering in collaboration with the DCU Sustainable Economies and Societies Hub, DCU Sustainable Campus, and the United Nations Dublin Regional Centre of Expertise in Education for Sustainable Development (RCE Dublin, hosted by DCU).
Click Here to go to the MPCW-16 on LOOP
VERY IMPORTANT NOTE!
MPCW is "extra-curricular", i.e. not for credit. There is no formal assessment, no grade, it will not count for any DCU academic award, and will not appear on any DCU transcript of results.
And with that out of the way: MPCW is intended to provide a concentrated, stimulating, whirlwind tour of some of the biggest issues now facing global human civilization, and give participants some essential tools to play an active, empowered role in changing our shared world for the better!
"Not optimism, not pessimism, but realism."
MPCW gives a high level overview of the challenges posed to global humanity by human-caused climate change in particular, but also considers overshoot of other biophysical "planetary boundaries". It then provides for facilitated exploration of how we can respond (individually and collectively) by actively working to make the transition to secure, just, democratic and authentically sustainable post-carbon societies.
Your MPCW hosts/facilitators are:
The format is a series of 10 week-long "online conversations". We start each Friday by providing a small set of key online resources on a specific topic, via a dedicated loop online forum created for that week. These resources will provide the focus and context for all our discussions through to the following Friday. The first part of the week (from Friday to Wednesday afternoon) is an opportunity for participants to review, comment, and post questions about the target resources. Then, each Wednesday evening from 6.45pm-7.45pm (Dublin local time) we will have a live webinar event, in which the facilitators will consider the state of the online discussion so far, invite live questions and comments, and suggest further directions for research and debate. (While all participants are encouraged to join all the live webinars, they will also be recorded for later "on demand" viewing.) The discussion then continues in the weekly loop forum until it wraps up on Friday, when we transition to the following week's cycle.
This is a dynamic, "participant-driven" course. While we have a "menu" of specific topics and resources in mind, there will be opportunities for participants to propose specific directions or additional areas that could be dynamically included as the course unfolds.
Week 1 of MPCW-16 starts on Friday, 5th February 2016. Do please join us for what promises to be an exciting and enjoyable learning experience for all concerned!
If you have immediate general questions about the course - e.g., if you have not used loop before etc. - then please post your query on the"HELP!" forum and we'll do our best to respond.
Here is some background/thought provoking videos
"Does COP21 go far enough to tackle climate change? Duncan Stewart speaks with Barry McMullin"
Climate Change is simple ... - David Roberts
Fossil free Ireland | Dr Cara Augustenborg | TEDxUCD
More info to follow
Contact details : sustainability@dcu.ie
The DCU Community Garden
The DCU Community garden is open to all staff, students and DCU alumni along with member and organisations from our local community for utilisation as a resource for teaching, research, education, training and community engagement.
Directions
The entance to the DCU Community Garden is behind the library on the eastern edge of the Glasnevin campus. In the most easterly corner of the campus there is a gateway that leads down to a 1.6 acre off grid garden. Please click here for more information on how to get to the DCU Glasnevin campus.
To become a member of the DCU Community Garden please complete this form
You can also download a membership form here and return it by email to garden@dcu.ie
Here is our health and safety statement for the garden: online here - please read and sign
You can download a pdf here
Further Information
Contact Samantha Fahy 01-700 7626 or email samantha.fahy@dcu.ie
Teaching and Learning
Support mechanisms to enhance and embed the understanding of Sustainable development in all our Graduates so that as future leaders they implement sustainable practices.

While there are many undergraduate and postgraduate modules and programmes that already contribute directly to the teaching of sustainability principles as detailed later in this report, it is an aim of DCU to deliver an understanding of sustainable development to all students through module design, regardless of programme choice.

An outline of the core DCU programmes which at present relate directly to the teaching of principles of sustainability at present is illustrated below:
Teaching and Learning Map
Research and Innovation
Support researchers in the development, test bedding, demonstration and promotion of innovative solutions, tech & non tech, which progress us along our path to a sustainable future.
In undertaking a mapping project of sustainability related activities across all faculties and core support units within the DCU, it has become apparent that there exists a strong presence of sustainability focused activity as normative procedures, despite never having been identified as such. [Ref : GIOS, ASU]
Research & Innovation Map
GCSO Water Project
As a member of the Global Consortium for Sustainability Outcomes , DCU is undertaking a sustainability research project investigating the reduction/removal of hot water in sanitary facilities and the associated energy and water savings providing a potential 3-5% savings in our Carbon Footprint. An initial on campus pilot will focus on the user engagement and behavioural change aspects with no immediate turning off of the hot water. It is hoped that the final GSCO report will provide the necessary justification to seek a change in building regulations across all GSCO partner countries.
According to the World Health Organisation, Health Service Executive and Centre for Disease Control, warm or hot water is no more effective for hand hygiene, yet a huge amount of energy is consumed annually in DCU to heat water to +60degC to avoid legionnaires disease. As a result of this, a large amount of carbon-dioxide is emitted into the atmosphere, adding the DCU's greenhouse gas emission. Along with King's College, London and the University of Toronto, our research has demonstrated that turning off water can reduce greenhouse gas emission by 3-5% on campus. This would be a very significant step towards DCU's goal of becoming a carbon neutral campus.
GCSO Capacities Project
Making cities more sustainable requires more than upgrading roads, bridges, and water and energy systems; cities need to create enduring social infrastructure - the knowledge, skills, attitudes and networks of city administrators, local businesses, non-profits, and residents. Research has shown that city-university partnerships can help compensate for the structural limitations of each organization type and can result in improved sustainability outcomes. Cities and universities need to work together to tackle big urban problems, but they also need to be able to sustain these collaborations throughout the life cycle of a transformation. The "soft path" of people and partnerships is often more complex than the hard path of dams, pipes and power lines.
As part of this project DCU, the Climate Action Regional Office (CARO) and Dublin City Council (DCC) will complete the AudaCITY for Partnerships Program (APP), a comprehensive method to guide cities and universities in the development of durable and audacious city-university partnerships capable of tackling big sustainability problems over time. APP includes a process for goal setting and stakeholder identification, a serious game (AudaCITY for Partnerships) to guide cities and universities in defining productive, mutually beneficial partnerships, and post-game protocol to ensure that the partnership can maintain the commitment necessary to execute a long-term sustainability transformation over time. This project will enable DCU to form long standing relationships with the CARO and DCC offices to tackle city wide sustainability efforts such as the DCC Climate Action Plan.
If you have further questions please contact sustainability@dcu.ie
Community Engagement
DCU and Community leader to engage our local community on sustainable activities including such project as the DCU Community Garden.
Community Outreach
Encompassing such issues as equal access to social resources, corporate Governance, community, diversity, culture and quality of life, social sustainability is just one aspect of sustainability but one that is often the weakest in terms of representation. DCU has long recognised the merits and responsibilities of engaging with the wider community and contributing to the social and economic contexts of the community in which we are based. The development of a specific 'Civic Engagement' mission and the establishment of the DCU in the Community outreach centre in Ballymun is a solid expression of the commitment which DCU has made to community outreach projects. Wider outreach has also been promoted through initiatives such as the Dublin 5th Province project coordinated by DCU and the Irish African Partnership for Research Capacity Building. The launch of Sustainability @ DCU in early 2012 has also opened doorways to engagement through shared learning (Sustainext), accessibility of DCU resources to the public (Community Garden), new partnerships (GIOS) and research opportunities (student exchange ASU). Through DCU's active Civic Engagement Forum, the University has also been promoting a mutually beneficial relationship between the institute and the community with the aim of delivering a range of activities though which staff and students engage with the needs of communities and seek develop their own social understanding through active citizenship. DCU is committed to playing a positive role in the socio-economic and cultural regeneration of the city, region and nation.
Community Inreach
The DCU concept of community engagement also works inwardly whereby 'needs lead' research and innovation is given high regard. The DCU Science Shop is a project which allows for a community knowledge exchange to an ultimate end of DCU research and technology having an applied and contributory role to locally identified needs of society. DCU is also strongly engaging its local community in the development of its on campus Community Garden.
Links to DCU in the Community:www.dcu.ie/community/DCUcommunity/welcome.shtml
Community Garden facebook page: www.facebook.com/DCUCommunityGarden
Sustainability facebook: www.facebook.com/sustainabilitydcu
News and Events
Do you want to know how much Carbon is left !!