Primary Department
School of Policy & Practice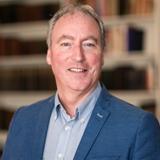 Phone number:
Email Address
pj.sexton@dcu.ie
Campus
St Patrick's Campus
Academic biography
PJ Sexton is a lecturer in the School of Policy and Practice at the DCU Institute of Education and is currently the Director of CREATE (Centre for Research Across Teacher Education). He is Chair of the Bachelor of Religious Education and History/English/Music Programmes and contributes to the MA in Chaplaincy Studies and Pastoral Work and to the Doctorate of Education Programmes. PJ was Head of the School of Education in Mater Dei Institute of Education prior to its incorporation into DCU.
PJ Sexton's teaching is primarily in the area of teacher professional identity, reflective practice, professional development, leadership, mentoring, pastoral counselling/skills, chaplaincy and religious education. He has international teaching and leadership experience at primary, post primary and third level.
PJ holds a PhD from Fordham University, New York and three Masters Degrees: the most recent (2012) an MSc in Clinical Supervision from Trinity College, Dublin. His research interests include: teacher education, reflective practice, ethos, mentoring, supervision, religious education and lifelong learning.
Research interests

Teacher EducationTeacher IdentityResearch Methods Religious Education The Role of Reflection for Professional Development
MentoringSupervisionLifelong Learning Leadership