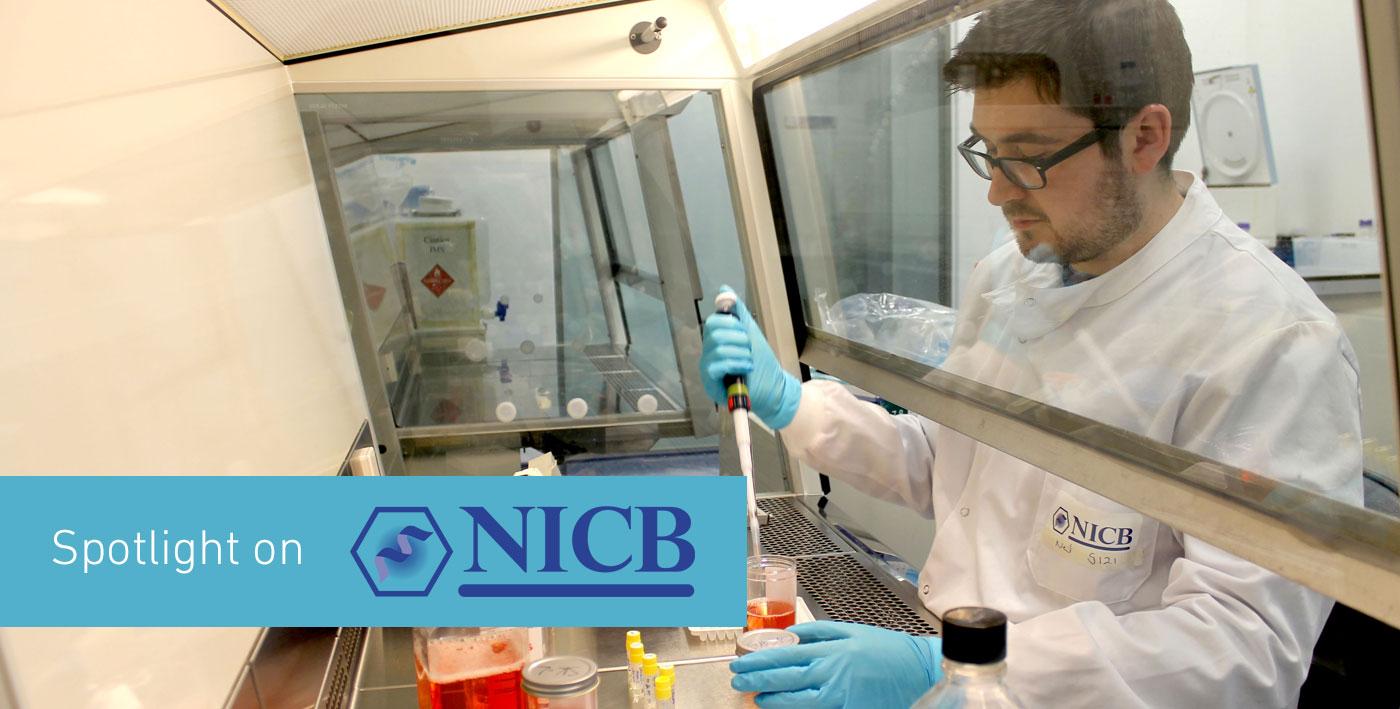 Center Spotlight Series - NICB
In this series we will shine a spotlight on the research being undertaken in DCU centers. This month we are looking at the NICB (National Institute for Cellular Biotechnology). You can find previous center spotlights here.
The vision and mission of the NICB is to provide targeted and applied solutions to challenges facing the Biopharma industry and translational medicine, utilising our unique multi-disciplinary team, our extensive clinical & industry network and our collaborative problem-solving expertise to deliver value for stakeholders, collaborators and patients. The NICB research teams investigate human and animal cells and tissues at the molecular level in order to uncover biological mechanisms and develop new treatments and diagnostics for a variety of human and animal conditions with particular emphasis on cancer, diabetes, infectious diseases, ocular diseases and nutrition.
The NICB has three main research themes:
Upstream cell line innovation and development for the Biopharma industry
Translational "bench to bedside" clinical research to deliver solutions that directly benefit healthcare providers and patient care
Development and characterisation of cell models for healthy and diseased tissues
The NICB enjoys an unusually wide range of close clinical collaborations with all the major Dublin hospitals (including SVUH, Mater, St. Luke's, Beaumont, James Connolly (Blanchardstown) and the Royal Victoria Eye & Ear hospitals) as well as the Irish Blood Transfusion Service, all of which places the NICB exceptionally well in terms of access to clinical material for research and providing expertise in disease areas such as cancer, diabetes, and ocular diseases, with a clinical trial in ocular stem cell therapy scheduled for 2016.
Similarly, our research work supporting the biopharma industry has led us to develop a large network of industry collaborators (including Alltech, Amgen, Biogen Idec, Diosynth, Eli Lilly and Wyeth/Pfizer, among others).
Notable successes in this area include (i) an ongoing research partnership with Eli Lilly, co-funded by Enterprise Ireland, now in its 3rd year and, (ii) the designation of NICB, in 2015, as one of Alltech's International Strategic Research Partners and (iii) the 8-year (>€6M SFI-funded research collaboration between DCU and Pfizer (previously Wyeth Biopharma), performed at the NICB in collaboration with scientists at the Pfizer campuses at Grange Castle, Clondalkin, Ireland and Andover, Massachusetts, USA, examining the molecular basis of biopharmaceutical production.
The NICB/NCTCC launched a spin-off company, Archport/Biouetikon which generated 25-30 jobs on campus over a 15-year period and has maintained a vibrant research activity on campus, employing scientists and supporting PhD students consistently over the past 28 years.
The NICB currently has several academic strategic research partnerships, with the National Institute for Bioprocessing Research & Training (NIBRT), the Synthesis and Solid State Pharmaceutical Centre (SSPC) in UL, 3U research groups in NUIM & RCSI, as well as academic groups involved in the CHO International Training Network (CHO ITN: Danmarks Tekniske Universitet – Technical University of Denmark, University of Kent and the Austrian Centre for Industrial Biotechnology).
NICB's external funding agencies include E.I., SFI, HRB, Irish Cancer Society, St. Luke's Cancer Research Fund, EU, Mater Hospital Foundation, Clinical Cancer Research Trust, Caroline Foundation and The Irish Research Council.
The future plans for the NICB are to build on our excellent record in world-class basic research, leveraging off our close interactions with industry and clinical collaborators, generating I.P./patents, high-impact publications and external revenue, thus contributing to postgraduate and undergraduate education and improving outreach activities (incl. interaction with media, schools, visitors to the University, etc.).
For further information of our upcoming events please visit our website here. Get in touch via email nicb@dcu.ie or phone 01 700 5700.