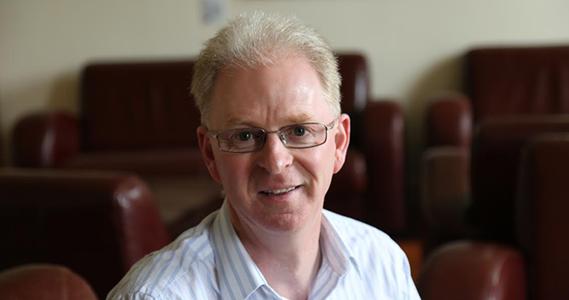 Below Image
Professor Greg Hughes Appointed as Vice President for Research and Innovation
Professor Greg Hughes has been appointed by DCU Governing Authority as Vice President for Research and Innovation. He will play a pivotal role in developing and implementing the Research and Innovation component of DCU's Strategic Plan and in advancing the university's profile significantly in these key areas.
Prof. Hughes holds a PhD in semiconductor physics from the University of Ulster, Northern Ireland. His research interests include investigation of chemical interactions on semiconductor surfaces, the interactions of group VI elements with semiconductor surfaces with the specific objective of improving the electrical characteristics of multiplayer structures fabricated on these surfaces, electrical and chemical characterisation of thin film dielectric layers used in advanced transistor fabrication technology, and developing an understanding of the chemical and structural interactions of organic molecules with semiconductor surfaces. He has published over 150 research papers in the field of surface science.
During his career, Prof. Hughes has received numerous major research awards from the Science Foundation Ireland, Enterprise Ireland and the Irish Research Council, among other funders.
You can find the full profile of Prof. Hughes here.