Welcome to the TORA Homepage
TORA is DCU's new research application and award management system. The system facilitates seamless integration from institutional approval of funding applications, through to the recording of successful awards and their associated budgets, and finally to the management of post-award financials. Using TORA, you can:
- submit funding applications for institutional approval
- receive feedback on your application
- track the status of your application through the institutional approval process
- store your application and award documentation in a single document store
- view all of your applications and awards.
ALL intended applications for external funding must be submitted for prior Institutional Approval. Please allow a minimum of five (5) working days for RIS/GSO and Finance Office review and endorsement.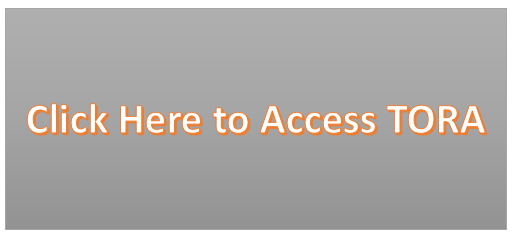 TORA can be accessed on campus. If you are accessing TORA off-site you will require VPN access. Please contact ISS to arrange this.
By submitting an application on TORA you are agreeing to the Terms and Conditions below.
Contact Points
Research and Innovation Support (research@dcu.ie, 7008000)
Isabel Hidalgo (isabel.hidalgo@dcu.ie, 7007894)
Audrey Barter (audrey.barter@dcu.ie. 7005612)
Helen Burke (helen.burke@dcu.ie, 7008003)