Teaching & Learning Quality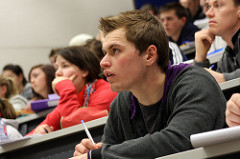 Teaching quality is maintained and encouraged within the faculty, and throughout DCU, using a variety of systems-centred and student-centred mechanisms as outlined below and summarised in the graphic. Just click on the tabs below to view the graphics.
Graphic: Maintaining Academic Integrity and Quality in FSH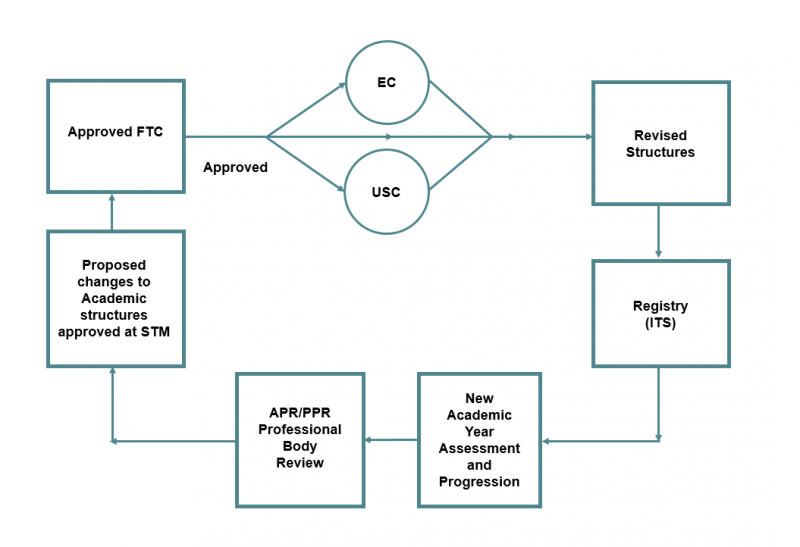 Graphic: FSH Programme Management Structures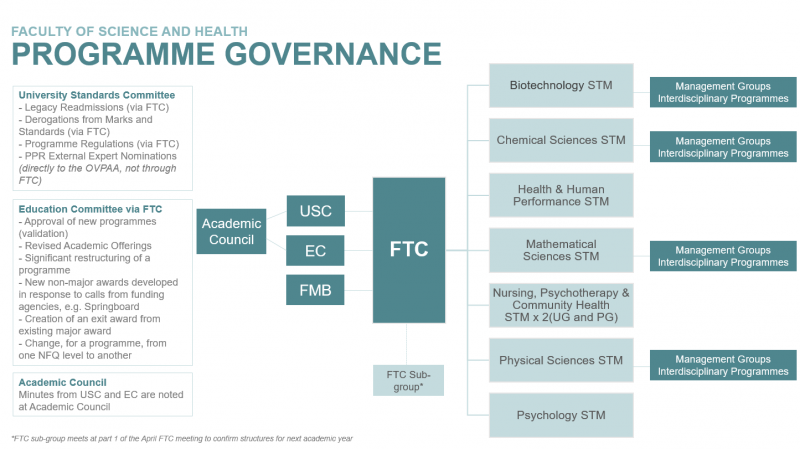 School Teaching Meetings (STMs)
These meetings are held bi-annually and are used to plan, approve and monitor all aspects of the academic content of each programme. Any substantive changes made to the academic structure and content of any programme must be agreed at these meetings and submitted to the Faculty Teaching Committee for approval. Some changes may require further approval at University Standards Committee (USC) or Education Committee (EC).
Faculty Teaching Committee (FTC)
This committee approves changes to programme structure and content, approves module exemptions and special-case admissions, notes instances of plagiarism and makes recommendations to EC as to the academic quality of new standalone modules and programmes. It also makes an initial assessment of all APRs and PPRs and the ADTL reports to Faculty Management Board. The full terms of reference for this committee are available on the faculty intranet.
Annual Programme Reviews (APRs)
Each programme undergoes an annual programme review in which key trends are monitored, significant changes to programme structure recorded, strengths and weaknesses identified and comments from external examiners recorded. APRs are submitted to the Faculty Teaching Committee for noting and the Associate Dean for Teaching and Learning makes a summary report to Faculty Management Board. The Dean makes a further report to Education Committee.
Periodic Programme Reviews (PPRs)
These are done at five year intervals and involve a comprehensive review of each programme with a view to assessing the overall quality, the continued relevance and the sustainability of the programme.
Professional Reviews
Many programmes are subject to professional accreditation and these are conducted at intervals determined by the relevant professional body. Where feasible, these are linked into the timings fo the PPRs.
School Quality Reviews
All schools and units within DCU undergo periodic Quality Reviews in which all school activities, including teaching and learning, undergo a thorough assessment by a quality review panel that includes international experts.
University Standards Committee (USC)
USC, which is chaired by the Deputy Registrar / Dean of Teaching and Learning, approves the appointment of all external examiners. It also approves the re-admission of legacy students, derogations from Marks and Standards, and approves Programme Regulations on an annual basis. It also formulates policy in a wide range of areas related to Teaching and Learning. The full terms of reference for this committee are available at http://www.dcu.ie/ovpaa/usc/index.shtml
Education Committee (EC)
Education Committee is responsible for accrediting all new programmes and for approving major changes to existing programmes. It also approves and accredits all standalone modules. The full terms of reference for this committee are available at http://www.dcu.ie/ovpaa/education-committee/index.shtml
Student-Centred Quality Mechanisms
School Teaching Meetings
Representatives from each class in each programme attend STMs.
Student Survey of Teaching (SSOT)
Students are invited to give feedback on all modules via Loop.
QuEST- Module Level Feedback
At the end of each semester, a short survey is presented on each module site within Loop (Moodle). This survey looks specifically at students' learning experience within modules. This survey helps module co-ordinators and lecturers plan changes and improvements to modules in the future. This survey also helps programme chairs review taught programmes on an annual basis.
The 1st Year Student Experience Survey
Every 2 years, DCU invites 1st year undergraduate students to complete the DCU 1st Year Student Experience survey. This survey focuses on a student's journey from applicant to higher education to the end of their first semester. This survey is used by the university to understand the concerns that students may have in their first semester within the university. It helps both faculties and support units design better ways to successfully ease new students into university life.
Quality Review Student Surveys
During your studies, your School or Faculty may undergo a Quality Review. Feedback received from students is a core part of the Quality Review process at DCU. You may be asked to complete a survey, take part in a focus group, or attend a meeting with a review panel. The purpose of this feedback is to understand the quality of the learning experience within your Faculty or School, and also to make recommendations on how the learning experience of students can be further enhanced.
Tracking of at-risk students
Students who are not performing well are easily tracked using GURU software 'traffic light' system. Interventions are made as required.
Student Supports
A variety of student supports are provided in the faculty. The Maths Learning Centre, for example, provides ongoing support for all students who are struggling with mathematics.
Irish Survey ofStudent Engagement
This is a national survey that in 2015 surveyed more than 27K students to assess the quality of the student experience in Irish higher education.
General University Teaching Quality and Innovation Initiatives
Teaching Enhancement Unit (TEU)
The TEU, in cooperation with the National Institute for Digital Learning (NIDL) provides ongoing support to all academics who strive to innovate and enhance the quality of their teaching.
President's Awards for Excellence in Teaching and Learning
The President's Awards for Excellence in Teaching are awarded annually to individuals and groups who have excelled in their teaching.