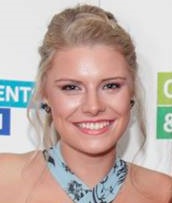 Name: Jennifer Kavanagh
Contact phone number: 01 700 7441
Contact email address: Jennifer.kavanagh32@mail.dcu.ie
Qualification of Study: Ph.D
Research Title: The effectiveness of a balance bike on fundamental motor skills and time to ride a bicycle.
Year commenced: 2016
Anticipated year of completion: 2020
Supervisor: Dr Johann Issartel
Research summary:
My research focuses on fundamental motor skills of children, their perceptions of ability and learning to ride a bicycle. In particular, I am looking at the effect of balance bikes and an associated app on these variables. A key miles-stone in a child's development is the independent riding a bike, which in itself can help to develop a child's ability in fundamental motor skills, improve fitness and help develop self-confidence. Independent cycling is a challenging task, and so it is important to understand the best way to support its development. Other research areas include; adapted physical activity, child psychology, and app usability.