School of Health & Human Performance
Health and Human Performance - Links
Recent News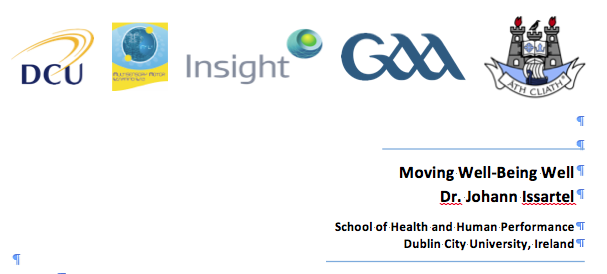 Applications are invited for Ph.D scholarship of the newly launched
Moving Well-Being Well Project
Irish Institute of Sport

Research

partnership with School of Health and Human Performance

For more information click
here
DEDIPAC Ireland One Day Symposium

For more information click here
Former SHHP student named best Hockey Goalkeeper in the world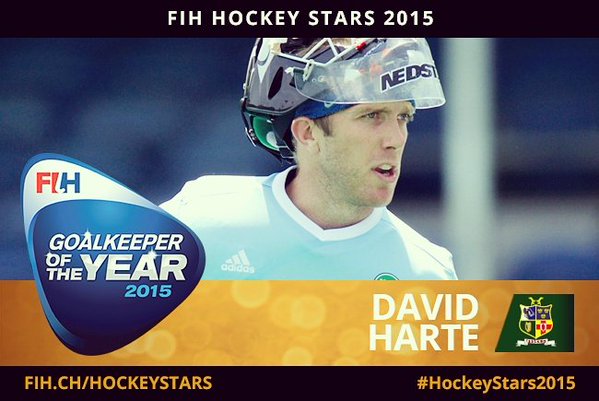 For the full story, click here
A great night had by all at the School Oscars themed ball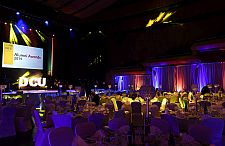 The annual School ball was a resounding success with a record 280 staff and students attending. For more details and photos from the night click Here
PATHway project launched in DCU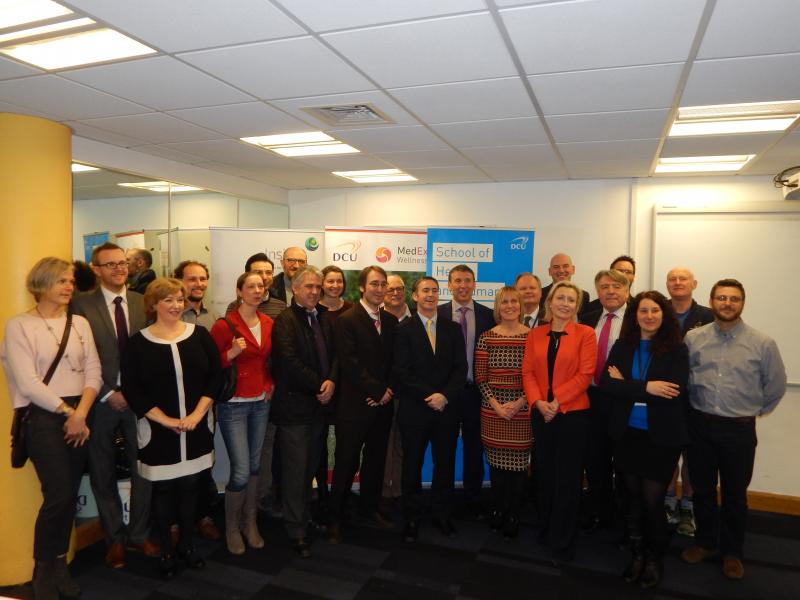 The School of Health and Human Performance along with other key partners within DCU and Europe have launched the PATHway project. The project aims to use technology in enabling behavioural change as a pathway twoards better self-management of cardio-vascular disease. For more information on theproject click here
Sport forLife finale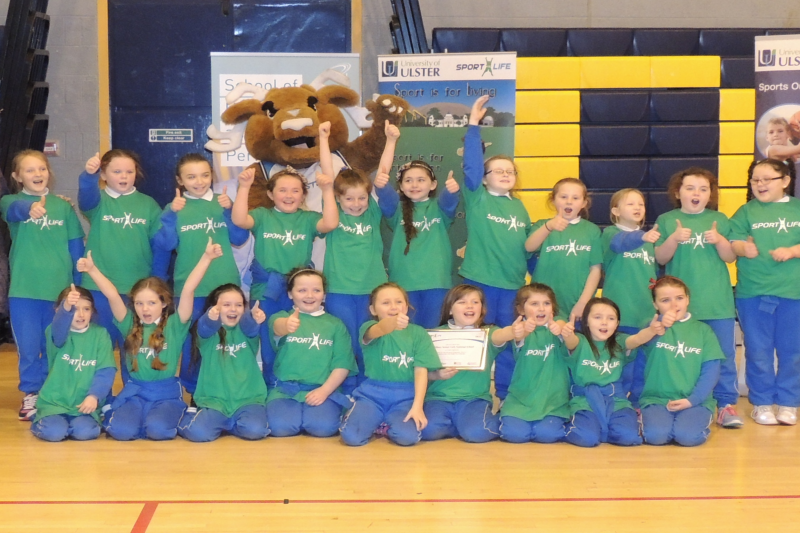 The Sport For Life Programme came to a grand finalé at DCU Sport in January with over 1400 3rd class students from 50 primary schools across Dublin participating in the Sport For Life festivals.
DCU Coaching Masterclass Series – 'using science to get the edge'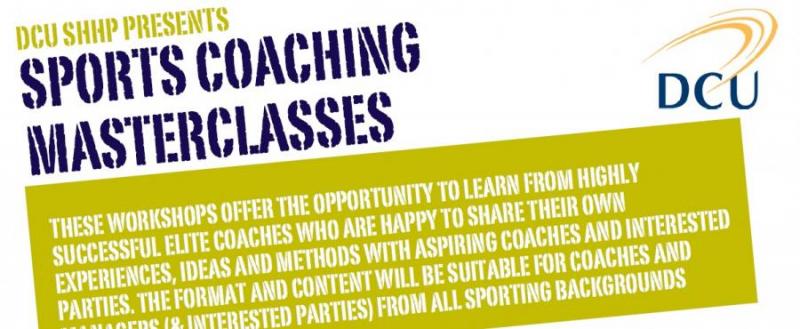 Wednesday 4th, 11th, 18th, and 25th March 7:30-10:00pm
DCU School of Sport Science and Health are proud to present their second series of Coaching Masterclasses, due to take place over the first 4 weeks in March.
After the success of the previous year's masterclasses, Prof David Passmore along with a group of final year Sport Science and Health students are looking to host a series of evening presentations with some of the country's top level coaches, sport scientists and athletes to explore how you can 'use science to get the edge'. This series of masterclasses aim to cater for all levels of coaches and athletes, sport science students and anyone who has a thirst for science in sport.
The masterclasses will look to cover some of the key areas in sport science such as Sport Psychology, Sports Nutrition, Performance Analysis, Strength and Conditioning and many more, with an emphasis on practical application. Some of the topics to be covered are;
For more information and details of this years speakers click here
Researchers needed in Exercise and Health Behaviour change.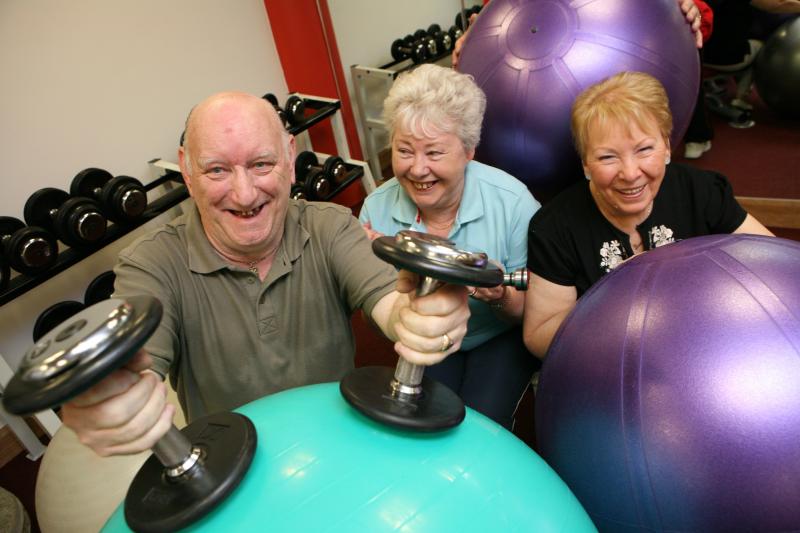 Fantastic postdoc and PhD opportunities on offer within the School of health and Human performance researching Exercise and Health Behaviour change. For more information click here
MedEx DCU and the Irish Cancer Society
PhD scholarship
The Irish Cancer Society in conjunction with MedEx is offering a unique PhD research opportunity to a suitably qualified candidate. This research scholarship will involve an exploration and detailed analysis of stakeholder (patient, health professional and service provider) experiences of referral to, and engagement with Move On, a 12 week cancer rehabilitation programme. For more information on all involved and how to apply click here
Applied Research Postgraduate Studentship in MedEx, DCU Sport and the School of Health and Human Performance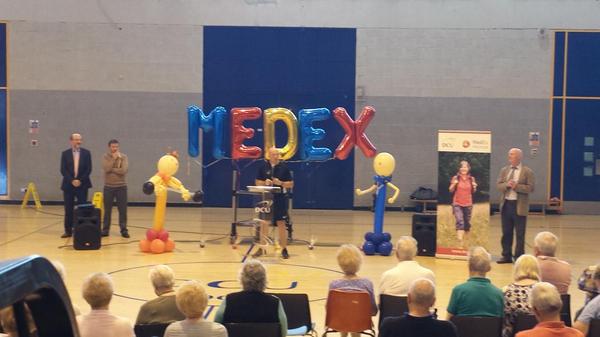 DCU Sport in conjunction with MedEx and the School of Health and Human Performance are offering a second PhD studentship to a suitable candidate. This opportunity is for a part-time postgraduate qualification either a PhD or an MSc (depending on the candidate). The contract is a teaching position, working only on the MedEx programmes, the candidate with gain invaluable applied experience within the area of community-based chronic rehabilitation. The area of study is open and dependent on the candidates area of interest. Please see the details of the position
here.
If you know of anyone who might be interested in this area, please pass on the information.
Kind Regards,
Catherine
Development of National Exercise Referral Framework (NERF)
The School of Health and Human Performance has been commissioned by the Health Service Executive to develop a new National Exercise Referral Framework (NERF). For more details and the chance to have a say on its development click here
The Stanford Experience: A Student Athletic Therapist and Trainer's Perspective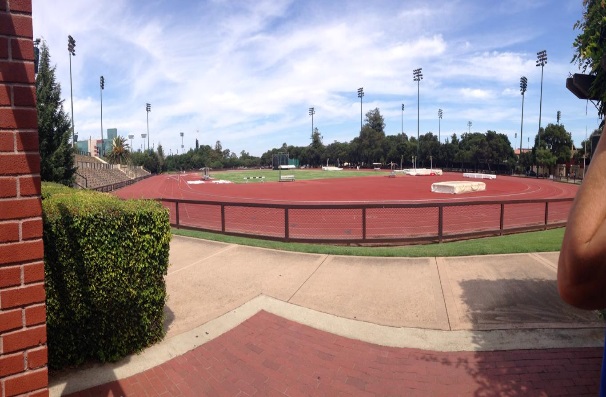 Vanessa is a current final year student in DCU studying Athlethic Therapy and Training and is currently on clinical work experience in Stanford University, California. To find out more on her time and experiences to date click here
State of the art technology development to preserve and promote traditional sports

The next stage of the RePlay project commenced this week in Oxfords Audiomotions studios where unique sporting techniques were captured using specialised motion capture cameras. For more information on the project andthe role DCU is playing click here
(BBC report is available here)
Launch of new Physical Activity Report Card in Children and Youth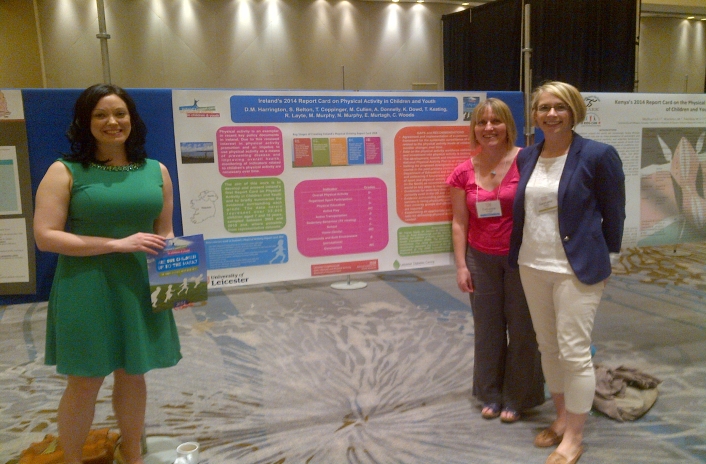 A new international scale of children's physical activity levels has graded Ireland with a D minus. According to data from all over the island of Ireland, only between 12 and 43% of children do enough physical activity. On May 20th 2014, fifteen countries from around the world will publish a series of grades based on children's physical activity in Toronto, Canada. For more information click here
Get Active Day a massive success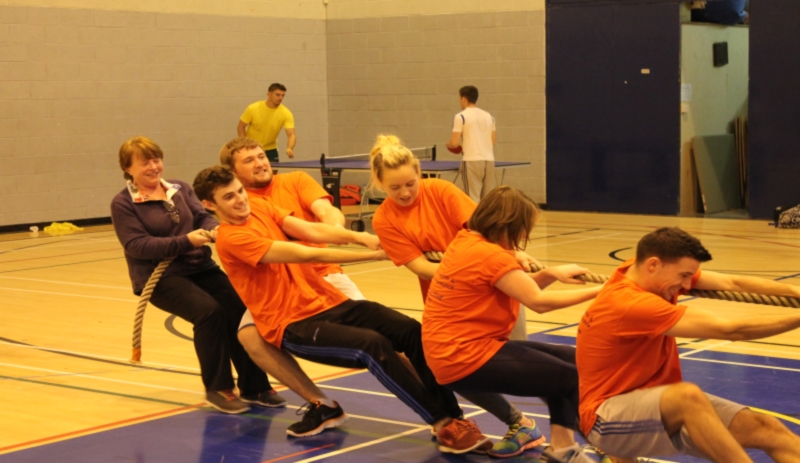 The School of Health & Human Performance held its 'Get Active Day' on Wednesday 8th October with over 200 students participated in the event. For more information and photos click here
Athletic Therapists Expand their International Reach
At the recent World Federation of Athletic Therapy and Training (WFATT) World Congress and Faculty of Sports and Exercise Medicine Annual Scientific Conference hosted in DCU, the mutual recognition agreement was signed. This heralds a major development for students and graduates of the BSc. In Athletic Therapy and Training programme in DCU.

The signing of the mutual recognition arrangement. From left to right Paul Berry, BSc, ARTC, President of Athletic Rehabilitation Therapy Ireland, Susan McGowen, PhD, ATC, President of Board of Certification, Inc. and Richard DeMont, PhD, CAT(C), President of Canadian Athletic Therapists Association.
For more information click here
Sports Medicine Conference in DCU a resounding success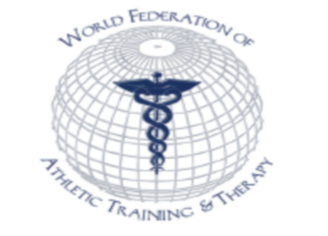 Dublin City University was the venue the combined World Federation of Athletic Training and Therapy (WFATT) World Congress and the Faculty of Sports and Exercise Medicine (FSEM) Annual Scientific conference. On offer were theoretical presentations and practical, interactive workshops on numerous common injuries in sports people. For more information click here
DCU Get Active Day 2014
'Get Active Day' is a sports day run by the School of Health & Human Performance at Dublin City University for undergraduate and postgraduate students. This year it will run on Wednesday 8th October 2014.
This year the School of Health & Human Performance have decided to use this opportunity to raise funds for Billy's World. For more information click here
The Sport For Life All Ireland initiative kicks off at Dublin City University and the University of Ulster

Recognised as an example of best practice by the World Health Organisation (WHO), this 12-week physical activity and health programme developed at the University of Ulster will be rolled out in each of the four provinces on the island of Ireland. Sport for Life aims to educate children about living healthy, and active lifestyles. The initiative will reach more than 200 primary schools and 4,000 pupils in the most disadvantaged areas across the island of Ireland.
For more information click here
School secures Large scale European Funding to aid home based Cardiac Rehabilitation.
The School of Health and Human Performance are leading a €5 million European Horizon2020 project (PATHway) involving 9 European Partners, aiming to enhance the rehabilitation process of patients recovering from Cardio-Vascular Disease (CVD), which is the leading cause of premature death (30% of all deaths) and disability in Europe and worldwide (WHO), costing the EU economy almost €196 billion a year.
For more information click here
PE PAYS Research Forum 2013
Where: Dublin City University When: June 13th & 14th, 2013. Theme: Youth Sport
Keynote: Proffessor Joan Duda, University of Birmingham
This is a European-based project committed to enhancing young peoples' health and well-being, via positive experiences in youth sport. Our goal is to develop, deliver and evaluate a theoretically-grounded and evidence-based coach education programme that can help coaches foster quality motivation and make youth sport engaging, empowering, and enjoyable. The PAPA Project is funded by the EC under the Framework 7 programme.
PAPA involves a collaboration between leading researchers and sporting leaders in the UK, Norway, Spain, France and Greece. See: http://www.projectpapa.org/
Registration
Options:
1. ONLINE AT: http://pepaysresearchforum2013.eventbrite.ie/
2. VIA BANK TRANSFER/CHEQUE – DETAILS ON FORM BELOW
REGISTRATION FEES:
FULL FEE: €40
STUDENT FEE: €15
A late fee will apply of €10 (full) €5 (student) if you choose to register on the day of the event.
New Programme Scedules
PhD. Studentships
The School of Health and Human Performance in DCU has a number of postgraduate scholarships in 'youth physical activity and physical education'. One scholarship is particular to physical education, and the others are general to all areas. As part of the Physical Activity, Physical Education and Health research cluster you will be given the opportunity to work alongside a dynamic research team. The scholarships will focus on children and youth and cover a number of areas examining the psycho-social determinants of physical activity, and physical activity measurement, intervention design, and evaluation.
For further details click here
DCU Athletes Lift the Roof at Millrose Games

DCU Athletes make history as first Irish collegiate team to compete in prestigious Millrose Games in New York, one of the world's biggest indoor athletics meeting, competing against the best colleges in the east coast of America.
Four DCU athletes, Joe Warne a PhD. Student in Sports Science, Brian Greegan a final year Sports Science student, Mark English and John Coughlan competed in the 'Distance Medley Relay' on the Armory Track, New York on Saturday night. The Irish team recieved a roof lifting welcome from the 6,000 fans cheering 'ireland' and 'ole ole ole', screaming for them to win which they very nearly did, finishing in an impressive 2nd place by less than 1.66 seconds.
The 'Distance Medley Relay' was lead out by Joe Warne in the 1200m leg who ran a tactically astute race shadowing the leader for most of the race, making a courageous move down the back straight and round the final bend trying to take the lead, passing the batton almost in first place to Brian Gregan on the 400m leg. Brian ran a powerful 2nd lap blazing into the lead on the back straight, accelerating away from the other ahtletes and handing over to Mark English on the 800m leg with a good lead. Looking very relaxed Mark ran a great race stretching out the lead to give John Coughlan a chance in the final 1600m leg. With the faster man on paper from Villanova chasing in 2nd place John held the lead only to be passed with 200m to go, fighting all the way to the line to bring the team home in an amazing 2nd place.
Well Done to the athletes, Joe, Brian, Mark and John, and DCU Athletics Academy Director Enda Fitzpatrick, for an inspiring performance, doing both DCU and Ireland proud!
For footage of the team in action click here (approximately 3:52 on clip).
All Island First Year Fitness Challenge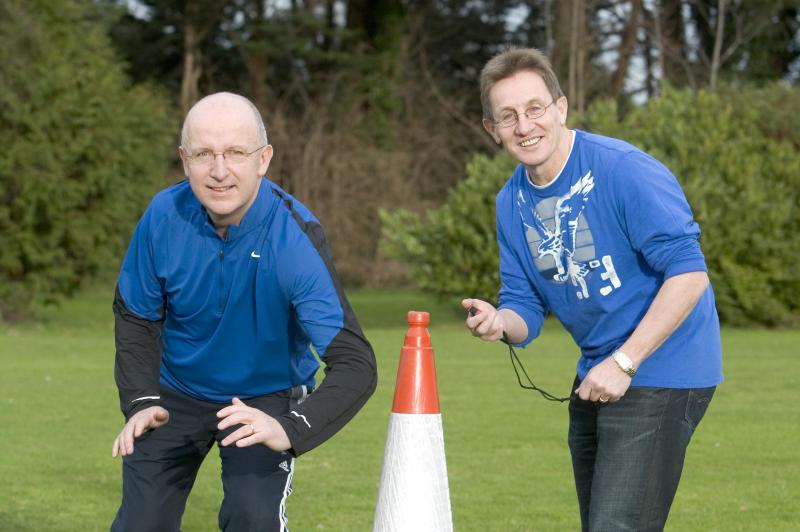 Launch of 'All Island First Year Fitness Challenge'.
Dublin City University is joining forces with RTÉ Radio 1's The John Murray Show to launch the First Year Fitness Challenge for schools throughout the island of Ireland. DCU, through its Sports Academy and School of Health and Human Performance, has demonstrated a commitment to the promotion of physical activity as an integral part of an individual's education.
The initiative, spearheaded by Professor Niall Moyna, aims to transform the fitness levels of our schoolchildren and encourage them to adopt healthy behaviour patterns at an early age. As part of Operation Transformation 2012, Professor Moyna is currently running a challenge to a fifth year Class in Athlone Community College to pass a 'Bleep Test', a 20m shuttle-run test used to determine cardiovascular fitness. The challenge is now being extended to schools on an all-Ireland basis to ascertain the level of fitness of first year secondary school students and to demonstrate how improving cardiovascular fitness can prevent heart disease, early onset of obesity and associated health problems.
For full story and details of how to participate please click here.
Get Active Day

This October welcomed the first School of Health and Human Performance staff and student sports day. This student-led initiative produced a great turnout from both staff and students from all programmes with all activities hotly contested. Photos will follow soon.
David Carey, SSH2, wins the DCU enterprise competition
DCU enterprise competition This year winner is David Carey, a second year student on the BSc Sport Science and Health programme. He devised a business plan for sports nutrition and healthy lifestyle product, which would be one hundred percent Irish manufactured to the highest standard possible and contain no cheap sugars or filler ingredients. Additionally, packaging and labelling would be recyclable.
DCU Student Teacher Appointed to the PEAI as the first ever Executive Student Representative
Martin Burmeister (email), studying in his second year on the Physical Education with Biology programme, recently became the first ever Executive Student Representative to be elected onto the PEAI (Physical Education Association of Ireland). Martin's application was in competition with student teachers from all PETE (Physical Education Teacher Education) Institutions. Martin will work with two PEAI student representative from: the University of Limerick, University College Cork, IT Tralee and Dublin City University; to raise the student teacher voice in raising the profile and development of Physical Education in Ireland (Matrin is pictured accepting his certificate from Mike Carey, President of the PEAI).
CSPPA Report
Dr. Catherine Woods, Professor Niall Moyna, Minister Mary Hanafin (Department of Tourism, Culture and Sport), Dr. Deborah Tannehill (UL), Dr. Julia Walsh (UCC) at the launch of the Children's Sport Participation and Physical Activity report in the AVIVA stadium in October.
The Childrens Sport Participation and Physical Activity Study (CSPPA): The CSPPA was a unique multi-centre study undertaken by Dublin City University, University of Limerick and University College Cork. It brought together expertise from physical education, sport and coaching studies and physical activity for health. Its purpose was to 1) provide a national database of physical activity, physical education and sport participation levels of children and youth in Ireland, 2) assess indices of health and fitness in a sub-sample of the target population, 3) collect and analyse information on the factors influencing participation and iv) provide insight into the issues surrounding volunteering in youth sports and activity clubs. Over 5000 children and young people, from all over Ireland, between the ages of 10 to 18 years took part. This research study was funded by the Irish Sports Council, and is available for download below.
Psychology, Health and Medicine Conference
The 8th Annual 'Psychology, Health and Medicine Conference' of the Division of Health Psychology will be hosted by the Department of Psychology, NUI Galway on 4th April 2011. The conference is of interest not only to health psychologists, but to a variety of health professionals.
Keynote Speaker: Dr. Catherine Woods
Title: Physical Activity, Sedentary Behaviour and The Prevention of Chronic Disease.
Increasing physical activity and decreasing sedentary behaviour is related to the prevention of chronic diseases such as diabetes, obesity and some types of cancer. However, individuals of all ages across western countries are not meeting recommended guidelines for physical activity and engage in substantial amounts of sedentary behaviours. It is important to develop our understanding of why people engage in physical activity or decrease their sedentary behaviours. This paper will look at theoretically-informed behaviour change to address these topics.
Please click link for further information (Url)
Sports Medicine Cryotherapy Update Seminar
DCU's second Sports Medicine Update Seminar took place in the School of Nursing Tuesday March 15. The topic was Cryotherapy in Sport. Dr Giles Warrington (Exercise Physiologist from DCU) and Dr Chris Bleakley (Chartered Physiotherapist and lecturer in the University of Ulster) presented a summary of current scientific knowledge on the use of various forms of cryotherapy (including application of crushed ice to the skin, ingestion of crushed ice in water, the use of ice baths and contrast baths and the very controversial use of cryotherapy chambers) for enhancement of athletic performance and for the treatment of injuries. The seminar was a great success and drew an attendance of nearly 150 people from clinical and sport science backgrounds. It seems there is little evidence to support the use of cryotherapy for enhancing athletic performance, except possibly in the specific case of preparing for endurance exercise in a hot environment. Cryotherapy does has an established role in controlling pain following injury. There is less clarity about the interaction between cryotherapy and normal inflammation following injury.
Lecture on cryotherapy in sports performance (Dr. Giles Warrington) (PDF)
Lecture on cryotherapy in sports injury prevention and treatment (Dr. Chris Bleakly.) (PDF)
European Vacancies in Sport Science
The European Vacancies in Sport Science (EVSS) is the platform for promoting and searching for sport science-related employment vacancies. Full access including downloads is provided online from the ECSS.
For more information on the European Vacancies in Sport Science (URL)
National Physical Activity Plan
DCU leads third level institutions in a call to all political parties to promote physical activity and health.
Obesity in Ireland - Current Trends and Actions Required
A talk will take place at the University of Limerick this evening regarding obesity in Ireland. Niall Moyna, academic staff in the Faculty of Science and Health at DCU, will be the speaker and he will be giving talks about Obesity in Ireland - Current Trends and Actions Required.
"The prevalence of obesity has increased with alarming speed over the past twenty years. It has recently been described by the World Health Organisation as a 'global epidemic " (HSE 2005. This seminar aims to provide the current information on the trends of the disease in Ireland, the causes (including genetics) and also the actions required to avoid this preventable disease. The seminar highlights the role of physical activity in health and the importance of the environment on physical activity levels in children and adults. This seminar is open to anyone who would like to attend bit would be of particular benefit to those working in health care, those interested in physical education and sports science, and teachers at primary and secondary level.
Recent Articles
An interesting series of articles highlighting the work being undertaken in the School of Health and Human Performance.
Can winners be made in a lab? (courtesy of the Irish Times)
We'd save ourselves 135m Euro if more people kept fit (courtesy of the Evening Herald)
Lack of exercise a big factor in poor health levels (courtesy of the Irish Examiner)
Graduation of School of Health and Human Performance; Postgraduate Students 2010
The department would like to extend its congratulations to David Ashley, Brendan Marshall and Brian Carson who graduated this Autumn and received their doctoral research degrees.
David Ashley:
Serum Osteoprotegerin, a Potential Novel Marker of Systemic Inflammation: The Influence of Obesity, Insulin Sensitivity and Oral Glucose Loading on its Circulating Concentrations
Brian Carson: The Regulation of Metabolic Gene Expression in Human Skeletal Muscle by Exercise: the Influence of Exercise Intensity and Contraction Frequency
Brendan Marshall:
Can a Pre-training Biomechanical Pathway Identify the Most Effective Exercise to Enhance a Given Groups, Subgroups or Individuals Countermovement Jump Height.
Eimear Dolan: http://www.irishtimes.com/newspaper/bang/2011/0216/1224289927572.html The Impact of Acute and Chronic Weight Restriction and Weight Regulation Practices on Physiological, Osteogenic, Metabolic and Cognitive Function in Elite Jockeys.
Fiachra Collins: Parametric Impact Characterisation of a Solid Sports Ball, With a View to Developing a Standard Core for the GAA Sliotar.
Undergraduate Students 2010
Congratulation to all Sports Science and Health, Athletic Therapy and Training, and Physical Education and Biology students who graduated this year.
CSPPA Report 2010 Dr. Catherine Woods, Professor Niall Moyna, Minister Mary Hanafin (Department of Tourism, Culture and Sport), Dr. Deborah Tannehill (UL), Dr. Julia Walsh (UCC) at the launch of the Children's Sport Participation and Physical Activity report in the AVIVA stadium in October. For more information (PDF)
AIESEP
Maura Coulter, postgraduate in SHHP who was recipient of the Young Scholar's Award at the AIESEP 2010 conference. Maura Coulter, Lecturer in Physical Education in St Patrick's College and PhD student in the School of Health and Human Performance, received the Early Career Research Award at the World Conference of the International Association of Physical Education in Higher Education (AIESEP) in La Coruna, Spain on October 28th, 2010. The award was presented by Prof Heikinaro-Johansson, (President) Faculty of Sport and Health Sciences, University of Jyvaskyla, Finland. The aim of the award is to promote and contribute to the development of future specialists and researchers in the field of physical education and sport. This award is in recognition of Maura's research in continuing professional development in primary physical education. Maura is supervised by Dr. Catherine Woods.
My Asian Experience
An article about Barry Watters INTRA placement with the Asian County Board (ACB) and Croke Park. For more information (.doc)
Archived News
Sports Science show-cased at the BT Young Scientist Exhibition
Staff and postgraduate students of the school of Health and Human Performance exhibited on the Discover Science and Engineering stand at the BT Young Scientist Exhibition from 12th-16th January 2010 at the RDS. As well as practical demonstrations of some of the modern technologies used in physiological evaluation of human performance, attendees were also be able to test elements of their own fitness. The stand also included demonstrations from the CLARITY research programme as well as the science behind Formula 1 and included a Ferrari Grand Prix racing car.
New Professional Body Established for Athletic Therapy and Training
It has been a busy few months in the world of Athletic Therapy and Training with the first class graduating in October. This was quickly followed by the establishment of a new professional body, Athletic Rehabilitation Therapy Ireland (A.R.T.I.). A.R.T.I. will promote and regulate the new profession in Ireland, developing new standards in the delivery of care to the physically active in Ireland. Four DCU graduates, Siobhan OÂ'Connor, Tony Farrell, Joshua Mylan, and Fiachra Power hold important positions on the executive of A.R.T.I..
DCU and A.R.T.I were also represented at the recent Global task force on credentialing of Athletic Therapy and Training, organised by the Board of Certification (U.S.A.) and the World Federation of Athletic Training and Therapy (WFATT). Attendees from across Europe, North America, Asia, Australia and Africa also contributed to the gathering. This task force will investigate the development of a global standard in the care of the sporting population.
Professor Mike Ferrara Visiting the School of Health and Human Performance
The School of Health and Human Performance have been honoured by the visit of Professor Mike Ferrara from the University of Georgia, U.S.A. for this semester. Professor Ferrara is a world expert in sportsÂ' epidemiological studies and research into concussion in sport. Professor Ferrara, who has been recently inducted into the National Athletic TrainersÂ' Association hall of fame, was awarded the prestigious Fulbright Scholarship which has allowed him to come to D.C.U. for this term. During this semester, Professor Ferrara will play a pivotal role in the development of a major epidemiological study of GAA participants in Ireland, initiate research into concussion in sport, and contribute to the delivery of content of the BSc. in Athletic Therapy and Training. Professor Ferrara has also contributed to the development of A.R.T.I.. It is presently a very exciting time for Athletic Therapy and Training in Ireland.
SHHP Students Complete Irish Amateur Weightlifting Association Level 1 Course
Twenty nine students from the School have successfully a Level 1 Irish Amateur Weightlifting Association (IAWLA) coaching course held at DCU. This is the first coaching course validated by Coaching Ireland to be run at the School of Health and Human Performance. Those participating included representatives from all 3 of the degree programmes delivered by the School. At recent function hosted in the School and attended by students, staff and representatives from the IAWLA and Coaching Ireland, certificates were presented to those who had successfully completed the course. Due to the popularity of the first course, a second level 1 course is being run in March and it is proposed to run the first level 2 course in 2011.
Diabetes Research meeting
The Centre for Preventative Medicine in conjunction with the NICB is hosting a diabetes meeting on May 12th and have two consultant endocrinologists presenting. Francis Finucane has been recently appointed to UCH Galway and is completing his PhD with Nick Warehman in Cambridge. He has been looking at physical activity in diabetes and the elderly. Siobhan McQuaid has been recently appointed to the Mater Hospital and completed her PhD for Keith Frayn in Oxford. Her title is cryptic but her work has been on fat metabolism. The meeting will take place from 5.45-7.30pm in the NICB Building. All are welcome to attend.
DCU Sports Medicine Series - Sports Concussion Update
This multidisciplinary DCU Sports Medicine update will present the latest information related to concussion management and safe return to play and will be of interest to all medical and coaching personnel involved in care of athletes. The meeting will take place on Friday, 21st May 7pm – 9.30pm in HG22 (Nursing Building), DCU.