School of Health & Human Performance
Links | Health and Human Performance
Links
PE at Home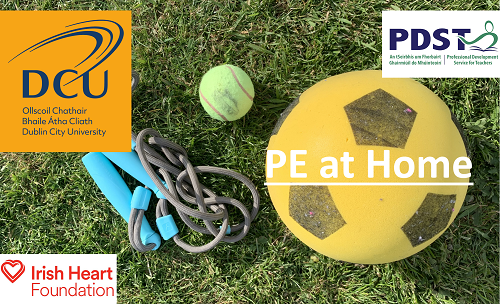 DCU academics have joined forces to devise a new "PE at Home" video series to help primary school children to continue to develop their physical education skills and knowledge during Covid-19 and beyond. Dr Sarahjane Belton (School of Health and Human Performance), and Dr Maura Coulter (School of Arts Education and Movement) initiated 'PE at Home'- partnering with the Professional Development Service for Teachers (PDST) and with the support of the Irish Heart Foundation. The video series aims to provide a viable national solution to the problem of keeping PE learning progressing during the Covid-19 restrictions period.
Click here
Heart smart
Heart Smart is a programme, delivered in conjunction with DCU Sport, which provides opportunities for participation in exercise classes in a safe, friendly and supportive environment. Participant will have the opportunity to exercise regularly with others who have a similar medical background. It is suitable for most people with heart disease. There is a high staff to participant ratio. Those engaged in the programme are encouraged to exercise at least twice a week with us, and also on your own at home.
Irish Institute of Sport
The newly formed IIS now plays a key role in the development of elite sport in Ireland. A number of the Schools staff members sit on the IIS Technical Advisory Group as well as the Professional Quality Assurance Panel responsible for the accreditation of sports science and medical service providers working with Irelands elite and aspiring athletes. As part of this process staff members have been accredited to provide sports science support services to Irelands top athletes.
Olympic Council of Ireland
The School of Health and Human performance has developed close links with the Olympic Council of Ireland. Dr Giles Warrington acts as Chief Sports Science Advisor to the OCI and Enda Whyte is a member of their medical team. Both members of staff were part of the official medical team at both the Athens and Beijing Olympic Games. The OCI has also taken DCU sports science students on INTRA placement.
National Governing Bodies of Sport
Strong links have also been developed with a number of key NGB's with a number of academic staff playing key technical and support roles. These include: