The European Commission finances the 'STICK' Project with Irish participation
The STICK Project (Sport and Academic Talent Integration through Exchange Programmes in Hockey), funded by the European Commission within the Erasmus+ programme SPORT, aims to design a sports and academic exchange programme that will allow elite and high-level athletes take part in an Erasmus+ mobility without adversely affecting either their sporting or academic careers. Too often, elite student athletes are unable to avail of an academic exchange due to the demands of their high-performance sports. The STICK Project will assess the obstacles these students face and offer solutions that will benefit both their academic careers and their sporting ambitions. It will focus on field hockey as a pilot sport, and will involve a consortium made up of 10 institutions from 5 European countries; comprising one hockey club and one university per country. Pembroke Wanderers Hockey Club and Dublin City University are the Irish partners and they will work with Atlètic Terrassa Hockey Club in Barcelona will co-ordinate the project, Autonomous University of Barcelona, KHC Dragons and the Universiteit of Antwerpen in Belgium, Rotterdam H.C and the Erasmus University of Rotterdam in the Netherlands, and Beeston H.C. and Nottingham Trent University in England. A funding allocation of €44,000 has been secured for the Irish partners and tasks will include:
Assessing the uptake of Erasmus+ programmes amongst Irish student athletes
Running training and feedback sessions with hockey coaches to identify possible concerns about player exchange programmes
Formulating a template agreement between European universities and sports clubs to accommodate student athletes
Disseminating findings to other Irish sports associations as part of a "multiplier event"
Organising and hosting one of 5 consortium meetings over the course of the project
Producing a final project report for the EU Commission
PWHC Club President Elaine Donohoe said "Pembroke Wanderers has a long history of competing successfully at the highest level of hockey in Ireland but we have also felt the impact of losing top class players who want to experience hockey in other countries. Our hope is that this Erasmus+ SPORT project will develop an exchange programme within Europe that will give hockey players a chance to live and play abroad for a year while maintaining links to their home clubs where they will continue their playing career when they return to complete their degree course. Pembroke's association with DCU stretches back more than a decade to when Irish Internationals David and Conor Harte completed their degree programmes while playing in our club. More recently, with the arrival of Mark Appel to DCU, we have seen the benefits to both club and player when university exchange students are hosted within the Irish hockey setup. We are delighted to be involved in this European project and look forward to sharing the findings with other hockey clubs and the wider sporting community in Ireland."
The STICK project was one of 160 projects selected in the 2017 SPORT action of the European Commission ERASMUS+ programme. In today's highly globalised labour market, linguistic and intercultural competencies are recognised as important skill-sets and through its student mobility programmes, the European Commission facilitates the movement of students abroad to acquire these competencies. Amateur high level athletes are forced to develop two parallel careers and too often they may focus on one to the detriment of the other. STICK seeks, on one hand, to support the dual career of athletes and, on the other hand, to reduce the loss of sports talents in Clubs if these students opt to leave for Erasmus. More information on Erasmus+ can be found at: https://ec.europa.eu/programmes/erasmus-plus/about_en
The ultimate goal of the project is to extend the model of academic and sport mobility to all sport. Dr. David Passmore from DCU commented that "DCU are delighted to be part of this project as it aims to build on the principles of Europe allowing doors to open for our student athletes to be able to study and play sport simultaneously. There are many aspects that make mobility difficult at present so The Stick projects needs to establish what these issues are and look for solutions. It was great to experience the clubs and universities so committed to making this happen in Spain last week"
Enquiries to:
Elaine Donohue: pwhcpresident@gmail.com
David Passmore: david.passmore@dcu.ie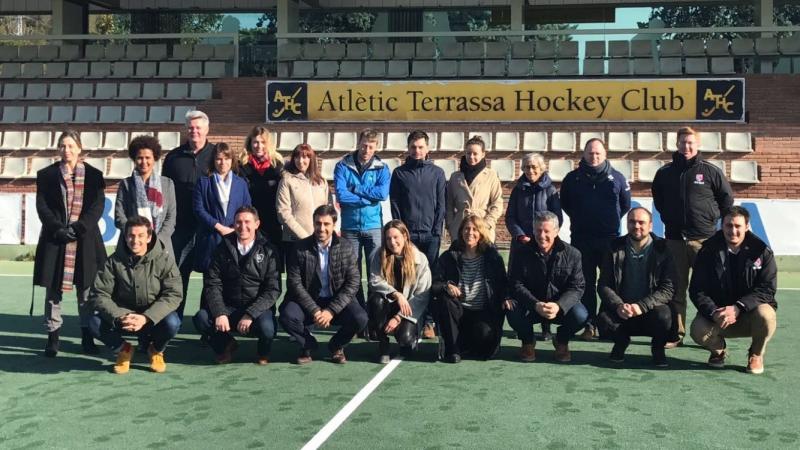 Photograph of the STICK Partners meeting in Terrassa last week.