Head Start Writing (mature students)
Head Start Writing
The Student Learning team and the Mature Student Officer work collaboratively to provide an annual writing week for incoming first-year mature students. This week-long course is an opportunity for mature students to refresh their academic writing skills before returning to university. Incoming mature students will be sent communication regarding the event beforehand.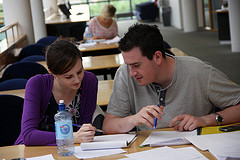 In advance of the academic year 2020/21, Head Start Writing week takes place from the 7th to 11th September 2020 (dates are provisional and subject to change). The course will be provided online through a mix of self-guided resources and live Zoom webinars.
This course is only open to incoming first year mature students. All students in this cohort will receive notification in advance from the Mature Student Officer on how to register for the course.

Further information on pre-entry events for incoming mature students is available here.



Topic
Content

Monday:

Get Motivated

Topic 1.1

Welcome

Topic 1.2

Student stories

Topic 1.3

Discover Your Community

2pm Live Webinar 1
Get Motivated

Tuesday:

Get Started

Topic 2.1

Intro to academic writing

Topic 2.2

Assignment types & marking schemes

Topic 2.3

Analyse the Question

Topic 2.4

Brainstorm

2pm Live Webinar 2
Get Started

Wednesday:

Get Researching

Topic 3.1

Discover Research Skills

2 pm Live Webinar 3
Get Researching

Thursday:

Get Writing

Topic 4.1

Assignment planning

Topic 4.2

First draft: paragraphs

Topic 4.3

Introductions

Topic 4.4

Conclusions

2 pm Live Webinar 4
Get Writing

Friday:

Get Editing

Topic 5.1

Revising and editing

Topic 5.2

What is plagiarism? And how to avoid it

Topic 5.3

How to cite and reference

2 pm Live webinar 5
Get Editing