Writing Head Start
Takes place from the 10th to 14th September 2018.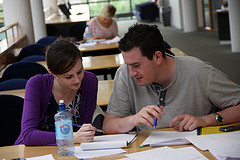 Student Learning and the DCU Mature Student Officer together provide an annual Writing Head Start course for incoming first-year mature students. This week-long course is an opportunity for mature students to refresh their academic writing skills before returning to university.
Below is the timetable for the academic year 2018/19. Incoming mature students will be sent communication regarding the event beforehand and must register to attend.
Any queries can be directed to student.learning@dcu.ie.
Date/Time
Monday
Tuesday
Wednesday
Thursday
Friday
09.30
Registration, tea/coffee
Q&A
Q&A
Q&A
Q&A
10.00

Intro to learning at third level

STEP 3: Research. Intro to the library.

Writing time
Writing time
Writing time & feedback
10.45
BREAK
BREAK
BREAK
BREAK
BREAK
11.00

Intro to academic writing

Library training/resilience workshop

STEP 5: Writing first draft

Conclusions

Google suite talk

12.00

STEP 1: Analyse

Resilience workshop/library training

Writing time

Writing time

Light lunch
12.45
LUNCH
LUNCH
LUNCH
LUNCH

Mature Student Society
14.00

STEP 2: Brainstorm

STEP 4: Assignment planning

Writing time

STEP 6: Revising & editing
14.45
Writing time
Intro to I.T. @ DCU
Introductions

STEP 7: References

15.30

Mature officer available

Mature officer available

Mature officer available

Mature officer available