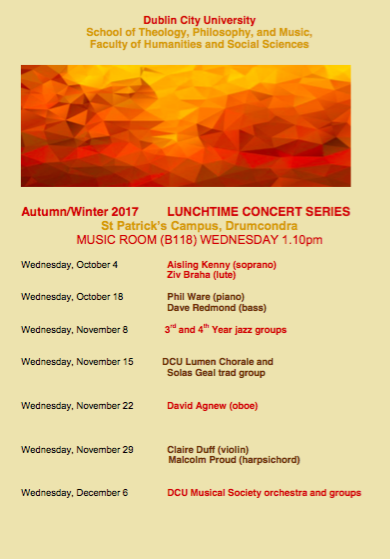 The School is delighted to announce the 2017 Autumn/Winter Lunchtime Concerts Series at DCU, taking place on Wednesdays at 1.10pm in Room B118, DCU St Patrick's Campus. All concerts are free and open to the public.
As usual the series will feature invited guests and music students at the University. Our guests this semester are Aisling Kenny (soprano) with Ziv Braha (lute); Phil Ware (piano) and Dave Redmond (bass); David Agnew (oboe); and Claire Duff (violin) with Malcolm Proud (harpsichord).
There will be three concerts featuring the combined talents of DCU music students, including a range of groups in jazz, popular and traditional styles, the DCU Lumen Chorale directed by Dr Róisín Blunnie and the DCU Musical Society Orchestra directed by Dr Rhona Clarke. We hope you can attend some or all of the concerts, and look forward to seeing you there!