DCU in the Community: DCU Volunteer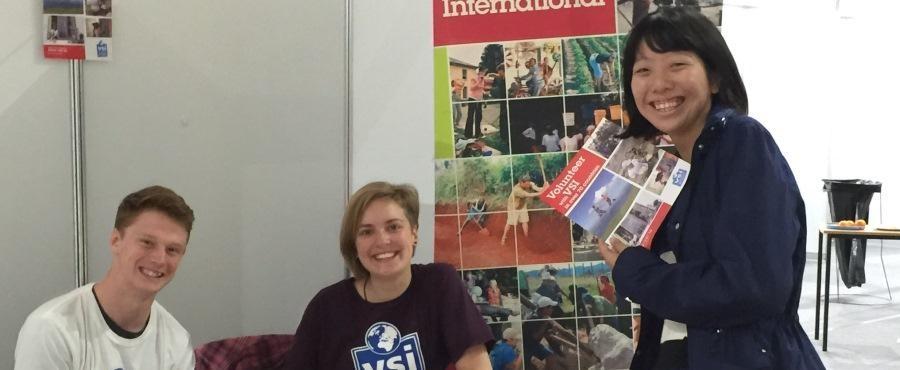 DCU Volunteer Fair
The ninth Annual DCU Volunteer Fair was recently held at DCU Sports Hall with the largest ever number of exhibitors. Over 50 community based and voluntary organisations, DCU Units and Clubs and Societies attended to promote their engagement and volunteering opportunities for students. Around 500 students and staff visited the Fair throughout the day to discover opportunities suitable to their interests, time commitment and future career.
Local and national organisations attending the Fair included Barretstown, Peter McVerry Trust, Fighting Words and Inner City Helping Homeless while for students interested in overseas volunteering, there was an opportunity to connect with Nurture Africa, Hope Foundation, GOAL and Global Brigades. Key representatives also included DCU charitable and civic societies including SUAS, Enactus, Raising and Giving (RAG) and HeadstARTS to name a few.
Throughout the day, DCU students were encouraged to register on studentvolunteer.ie – an online platform connecting student volunteers with community organisations. With hundreds of opportunities currently available in Dublin and nationally, studentvolunteer.ie is a starting point for any student wishing to make a difference through volunteering.
The DCU Volunteer Fair was organised by DCU in the Community, with the assistance and support of DCUSU and DCU Interfaith Centre. Student Volunteer Coordinator, Ruth Lynam, commented:
"It was an honour to host the Volunteer Fair for the range of inspiring organisations. By sharing their causes and their incredible stories they open not only the eyes of DCU students but a vast amount of doors to them also via volunteering opportunities"
Siobhán Nic Thaidhg, DCUSU VP for Engagement & Development said:
"This is a great opportunity for DCU students to engage with the community and play a part in its development. It is also a great way for students to enhance their knowledge of the world about them".
Ronnie Munck, Head of Civic Engagement at DCU, added:
"DCU will continue to build opportunities for its students to engage in volunteering from whatever basis they may wish to do so"
With the new DCU Strategic Plan 2017 – 2022 Talent, Discovery, and Transformation emphasising student engagement as one of the key goals, DCU Volunteer hope to grow the awareness of the benefits of volunteering and increase the number of DCU students participating in volunteering activities. Volunteering events planned for 2017/2018 academic year include a Volunteer Appreciation Day, International Day of the Volunteer, and a drop-in volunteering clinic.
The first of these events is to take place next week in the form of Adopt A Street, a DCU lead project that involves students venturing out to the local areas to clear up leaves, litter get to know the community. The event will take place on Wednesday the 22nd of November during the DCU SU weekly Wellness Wednesday which promotes healthy, sustainable living and self-care and will be held in conjunction with The Green Committee.
DCU Volunteer campaigns can be followed on:
www.youtube.com/user/dcuvolunteer
www.instagram.com/dcuvolunteer
Contact: volunteer@dcu.ie
Ruth Lynam, Student Volunteer Coordinator - Email: ruth.lynam@dcu.ie