MSc in Strategic Learning & Development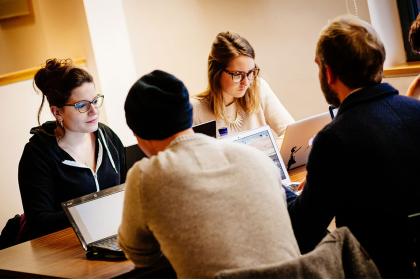 Course Type:
Postgraduate
NFQ Level
9 - Please see www.qqi.ie for further information

+353 (0) 1
5265

businessmasters@dcu.ie
This two year part-time Masters programme encourages critical thinking, teamwork and communication, analytical and managerial competence, and develops a diverse range of professional attributes which equip graduates to excel and to adopt L&D leadership positions in their professional lives.
It is designed for graduates to combine study for a NVQ Level 9 Masters award while gaining business knowledge and skills. This accredited programme is specifically customised and designed to map against industry needs to develop the current and future L&D leaders in Ireland.
The programme is aimed at those working across the full breadth of the people development arena: professionals who are working with their organisations, or with clients, to support the advancement of organisational performance through people.  It's for people in learning and development roles, those working on the agenda of organisational change and transformation and people committed to ensuring the talent pipeline is strong to support the organisation's achievement of its ambitions for the future.
Designed in conjunction with both leading industry and academic experts, subject matter incorporates both professional and applied L&D business material as well as an analytics component.  Lectures are delivered by experienced experts from academia, industry and practice, facilitating graduates with the most up-to-date theory and practice.
This flexible, blended learning programme aims to provide students with an opportunity to complete a programme of study focused on the theory and practice of learning and development in contemporary organisational contexts.  Students will also develop an advanced understanding of research methodologies and reflective and critical problem solving skills. Aimed at professionals with significant work experience, the part-time nature of the course enables students to consider how their learning and knowledge impacts professional practice, and ensure that the acquired knowledge and understanding gained through their MSc journey supports their development in their specific working context. 
This MSc in Strategic Learning and Development is designed in conjunction with both leading industry and academic experts in order to help participants to actively develop their own knowledge, expertise, and behavioural competencies so that they can fulfil their L&D roles effectively.  Specifically, the programme sets out to enable participants to:
Display an understanding of the role of an L&D Director/Manager.

Demonstrate an identifiable set of key L&D leader competencies.

Display high autonomy and demonstrate expertise in their L&D roles.

Understand how L&D programmes translate into learning impact outcomes for their organisation.

Build engagement strategies with internal and external stakeholders.

Develop strategies for leading L&D programmes effectively through organisational change.

Develop creative solutions to exploit the opportunities and surmount challenges facing L&D teams.

Leverage digital tools and methods to enhance L&D and support organisational transformation.

Motivate and empower colleagues and external stakeholders to stimulate L&D activity and innovation to achieve organisational goals.
Programme Structure:
This programme will take place online on one evening each week from 4pm-7.30pm (day to be confirmed).  There will also be asynchronous recordings each week in addition to the 'live' online classes that should be factored into workload.
There are three on-campus days each semester on Week 1, Week 6 and Week 12 from 9am-5pm (the exact day to be confirmed).
View current course structure:
Find out more here: business.dcu.ie/course/msc-in-strategic-learning-and-development/
Dublin City University has forged a reputation as Ireland's University of Enterprise, through its strong, active links with academic, research and industry partners both at home and overseas.
Our solid industry relationships have allowed us to instil an enterprising culture into our postgraduate courses which has resulted in DCU Business School's reputation as being Ireland's most innovative business school.
We provide a unique learning environment where students are encouraged to develop their creativity and skills as innovators.
The quality of our teaching, our small class sizes, our high levels of industry engagement make us stand out, and have been recognised by AACSB, the oldest and most prestigious global accrediting body for business schools.
DCU graduates are highly sought after in the job market, with many going on to pursue leadership and management roles in organisations both at home and abroad.
The MSc in Strategic Learning and Development combines elements from L&D Design and Strategy to Organisational Transformation, Leadership and Change, Digital Learning Tools, the Future of L&D and Data Analytics.
This programme is an excellent way to accelerate your career. Upon graduation, you will have the analytical and practical skills you'll need to develop and implement strategies. You will also be positioned to contribute to decision-making and policy discussions at a senior level. This programme will prepare you for a role in L&D departments of large or multinational organisations.
Being one of a very few people in the market with this unique qualification will position you very strongly and open up a range of exciting career opportunities.  Not only will you have the support of DCU and the IITD with building your knowledge and expertise, as well as keeping ahead of the latest L&D trends with global research and whitepapers, you will build a strong professional network of like-minded learning and development professionals which will endure long after you have graduated from the programme.
Graduates of the MSc in Strategic Learning and Development will progress their careers in Strategic Learning & Development, Leadership, Talent & HR, Organisation Change & Transformation, People and Culture.  They will be attractive to L&D Departments with a strategic emphasis towards skills development, both indigenous and multinational organisations seeking to recruit graduates who can make significant contributions to discussions and decisions at boardroom level.
Graduates will be highly sought after for a variety of positions, including:
Change and Development Manager

Head of Leadership Development

Talent Business Partner

Senior Talent Management Specialist

Head of Organisational Learning

Transformative Leadership Specialist

Learning & HR Technology Business Partner

People Development Manager

Skills Development Leader

L&D Director

Head/Director of Talent Management

Organisational Transformation Manager/Director

People & Culture Partner/Director
Requirements
A 2:1 Honours degree in a related discipline (Business, Management, HRM, and Psychology) and a minimum of three years' work experience.
Applicants who have achieved a 2.2 Honours degree may still obtain a place. This will depend on availability of places and on obtaining high grades in relevant modules on their undergraduate programme.
Alternatively, candidates with relevant Professional qualifications and at least 3 years' relevant work experience in the domain of training, learning and development may be considered for entry subject to interview.
If an applicant does not hold a primary degree, but has sufficient and relevant working experience (more than 5 years in the domain of training, learning and development) a case for acceptance will be submitted. This will be assessed using DCU (2019) Recognition of Prior Learning Policy.
International candidates who are non-native speakers of English must satisfy the University of their competency in the English language. More information about English language requirements for DCU Business School can be found on the School website here.
Fees
Part time
EU Status Fee Part-time
€7,200 per annum
Non EU Fee Part time
€14,400 per annum