Registry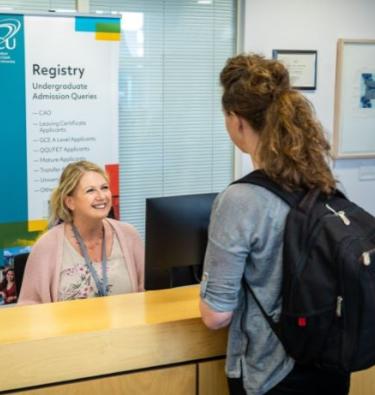 *** Please note that Registry reception areas on both campuses are currently closed to visitors due to Covid 19. Registry continue to offer all services to students and the public remotely***
If you need to contact Registry about any of our services please use the Registry Online Query Form below: 
The Registry phone line is open Monday to Thursday: 9.15 to 12.45 and 14.00 to 17.15, Friday: 9.15 to 12.45 and 14.00 to 17.00
Telephone: +353 (0) 1 7005338
Registry Office
Registry delivers administrative services to the University community, supports the implementation of academic policies and regulations and manages major student related activities including admissions, registration, examinations and graduation. We are committed to providing high quality services and support and are continuously adopting innovative approaches to the delivery of our services.
The Registry main office is located on the Glasnevin Campus in the Henry Grattan Building. A Registry Office is also located at the St Patricks Campus in Room C108. Please click here for details about services available at the St Patricks Campus.