Student Recruitment Office
Welcome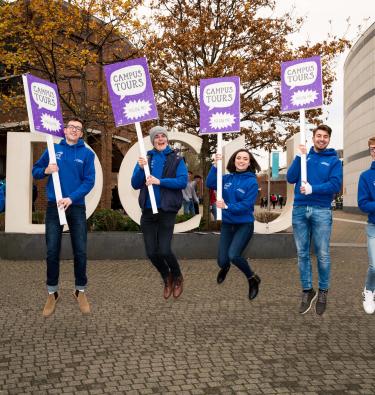 DCU offer 69 undergraduate courses across five faculties and three campuses. The student recrutment team are here to let prospective students know about the opportunities available to them at DCU. With so much to choose from, we are here to advise you and help you with those choices, whether that's by talking directly to you, your parents or a school guidance counsellor.
To contact a member of our team
What we do
We are here to let you know about life in DCU, from courses to clubs and societes to scholarships, and much more. We know the value of research and want to provide you with the advice and information that will help you make an informed decision on your future course of study. We attend many career events throughout Ireland but if you would like us to visit your school to provide information on our courses and an insight into university and student life, then we'd be delighted to come. Alternatively, we can provide online information sessions on specific subject areas (subject to staff/student availability) or a full DCU schools' presentation. You can book your DCU school visit HERE.
We look forward to you visiting our beautiful campuses and Student Ambassadors deliver campus tours for individuals and school groups all year round. We host a number of Open Days for those of you considering studying at DCU, including a Transition Year Open Day that gives students the chance to explore the Glasnevin campus and find out what interests and inspires you. Student blogs and podcasts provide a great insight into life in the classroom, being part of student life, studying abroad, INTRA work placement and future career opportunites. Finally, look out for our online Q&A information sessions that allow you to ask questions about all things DCU, from the comfort of your home or classroom.