Student Recruitment Office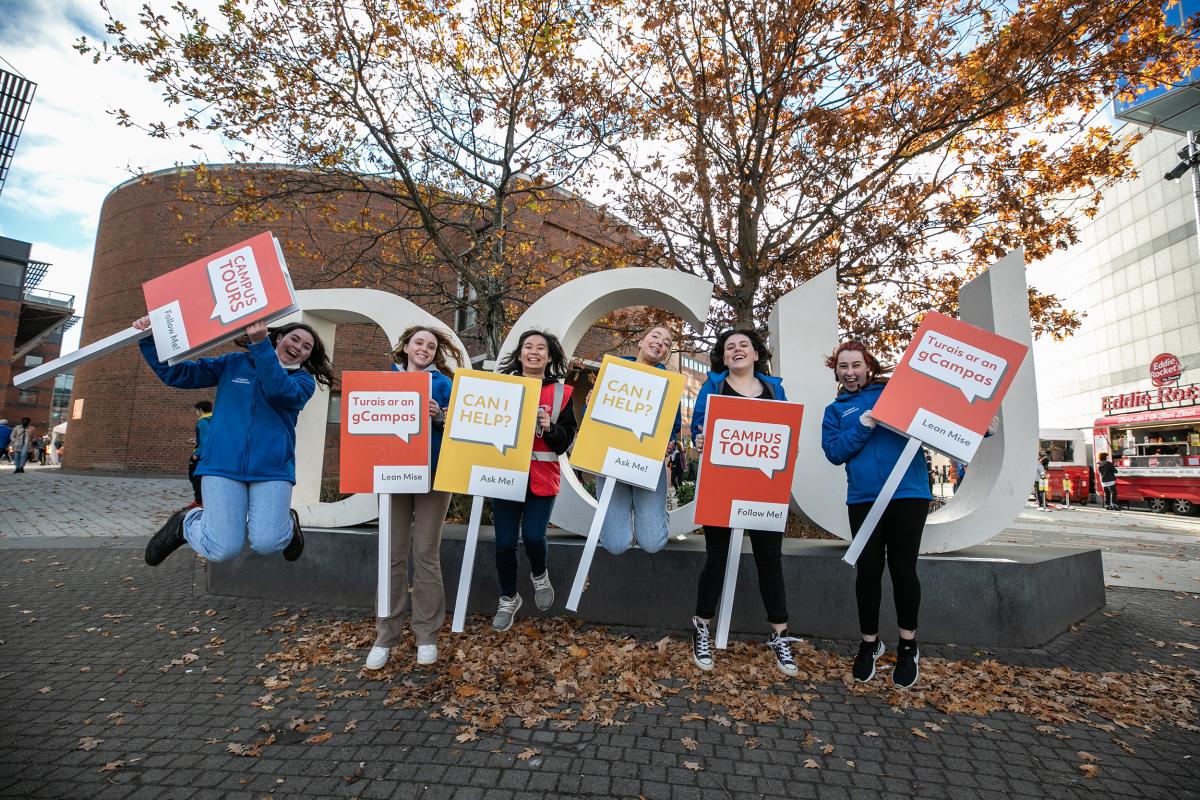 DCU Open Days
Upcoming Undergraduate Events
Registration links will be made available closer to the events.
Running over two days, this is a brilliant opportunity for students, guidance counsellors and parents/guardians to:
- Discover the campus and our student friendly atmosphere
- Learn about our courses and facilities from our industry-leading educators
- Engage with current students, lecturers and support staff to ask important questions
Date: Friday and Saturday, 17 and 18 November
Times: Fri: 10.00 - 15.00, Sat: 10.00 - 14.00
Location:
Friday: Glasnevin Campus
Saturday: Glasnevin Campus and St. Patrick's Campus
Are you considering doing a Post-Leaving Cert course (PLC) as a route into DCU?
We are hosting a QQI FET (FETAC/PLC) Open Day for the 30 November 2023 on our Glasnevin Campus to assist those considering this pathway.
The time of this event is 11:00am - 2:30pm.
Learn more about QQI Further Education routes to DCU at dcu.ie/fe.
Looking for a student's perspective on DCU courses?
This online event will have our Student Ambassadors presenting about on courses, answering questions based on their lived student experience.
There will also be presentations from DCU support staff on the many opportunities and resources available in DCU.
Date: Tuesday 16, January
Time: 16.00 - 19.00
Information on registration and schedule will be available soon.
The DCU Spring Open Day is a great chance to explore the wide variety of courses, our academic campuses and get a taste of life at Ireland's University of Innovation and Transformation.
Date: Saturday, 13 of April 
Time: 10.00 - 14.00
Location: Glasnevin & St. Patrick's Campus
Looking to introduce your TY students to DCU? This is the Open Day for you!
This event will include:
— Course presentations delivered by current DCU students 
— Talks about student life, how to make friends and get involved
— Free campus tours to explore our facilities
— Food trucks and live entertainment
Date: Thursday, 2 May 2024
Time: 9.30 - 13.30 
Location: Glasnevin Campus
This Open Day is great for 6th year students who have last minute questions about DCU or want to confirm their CAO choices.
Date: Wednesday June 26, 2024
Time: 11.00 - 14.00
Location: Glasnevin Campus
Upcoming Postgraduate Events
We'll update this page as more events are announced.
You can watch recordings from our previous postgraduate events at our DCU Postgraduate Hub.