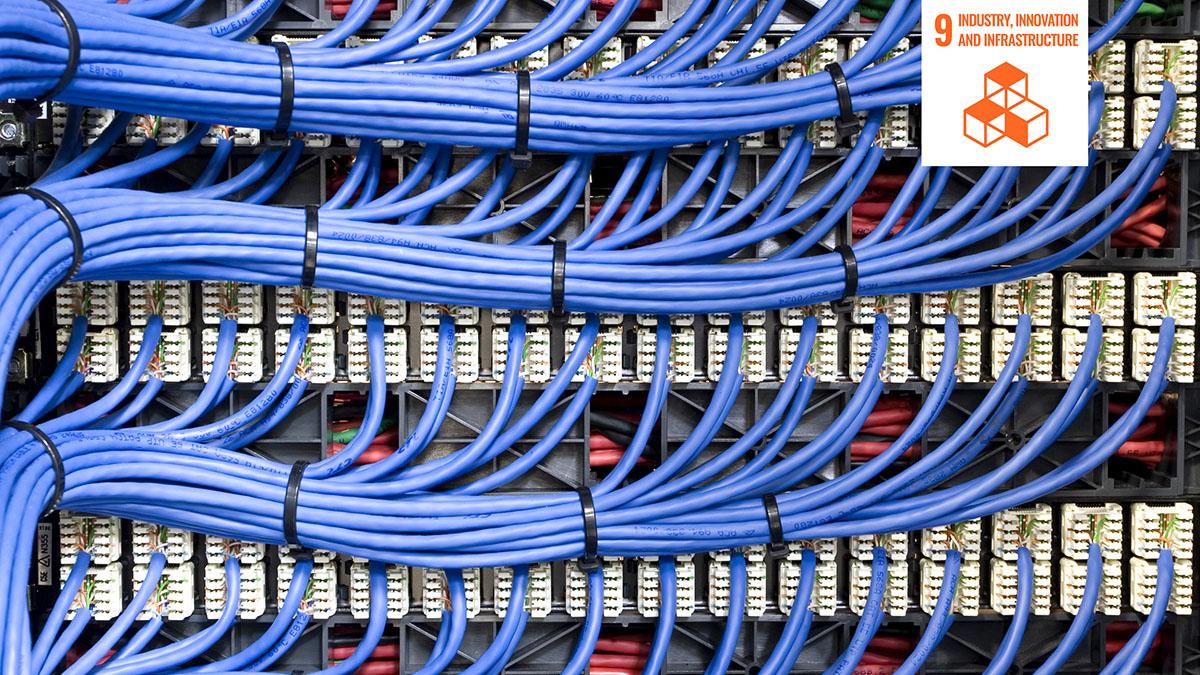 The optical comb can split lasers into multiple beams: here's what it means for IT, security and environmental monitoring
With each innovation in internet technology, our expectations are for faster and more accessible streaming and multimedia services. This demand and the proliferation of smartphones, has resulted in the soaring of data and network traffic leading us towards a capacity crunch or shortfall in available bandwidth.
The hundreds of millions of emails, social media updates, videos uploads/downloads and instant messages we send every sixty seconds create terabytes of new data, most of which needs to be transported, stored, and processed. The expected shortfall forces network operators to constantly invest in new technologies and infrastructure to keep up with demand. Research originating at Dublin City University is at the centre of efforts to address this issue.
Despite consistent innovations in communications technology, we live in an increasingly fragmented world. Recent years have seen increasing incidence of geopolitical instability and the threat of terrorism has not diminished. Security agencies and international organisations are eager to provide security to the citizens of their member states. There is a critical need to detect and respond swiftly to security threats such as the release of hazardous materials.
Beyond security, access to point-of-care health testing, the fast detection of pathogens, and water quality control are key public health concerns in developed and developing countries alike.
The icon on this article reflects the research's contribution to UN Sustainable Development Goal 5: Gender Equality. The Sustainable Development Goals are 17 objectives designed by the United Nations to serve as a shared blueprint for peace and prosperity for people and the planet.
With a single piece of key breakthrough research, patented over ten years ago and conceived nearly twenty years following his PhD, Dr Prince Anandarajah can point the way to solutions to each of these issues. The optical frequency comb, he developed, enables one laser to create multiple outputs, therefore eliminating the need for several discrete lasers. Each of these multiple laser outputs can carry information, sense or generate signals.
While this may seem like a small change, it's a truly disruptive technological advance which has created a diverse set of applications. This is an example of "platform technology", where one patent or patent family forms the foundation for multiple potential products and commercial opportunities.
When it comes to telecommunications, the ability of a single laser to generate multiple frequencies capable of transmitting data could greatly increase the efficiency and reduce the size, energy consumption and footprint of data centres.
When it comes to sensing gases, the comb can send out multiple laser frequencies capable of measuring the absorption characteristics of target matter, giving a unique fingerprint for each substance. Different gases absorb different laser frequencies, hence allowing simultaneous readings for the presence of multiple gases from a single output.
This particular type of sensing has the potential to be both cost effective and highly accurate, giving readings to within parts per billion. The ability to accurately measure emissions or other harmful gases is only going to become more crucial as the world seeks to respond to the climate crisis. Most recently, research undertaken with Teagasc support points the way towards a hydrogen sulphide warning system for farmers.
The optical frequency comb could also be used to create systems which detect movement and sense fires. By incorporating fibres into paint used in a building, the optical frequency comb can be used to provide data on room occupancy and other factors, greatly enhancing emergency response and energy efficiency. This represents a cost efficient and energy neutral way of creating smart buildings. 
Finally, the optical comb can also act as a signal generator. Using a feature of Dr Anandarajah's design, the user can programme the spacing between the comb frequencies and generate signals at specific frequencies. This feature, which allows tracking and imaging, has since emerged as the comb's most prominent commercial application. A similar use of the technology could be used in stadiums to efficiently share content such as replays with fans.
The optical comb technology was one of the original patents which formed the foundation of Pilot Photonics, a DCU spin-out launched in 2011 through DCU Invent with funding from Enterprise Ireland. The firm now has an exclusive licence for the core patents relating to telecoms and data networking. In 2022, Bank of Ireland's private equity arm Kernel Capital invested 1.8million in the firm. Dr Anandarajah sat on the board of directors from the birth of the company until 2021 leaving it in a healthy state where it now employs over 20 people in 4 different countries.
Author(s)
Dr Prince Anandarajah
Dr Anandarajah is an Associate Professor in the School of Electronic Engineering