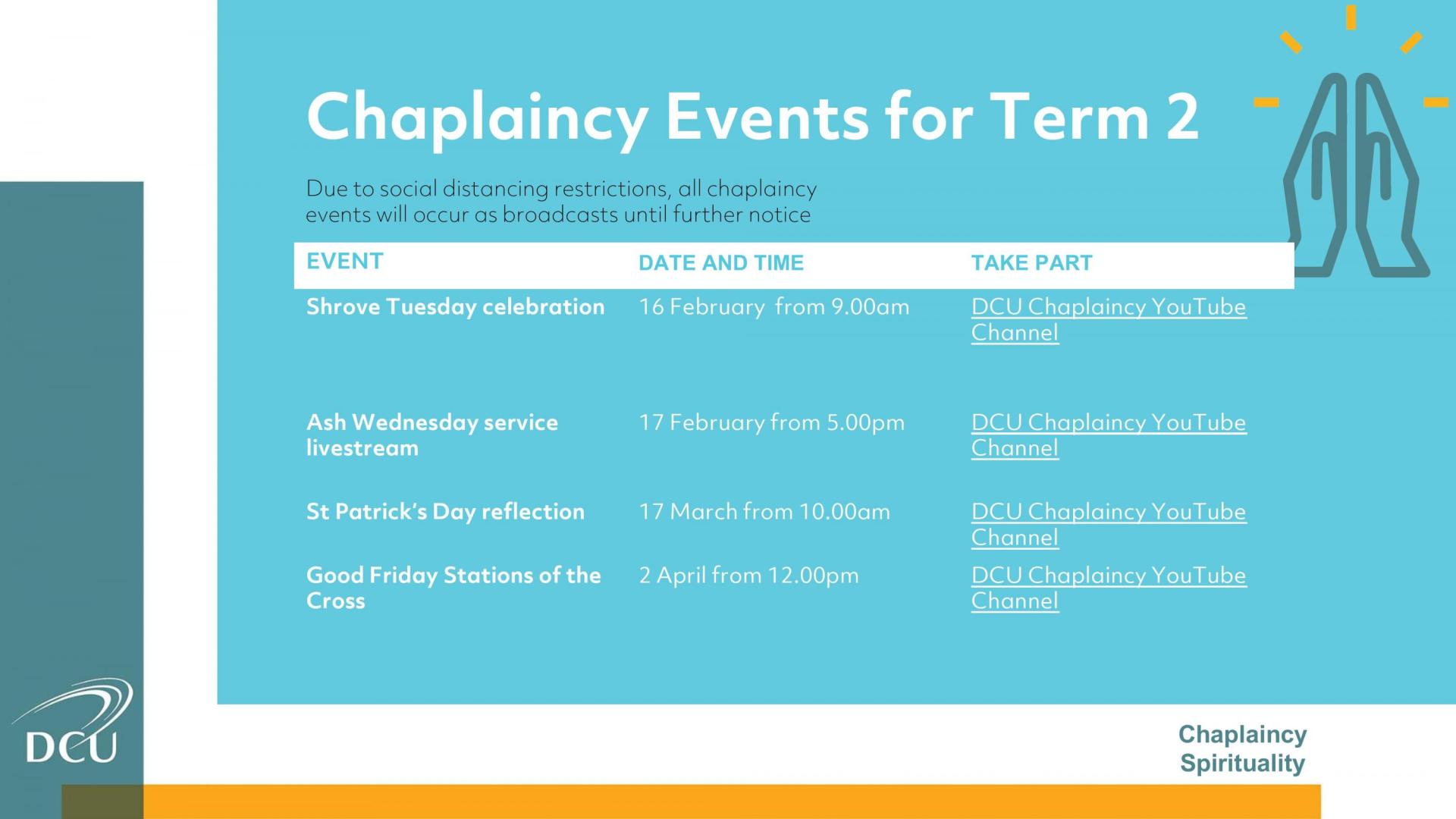 Events
In Person Events
Following advice from the Irish government on 12 March 2020, all in-person Chaplaincy events have been postponed until further notice. This is a precautionary measure to limit the spread of the coronavirus Covid-19. We will reschedule where possible. Up-to-date information covering all DCU events can be found here: https://www.dcu.ie/coronavirus/index.shtml
Addiction Services
As with all other in-person or group gatherings, addiction services have had to move online for the forseeable future. If you or a friend or loved-one need help at this time, please consult the following pages:
Chaplains are available for counselling and advice through chaplaincy@dcu.ie
Online Events
In light of the temporary suspension of events on campus, DCU Chaplaincy is delivering its public services in an online first capacity. A full list of our services of worship can be found here.
We are running special events online in the meantime, usually through our YouTube channel. We'd much prefer to see and meet everyone, but this format does have the advantage that all of our events are viewable in perpetuity:
| | | |
| --- | --- | --- |
| Event | Date and Time | How To Watch |
| Shrove Tuesday celebration | Tuesday 16 February, from 9.00am | YouTube |
| Ash Wednesday service livestream | Wednesday 17 February, from 5.00pm | YouTube |
| St Patrick's Day reflection | Wednesday 17 March from 10.00am | YouTube |
| Good Friday Stations of the Cross | Friday 2 April from 12.00pm | YouTube |