Adaptive Sensors Group
News
Danielle Wins Best Poster at The 3rd Insight Student Conference
Congratulations to Danielle for winning the best poster award at the 3rd Insight Student Conference, held in The Helix, Dublin City University, on the 14th September 2016. Danielle's poster contribution was titled "Boronic Acid Derivatives for Indirect Fluorescent Glucose Sensing".
Danielle is a PhD student in her second year of research and she works in the Adaptive Sensors Group in DCU, under the supervision of Prof. Dermot Diamond, Dr. Larisa Florea and Dr. Colm Delaney.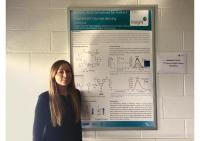 Group Member featured in Silicon Republic Article
ASG group member and COMMONSENSE researcher Dr. Margaret McCaul has been featured in an article about her recent trip to the Italian Arctic Research Base. Click here to read the article:
https://www.siliconrepublic.com/innovation/marine-research-margaret-mccaul-sensors-dcu
GE Global Research & UES representatives visit ASG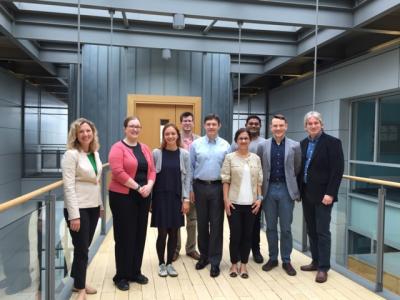 The Adaptive Sensors Group (ASG), led by Prof. Dermot Diamond in the Insight Centre for Data Analytics/National Centre for Sensor Research, was visited on 28-30th of July by representatives from GE Global Research and UES as part of an on-going collaboration funded under the US based Nano-BIO Manufacturing Consortium (NBMC). The consortium includes a number of outstanding US partners, including GE Global Research, University of Connecticut, University of Massachusetts-Amherst, American Semiconductor Inc., University of Arizona, UES and the Air Force Research Laboratories, working together for the development of a Wearable Device for Dynamic Assessment of Hydration Status. As the only non-US partner, Dublin City University, and specifically the team led by Prof. Dermot Diamond, comprising Dr. Colm Delaney, Dr. Larisa Florea and Probal Bose, have played a very significant role in the progress of this important project. This work aims to explore the synergy between the Adaptive Sensors Group's proven track-record in the development of ion-sensing and recent strides made by GE Global Research in developing a miniaturised device for extended hydration analysis. The visiting researchers were impressed by the highly integrated, multi-disciplinary team-based approach that facilitated close interactions across multiple projects within the INSIGHT Centre and the National Centre for Sensor Research. They also visited the National Research Facility to see the advanced equipment and discuss models for shared access. This highly successful visit could form the basis of further collaborative research activities between US partners including GE Global Research and the ASG team at the Insight Centre.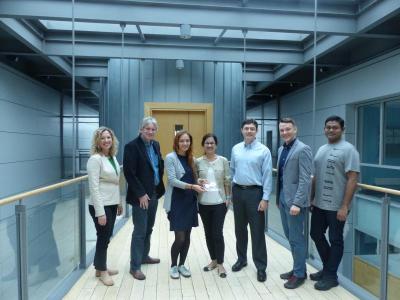 MicroTAS 2016

Members of the Adaptive Sensors Group have been selected to make oral or poster presentations at the forthcoming MicroTAS conference which will be held at the Convention Centre, Dublin between the 9th and 13th October:
Next Generation, In-Situ Microfluidic Flow Control Using Stimuli Responsive Materials For Biomemetic Microfluicic Platforms, Simon Coleman, Aymen Ben Azouz, Jeroen ter Schiphorst, Janire Saez, Jeffrey Whyte, Peter McCluskey, Nigel Kent, Fernando Benito-Lopez, Albert Schenning and Dermot Diamond (poster)
Self-Powered Micro-Droplets For Biomimetic Microfluidics, Wayne Francis, Colm Delaney, Larisa Florea* and Dermot Diamond (poster)
Ph AND PHOTO-RESPONSIVE HYDROGEL ACTUATORS, Aishling Dunne, Siobhan Mac Ardle, Joseph Hennessy, Larisa Florea and Dermot Diamond (poster presentation)
Temperature-Controlled Poly(Ionic Liquid) Microfluidic Valves, Alexandru Tudor, Janire Saez, Larisa Florea, Fernando Benito-Lopez and Dermot Diamond
Cholinium Based Poly Ionic Liquid Hydrogel As Negative Flow Passive Pump In Paper-Based Analytical Devices, Tuğçe Akyazi, Alexandru Tudor, Dermot Diamond, Lourdes Basabe-Desmonts, Larisa Florea and Fernando Benito-Lopez (oral presentation)
Digital Pulse Actuated Flow Control On A Centrifugal Disc Towards Multiparameter Water Quality Monitoring, D. J. Kinahan*, K. McConville, B. Henderson, M. McCaul, E. McNamara, D. Diamond and J. Ducrée
Sensors in The Arctic
Research Scientists Dr. Margaret McCaul and Sean Jordan working with Professor Dermot Diamond are travelling with Dr Alberto Ribotti and Andrea Satta of National Research Council, Italy (CNR,Italy) to the Italian Arctic Research Base to field test sensors developed at DCU. The cost effective nutrient sensor developed at DCU is part of the
COMMONSENSE
European FP7 Project. The aim of the project is to develop cost-effective sensors for the in-situ monitoring of key parameters that will contribute to our understanding go how the marine environment functions.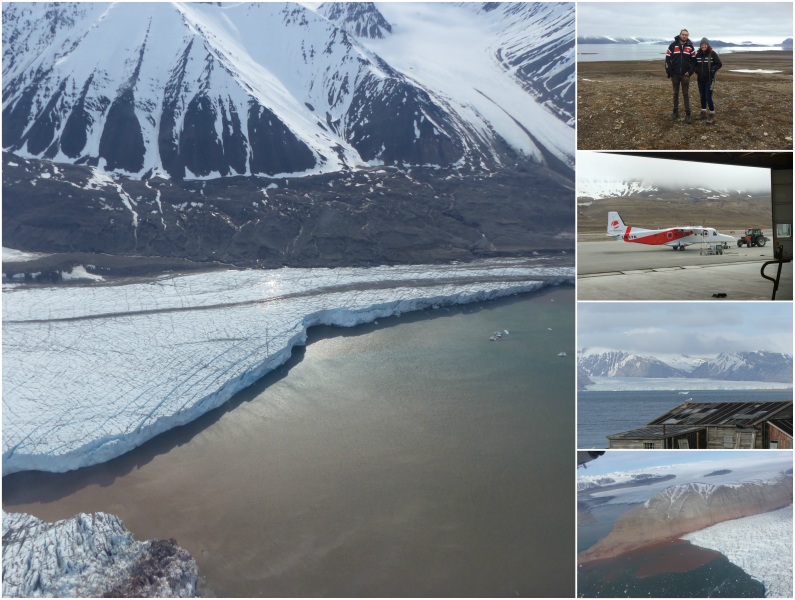 Ideas to Industries Forum
On 31st May, the NCSR hosted the forum 'Ideas to Industry' as part of a series of events linked to a visit by Professor Gordon Wallace, director of the Australian Centre for Electromaterials Science (ACES). Professor Wallace and several colleagues from the University of Wollongong spoke at the forum and presented technologies developed at the centre, which is focused on research into 'bionics' and the use of advanced materials and innovative fabrication technologies to produce new types of highly functional and personalised implants, ranging across devices to organs and regenerative tissue strategies.
Professor Dermot Diamond (INSIGHT Centre Principal Investigator) opened the forum, which featured contributions from leading national and international speakers drawn from both industry and academia. The broad context centred on the difficult and risky pathway that leads an innovative idea through to a fully commercialised service or device. The increasing importance of international research cooperation on meeting global societal challenges was raised, as evidenced by the shift in EU policies towards 'Open Innovation' and 'Open Science' from 2018 – policy changes that are being mirrored across the world. Discussions on ways to prepare the Irish research landscape to align with these global shifts, and in particular, the importance of new mechanisms to enable the larger national research centres to initiate cooperative on challenge based research was emphasised. It was agreed that the astonishing developments in materials science, ranging across chemistry, biology, physics and engineering, coupled with major recent advances in fabrication and characterisation technologies, would provide major opportunities across many application domains.
In addition to Profs. Wallace and Diamond, the academic contributors included Prof. Michael Morris (Director, Amber Research Centre, Trinity College Dublin, Ireland), Prof. Robert Forster (Director, National Centre for Sensor Research, Dublin City University), Prof. Kieran Drain (Director, Tyndall National Institute, Ireland), Prof. Chung-Yu Peter Wu (National Chiao Tung University, Taiwan). Industry contributors included Dr. Russell Jones (GlaxoSmithKline, UK), Dr. Barry Burns (Henkel, Ireland), Prof. Tony Killard (BreathDX, UK), Dr. Jan Weber (Boston Scientific, Netherlands) and Dr. David Moore (Viska Systems, Ireland).
The forum was followed by a reception at the Australian Embassy hosted by Ambassador Ruth Alder.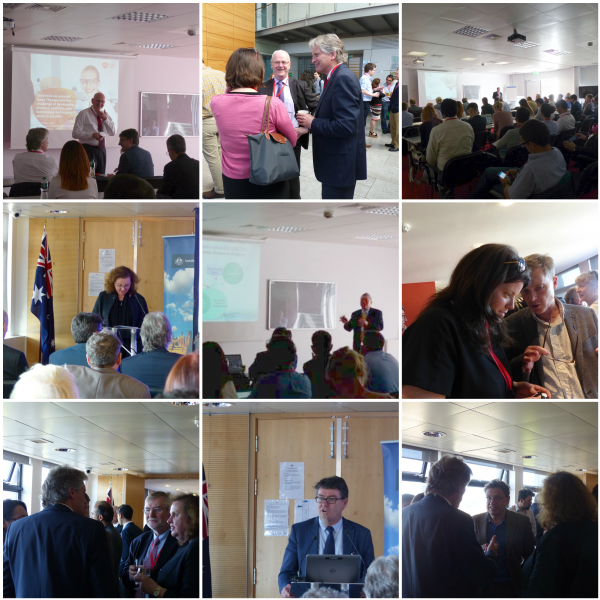 Click here for a copy of the Forum Brochure
IC-ANMBES 2016 Travel Grant for Danielle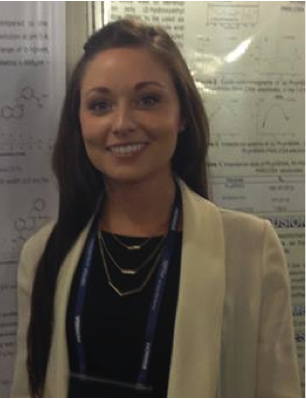 Congratulations to Insight/NCSR PhD student Danielle Bruen on being awarded a €400 bursary grant to travel to the International Conference on Analytical and Nanoanalytical Methods for Biomedical and Environmental Sciences (IC-ANMBES 2016). The conference will be held in Brasov, Romania, on 29th June – 1st July 2016. Danielle, who works under the supervision of Prof. Dermot Diamond, Dr. Larisa Florea and Dr. Colm Delaney, was one of three recipients offered this travel grant by the European Biophysical Societies' Association (EBSA). Danielle's contribution is focused on "Two Component Sensing for Saccharides".
Invent Commercialisation Awards
Congratulations to Insight/NCSR researchers Prof. Dermot Diamond, Dr. Larisa Florea, Dr. Colm Delaney and Mr. Probal Bose who had been awarded one of the Invent Commercialisation Awards, for their collaboration with UES & GE Global Research under the NBMC Consortium. The event took place on 21st of April at The Helix, DCU. These awards were established by Invent DCU to publicly recognise DCU researchers who engage with industry and work with Invent to protect and commercialise their research. The ceremony was officially opened by Professor Brian MacCraith, President of DCU who commented on the wonderful achievements of the Invent DCU office and DCU researchers for establishing DCU as one of the national leading universities for technology transfer.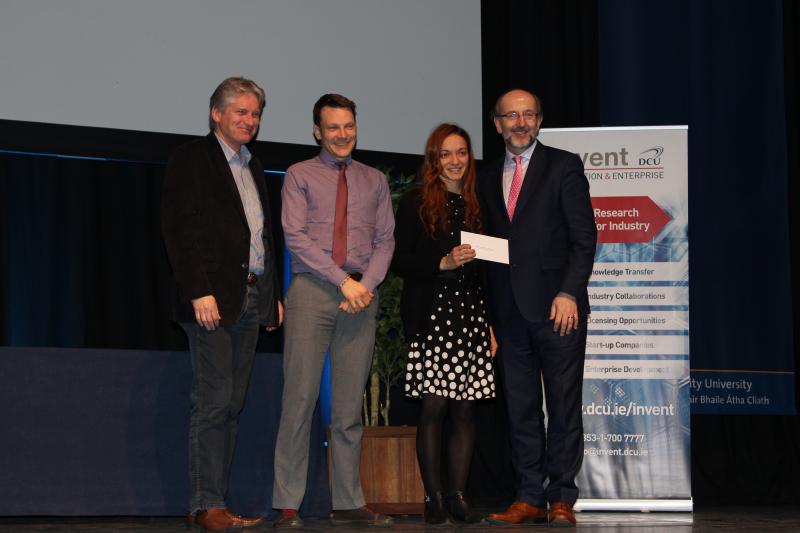 CASi 2016: 14th - 15th April 2016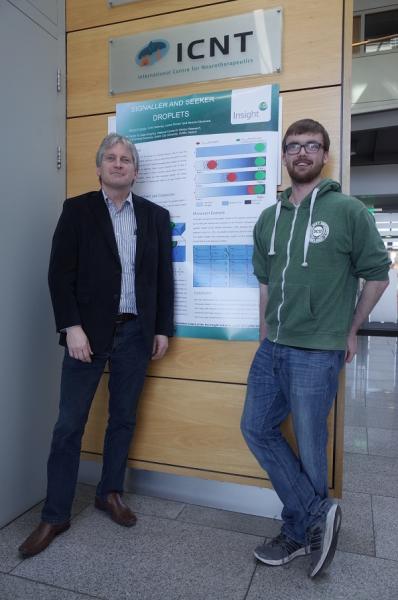 Congratulations to Insight/NCSR researcher Wayne Francis who has been awarded best poster at the 8th Conference on Analytical Science Ireland (CASi) 2016 held on 14 & 15 April at The Helix, Dublin City University. His poster presentation, titled "Signal and Seeker Droplets", by Wayne Francis*, Colm Delaney; Larisa Florea and Dermot Diamond, describes synthetic chemotactic droplet systems based on ionic liquids, capable of finding each other in an open intricate fluidic network. The signal droplet releases a chemical signal, which creates a chemical gradient inside the fluidic channel; in response to this signal, the seeker droplet is able to chemotactically find the signal droplet, in a manner similar to the triggered cell migration seen in chemokine proteins. Moreover, upon merging, these droplets can also serve as vessels for chemicals reactions, where the two droplets carry reaction precursors. This effect is of great interest and has drawn a lot of attention from the scientific community as it describes a synthetic system that mimics biological units. This work aims to explore new concepts inspired by biomimetic models, as a route to deliver fundamental breakthroughs in microfluidic device performance.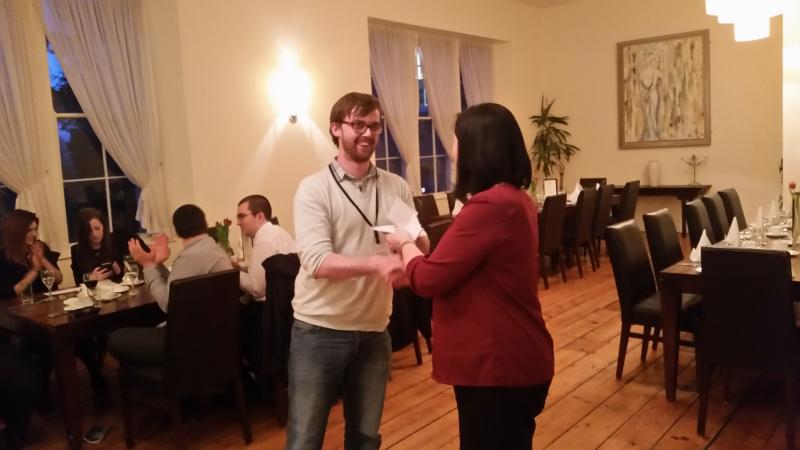 Travel Grant Award for Aishling
Insight researcher, Aishling Dunne, presented a poster at the 18th International Conference on Solid-State sensors, Actuators and Microsystems (Transducers 2015), June 21st-25th, organised in Anchorage, Alaska. Aishling was awarded a student travel grant of $500 from Transducers Research Foundation to attend the conference. Her poster presentation, titled "Solvato-Morphologically Controlled, Reversible Photo-Actuated Hydrogels, Operative in Neutral Environments" (http://doras.dcu.ie/cgi/users/home?eprintid=20690&screen=EPrint::View::Owner), describes photo-actuated microstructured hydrogels for micro-valve applications in microfluidics. Transducers 2015 continued a number of conferences showcasing scientific and commercial developments in mechanical and physical sensors, materials and charaterisation, actuators, energy and power, biological and chemical devices and nanotechnology.
Additional information about this conference can be found at www.transducers2015.org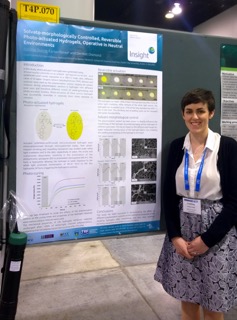 Best Phyisical Chemistry Presentation
On the 26th June Insight PhD Student Wayne Francis won the Intel sponsored award for best physical chemistry presentation at the 67th Irish University Research Colloquium. The colloquium took place in Maynooth University on the 25th and 26th of June. Wayne is a second year PhD student in Prof. Dermot Diamond's group, working with Dr. Larisa Florea developing smart synthetic micro vehicles. The talk was titled "Chemotactic and Electrotactic Self-Propelled Ionic Liquid Droplets".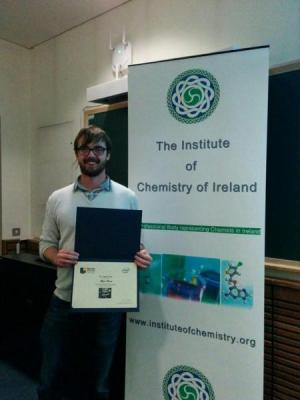 Grant Request Success
Prof Dermot Diamond and his team under the Commonsense FP-7 project (Grant agreement no: 614155) have been successful in securing a Quadro K5200 graphics card from NVidia under the Academic Hardware Grant Request (https://registration.nvidia.com/ahr.aspx) for their research.
Dermot said "within our research group we strive to tackle such problems. One main focus of our research is to merge the digital world with the molecular world. To do this we rely heavily on our ability to produce very high quality rendered images from CAD (computer aided design) packages to illustrate our latest system designs to our research partners. These systems are low-cost autonomous sensors designed for in-situ environmental monitoring, providing access to previously unobtainable data by increasing the temporal and spatial resolution issues associated with expensive probe type spot measurements [1,2]. By sending the recorded data to the cloud we can provide unprecedented access to real time data over wide-scale deployment sites. We can detect and record the concentration of nutrients leading to eutrophication in marine and fresh waters, track gas concentrations in air samples, along with temperature and pressure measurements.
This award will significantly reduce the computational time by 70% (currently takes 270 min for a full render including lighting, liquids and transparencies) and will result in a greater number of high quality rendered images and videos produced in a much shorter time frame.
We would like to thank the nVidia team for their support in this research."
[1] Deirdre Cogan, John Cleary, Thomas Phelan, Eoghan McNamara, Mark Bowkett, Dermot Diamond (2013), "Integrated flow analysis platform for the direct detection of nitrate in water using a simplified chromotropic acid method". Anal. Methods, 2013,5, 4798-4804
[2] M. Czugala, D. Maher, F. Collins, R. Burger, F. Hopfgartner, Y. Yang, J. Zhaou, J. Ducree, A. Smeaton, K. Fraser, F. Benito-Lopez and D. Diamond, RSC Advances, 201 "CMAS: fully integrated portable Centrifugal Microfluidic Analysis System for on-site colorimetric analysis" 3, 3, 15928 – 15938.
Home/Sick Exhibition
Dr. Simon Coleman presented a brief introduction into the future potentials for sensor technologies for the development of home based recovery and rehabilitation. The Home\sick exhibition runs from 1st May to 19th July 2015 in the Science Gallery at Trinity college Dublin and will display examples of technologies developed at Insight by Prof. Dermot Diamond's team including the "smart plaster", "smart slippers" and "smart gumshield". These platforms illustrate the ability to integrate medical diagnosis and assessment into our daily lives and provide valuable health evaluation in a non-invasive manner.
Seminar by Prof. Osvaldo N. Oliveria Jr
On 23rd of February, as part of the 1st Brazil Ireland Science Week, Prof. Osvaldo N. Oliveira Jr. from University of São Paulo, Brazil, visited Insight and the NCSR. His talk "Nanosciences in the convergence of technologies: from reductionism to the use of Big Data" brought together a lot of researchers from various different fields including materials science, chemistry, biochemistry and Big Data. As outcomes of Prof. Oliveira's visit, there's likely to be up to 3×12 month research visits by Brazilian faculty and PhD students to NCSR/Insight.
Brazil Ireland Science Week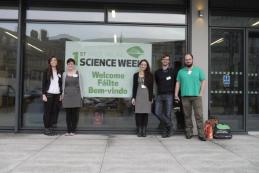 PhD students Jennifer Deignan, Aishling Dunne, Danielle Bruen, Alexandru Tudor, Wayne Francis, and Dr. Larisa Florea participated to the 1st Brazil Ireland Science Week held in Dublin from 23rd to 26th of February 2015.
The conference provided a platform to bring together researchers, higher education institutions, funding agencies, policy decision makers and industry leaders to discuss how to strengthen existing links between Ireland and Brazil and devise strategies that will facilitate greater future cooperation. Senior researchers from Brazil, representatives from Irish research institutes, government bodies such as Science Foundation Ireland, Enterprise Ireland and the Irish Embassy in Brazil, the Brazil Embassy in Ireland, along with industry representatives and European Union personnel participated in discussions to deepen existing scientific relationships between Brazil and Ireland and identify new partnership possibilities.
The Insight/NCSR representatives had several poster contributions, as follows:
1. Wearable Chemical Sensors: Characterization of ECG Electrodes with Electrochemical Impedance Spectroscopy - Jennifer Deignan, Shirley Coyle, Dermot Diamond
2. Chemotactic movement of ionic liquid droplets - Wayne Francis, Larisa Florea, Dermot Diamond
3. Semi-Interpenetrating Network Photo-Responsive Hydrogels Containing Poly(Ionic Liquid)s – Alexandru Tudor, Simon Gallagher, Larisa Florea, Dermot Diamond.

4. Solvato-morphologically controlled photo-responsive hydrogels for micro-valve applications - Aishling Dunne, Larisa Florea, Dermot Diamond.
Leading Role for Dermot Diamond
Dermot Diamond has been appointed as leader of the Environmental Sensors working group of the European Sensor System Cluster (ESSC) initiative and will be speaking about this as part of an invited lecture at the EuroNanoForum in Riga in June. Dermot has also been selected as a member of the Advisory Board of the Water JPI (Joint Programming Initiative). The JPI "Water challenges for a changing world" deals with research in the field of water and hydrological sciences. The availability of water in sufficient quantities and adequate quality is indeed a public issue of high priority and addresses a pan-European and global environmental challenge.
2015 Flex Conference
ASG leader to present - Wearable Fluids - The Key to Bringing Chemistry and Biology into On-Body Measurements - at 2015 Flexible & Printed Electronics Conference and Exhibition in California
For further information about the conference click here
Government Showcase of NAPES at Insight Government Review
Simon Coleman (NAPES Project Manager; DCU) and Lorna Cooper TE Laboratories (TEL) discussed EU Framework Program (FP7) funded water assessment projects to Senator Fergal Quinn at the Government review of the Insight Centre for Data Analytics at University College Dublin on 20th January 2015. The panel of Parlament and Senate members visited the facility to discuss job creation and investment in the research sector and its impact in Ireland. NAPES and several other FP7 projects involving DCU and TEL were displayed with demonstrations to illustrate the activities ongoing in the Irish and European research sector.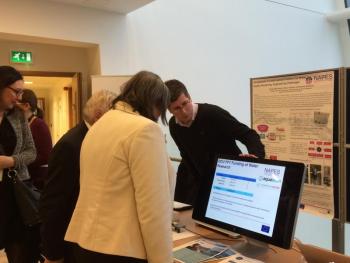 Congratulations Simon Gallagher
Congratulations to Dr. Simon Gallagher who was conferred with a PhD on 5th November 2014.
Thesis Title: Thermophysical behaviour and applications of N-isopropylacrylamide based Ionogels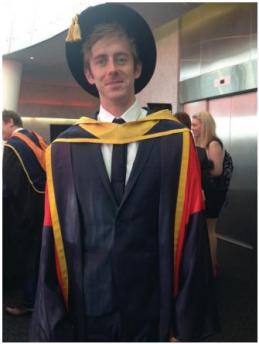 ASG Cowboys!
Insight and Adaptive Sensors Group PhD students don't disappoint. Faced with the challenge of riding the mechanical bull at the MicroTAS conference dinner this October, PhD students Jennifer Deignan and Wayne Francis proved that Insight students are not afraid of anything.
Our ASG cowboys put the mechanical beast to a test. Wayne stayed on the mechanical bull for twelve seconds while Jennifer for eight seconds but she decently won for the most graceful dismount.

MicroTAS 2014
PhD students Jennifer Deignan and Wayne Francis, and Dr. Larisa Florea participated in October 2014 to The Eighteenth International Conference on Miniaturized Systems for Chemistry and Life Sciences (MicroTAS 2014) held San Antonio, Texas.
MicroTAS 2014 continues a series of conferences that are the premier forum for reporting research results in microfluidics, micro-fabrication, nanotechnology, integration, materials and surfaces, analysis and synthesis, and detection technologies for life science and chemistry.
Over 900+ worldwide scientists and professionals engaged in research on and the use of integrated microsystems and nanotechnology for chemistry and life sciences attended MicroTAS 2014.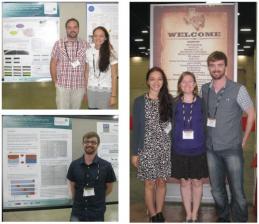 The NCSR/Insight representatives had several poster contributions, as follows:
1. Biocompatible, reversible photo-actuated hydrogels, operative in neutral environments, for micro-valve applications in microfluidic devices - Aishling Dunne, Wayne Francis, Larisa Florea, Fernando Benito-Lopez and Dermot Diamond.
2. Wearable chemical sensing – optimizing platforms and sensitivity for real-time sweat analysis - Jennifer Deignan, Larisa Florea, Shirley Coyle and Dermot Diamond.
3. Self-propelled chemotactic droplets - Wayne Francis, Larisa Florea and Dermot Diamond.
4. Quantitative photo-binding and sensing of divalent metal ions using photo- responsive polymeric brushes in micro-capillaries - Larisa Florea, Grainne Mc Guirk, Fernando Benito-Lopez and Dermot Diamond.
ASG Group Members attend Symposium in Brazil
Prof. Dermot Diamond and Dr. Larisa Florea participated to SBPMat 2014' XIII meeting of the Brazilian Materials Research Society organized in Joao Pessoa, Brazil, 28th September to 2nd October 2 2014. This is a showcase meeting for materials science research in Brazil and in South America. The numbers attending are rising annually and this year surpassed 2,000. After the meeting, Prof. Dermot Diamond concluded: "This was a great opportunity to present aspects of Materials Science research from my group and to present Ireland as a good place for establishing global contacts for Brazilian researchers, e.g. via the Science without Borders programme. At the conference, Prof. Olivera (USP) confirmed his commitment to attend the RBI symposium at DCU in February 2015, along with very positive discussions with a strong materials science research team at UFSC (Florianopolis) led by Prof. Ivan Bechtold, which could be further developed into collaborative research engagements. Follow ups will be linked to the Ireland Brazil symposium to be hosted by DCU in February 2015; There is also significant potential to build contacts with materials science researchers from Florianopolis such as Prof. Dr. Ivan H. Bechtold (Physics Department – UFSC)."
Prof. Dermot Diamond and Dr. Larisa Florea had contributions to symposium Organic Electronics and hybrids: materials and devices, as follows:
'New Concepts in Chemical Sensing based on Stimuli-Responsive Materials',Dermot Diamond, Invited Keynote Lecture.
'Photo-responsive polymers based on spiropyran as sensors and actuators', L. Florea, A. Dunne, H. Straub, S. MacArdle, D. Diamond, poster paper.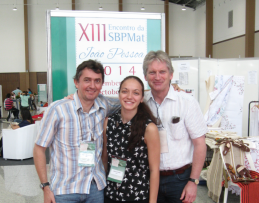 Materials Seminar
A Materials Seminar recently took place in the Research and Engineering Building. The seminar entitled Synthesis, Characterisation and Applications of New Functional Materials: From Crystallography to Biomedical Applications gave an opportunity for staff and students to hear too excellent speakers, Professor Jadranka Travas-Sejdic (University of Auckland), and Professor Vickie McKee (Loughborough University) presenting their latest research into the preparation and characterisation of new functional materials.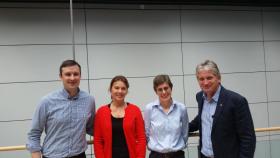 Congratulations Jennifer!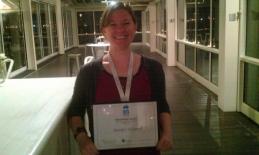 Jennifer Deignan of the Adaptive Sensors Group won best poster recently at the ISPE (International Symposium on Polymer Electrolytes) 2014 Conference in Melbourne, Australia with her poster entitled "Characterization of Heart Rate Electrodes Using Electrochemical Impedance Spectroscopy". Jennifer is currently taking part in a three month exchange programme at University of Wollongong, Australia's IPRI (Intelligent Polymer Research Institute) along with fellow group member Wayne Francis, as part of the MASK Project.
ASG members attend 6th Forum on New Materials - CIMTEC 2014, Montecatini, Italy
PhD students Aishling Dunne, Jennifer Deignan and Wayne Francis, Dr. Larisa Florea and Prof. Dermot Diamond participated in June 2014 at the 6th Forum on New Materials - CIMTEC 2014 held in Montecatini, Italy. This biannual conference is well recognized in the area of materials science and wearable sensors. The NCSR representatives had several contributions to two different symposia: 
Smart Polymers for Biomedical Applications and Wearable and Implantable Sensors and Body Sensor Networks, as follows:
"Photo-responsive soft actuators based on spiropyran functionalised hydrogels", Aishling Dunne, Larisa Florea* and Dermot Diamond (poster presentation).
2."Stimuli-controlled movement of droplets and polymeric vehicles", Wayne Francis, Larisa Florea* and Dermot Diamond (poster presentation).
"Wearable Chemical Sensing - Sensor Design and Sampling Techniques for Real-time Sweat Analysis",

J.A. Deignan, S. Coyle, G. Matzeu, C. O'Quigley, C. Zuliani, D. Diamond*
"Reversible photochromic polynorbornenes bearing spiropyran side groups for layer-by-layer coatings", Larisa Florea, Cara Moloney, David Nixon, Simon Moulton, Gordon W. Wallace, Fernando Benito-Lopez and Dermot Diamond* (oral presentation).
5.

"On-Body Chem/Bio-Sensing - Opportunities and Challenges", Dermot Diamond (invited talk).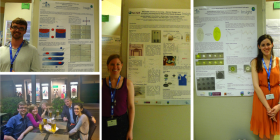 Principal Investigator admitted to RIA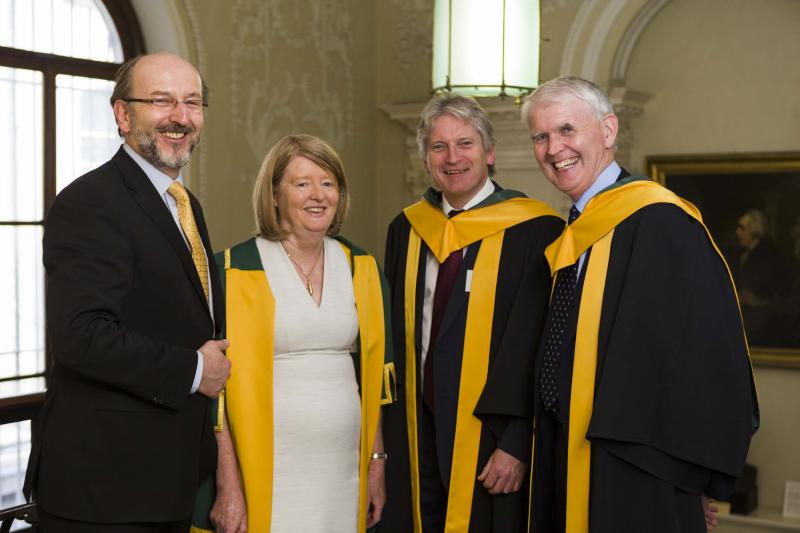 Dermot Diamond has been admitted as a Member of the Royal Irish Academy continuing a 229-year Academy tradition of recognising outstanding achievement in the world of learning.
Dermot Diamond is director of the National Centre for Sensor Research, and a Funded Investigator at the SFI INSIGHT Centre at Dublin City University. His research is focused on the fundamental science of stimuli-responsive polymers, the development of futuristic autonomous chemical sensing platforms, and the use of chemical sensors as information providers for Cloud-Computer systems i.e. building a continuum between the digital and molecular worlds.
Also admitted was Richard O'Kennedy, Professor of Biological Sciences and Scientific Director of the Biomedical Diagnostics Institute. He is renowned internationally for his pioneering work on antibody engineering with particular emphasis on immunosensor applications. His work has led to commercial developments, including the recent use of an engineered antibody to C-reactive protein on diagnostic platforms for rapid assessment of cardiac disease. Richard was also a founder member of NCSR.
At the ceremony admitting the new members, Professor Mary E. Daly, President of the Royal Irish Academy said,
'There is a major onus on researchers to ensure that Europe remains a world leader in the twentieth first century. But the emphasis on research that yields a return, in the form of patents, company formation or new drugs, tends to deny researchers the necessary breathing-space, the time to reflect, to allow for the wrong turns, the brilliant idea that collapses, or the unexpected lines of inquiry that might ultimately deliver something different to the original proposal, but something that is much more exciting. When the Royal Irish Academy elects members, it does so on the basis of a candidate's publications and research record – the sole criterion is quality. This research may help in the treatment of disease, or it may enhance our understanding of a past civilisation. Members of the Academy should not shirk from their responsibility to tell people that basic research is important and that government support for fundamental research is a hallmark of a civilised society'.
The other new Members admitted included Morgan Kelly, the economist who predicted the property bubble would burst, Geraldine Byrne Nason, the former Secretary General at the Department of the Taoiseach and one of Ireland's most distinguished diplomats and civil servants, and Rose Anne Kenny the founder of the Trinity Ageing Research Centre and the Irish Longitudinal Study on Ageing.
3D Bioprinting Symposium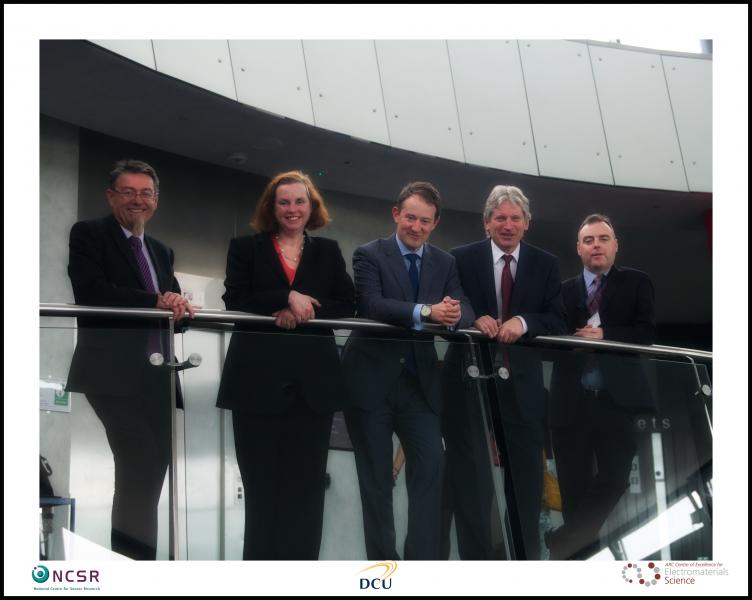 Minister for Research and Innovation Seán Sherlock, TD, opened the 3D Bioprinting Symposium at Dublin City University (DCU) recently. The symposium which was run by National Centre for Sensor Research (NCSR) and Australian Research Council Centre of Excellence for Electromaterials Science (ACES) included presentations by Clinicians, Researchers and Materials Fabrication Scientists from around the world, including Australia, Arizona and Germany.
Over the two days presentations were made on 3D Bioprinting Challenges within the Health Care Sector, Engineering and Scientific Capabilities as well as the future of 3D Bioprinting.
3D printer demonstrations were made and examples of 3d printed items exhibited. Students and speakers were invited to display posters showcasing their hard work; this included a 3d printed bio-mimetic fish for the detection of pollutants in the water and a printed cholesterol biosensor based on a novel h202 electrocatalyst.
To see more photographs from this event click here
EPA Research Funded Report
The final report from the EPA funded STRIVE 124 Web-Based Monitoring of Gas Emissions from Landfill Sites using Autonomous Sensing Platforms, has been released by the EPA. For more information click here
Water, water, everywhere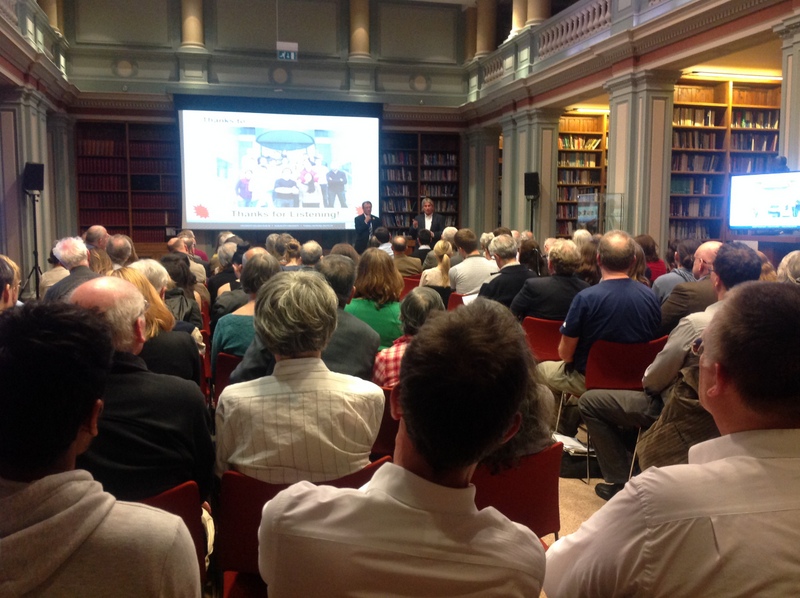 Professor Dermot Diamond was recently invited to give a guest lecture at the Royal Society of Chemistry, London. The current status of autonomous sensors for environmental monitoring was discussed as part of Dermot's presentation entitled "Water, Water, Everywhere: But how do we know what's in it?"
Further details are available, including a recording of the presentation as part of the RSC Public Lecture series at:
Postdoctoral Researcher Larisa Florea Awarded Front Cover
Insight and NCSR Postdoctoral researcher Larisa Florea has recently been awarded a front cover article in Chemical Communications for her work entitled "Self-assembled solvato-morphologically controlled photochromic crystals".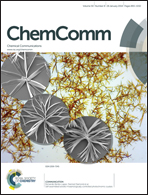 Click here to read the full article:
http://pubs.rsc.org/en/content/articlelanding/2014/cc/c3cc46699j#!divAbstract
NAPES Project Kick Off
The NAPES project (Next Generation Analytical Platforms for Environmental Sensing), starting in December 2013, Coordinated by Dublin City University, has secured 3.3 million euro (1.2 million euro to DCU) for research in water monitoring over the next 42 months. The European Commission FP7 funded project will be lead by Prof Dermot Diamond and aims to develop next generation systems using smart materials for biological and chemical sensing.
The project will target water for human consumption, monitoring levels of chemical contaminants and bacterial pathogens, such as e-coli, which contribute to public health problems such as the cryptosporidium outbreak in Galway in 2007. NAPES aims to tackle these issues with fully automated devices that will be deployed for long periods of time with increased sampling compared to current monitoring practices. The resulting data can then be placed on cloud databases that can be remotely accessed by specialists and the community, as will increasingly become the norm under the emerging EU 'Citizen Scientist' philosophy.
Additionally, NAPES intends to reduce the high costs of implementing environmental monitoring leading to large-scale, multiple location deployments and the creation of sensor networks of key water quality parameters over wide geographical areas..
The project will create up to 7 jobs in Ireland and brings together a European consortium from Ireland, Spain, France, Italy, Netherlands and the UK. Each partner brings world-class expertise to address the challenges presented by the project and will work closely with its small/medium enterprise (SME) partners to develop commercially viable end products.
Groups involved:
Ireland (Dublin City University, T.E Labs and Aquila Bioscience)
Spain (CIC Microgune)
France (Curie Institute, Paris)
Italy (University of Milan)
Netherlands (Technical University Eindhoven)
UK (Williams Industrial Services, Belfast)
SME partners: (T.E Labs and Williams Industrial Systems)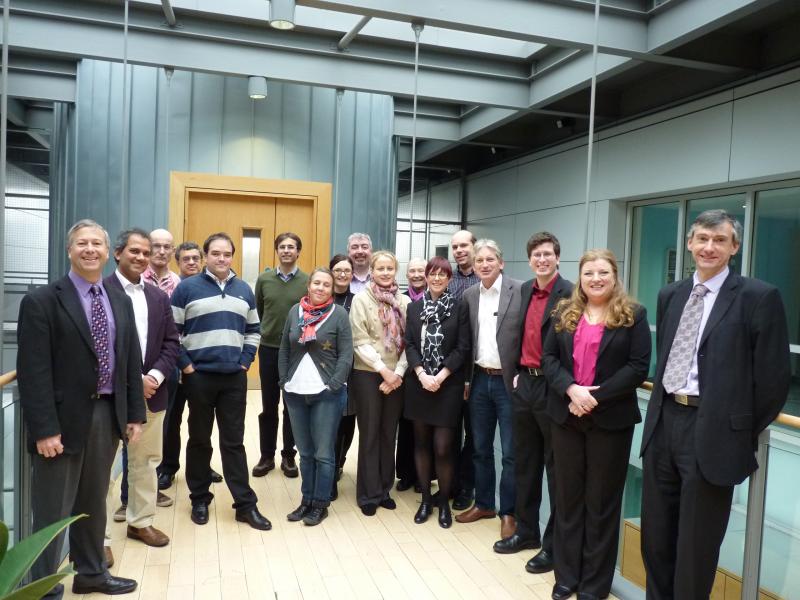 New Publication for Clarity – July 2013
'Fully integrated portable wireless centrifugal micro-fluidic analysis system for colorimetric detection', has been accepted for publication in the Royal Society of Chemistry journal RSC Advances. The authors are Monika Czugala, Damian Maher, Fiachra Collins, Fernando Benito-Lopez, Frank Hopfgartner, Yang Yang, Jiang Zhaou, Alan Smeaton, Kevin J. Fraser and Dermot Diamond.
The paper is a collaboration within Clarity, spanning across various disciplines including materials engineering, electrical engineering / prototyping and software engineering (Prof Alan Smeaton).
The Centrifugal Microfluidic Analysis System (CMAS) incorporates an easily reconfigurable detector board, which allows a wide range of centrifugal microfluidic layouts to be implemented. The stand-alone capabilities of the system, combined with the portability and wireless communication through a dedicated Android App on a 7" Tablet, provides the flexibility crucial for on-site water monitoring.
The paper can be found at: http://pubs.rsc.org/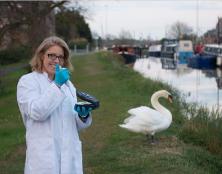 Monika Czugala demonstrating on-site water monitoring with the CMAS
ATWARM Summer School 3 - July 2013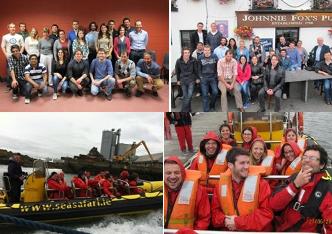 ATWARM atendees enjoyong the week's activities
05/07/13
The Third and final ATWARM Summer School was held in DCU last week. Sixteen fellows of the Advanced Technologies for Water Resource Management (ATWARM) project travelled to DCU from all over the globe. They were joined by six students from the International SmartOcean Graduate Enterprise Initiative (ISGEI), who also attended the talks and activities.
This year's Summer School was focused not only on Water Resource Management, but on the personal experiences and choices of the Fellows as they approach the end of their time with ATWARM.
Monday began the four-day event with a series of presentations by experts in the area of Water Resource Management, including Dr. Sean A. McKenna, (IBM), David Smyth (NUI Maynooth),Martin Horan (BioTector), and Dr. Conor Tonra (Patel Tonra Ltd.) Dr Claire O'Connell (Science journalist, The Irish Times) brought a different perspective to the day as she emphasised the importance of making research accessible to the general public, via the media. The day ended with each student giving a presentation on their personal experiences, research, industrial and social.
The following day began early with a trip to T.E. Laboratories Ltd. in Carlow. Tea and coffee was followed by a guided tour of the labs. Breda Moore (Technical Director) and Mark Bowkett (Managing Director) gave the industrial perspective on technology, dealing with topics such as the maintenance of quality control; personality profiling and the recruitment process; the concepts of innovation, entrepreneurship and risk; risk evaluation; the implications of failure/success; strategy & business plans, and funding. All talks were open practical and gave the listeners a chance to discuss and contribute.
On the third day the activities were again based in DCU. This time the emphasis was firmly on the decisions and futures of the attendees as they heard from Dr Anne-Louise Holloway (Research Officer, Invent Building, DCU), Ger Lardner (Senior Careers Advisor, DCU) and Patricia McCrory (QUESTOR, QUB). Fellows heard tips on successful CV writing, interview skills and job finding and general career choices, as well as taking part in the practical workshops on grant applications and report writing. Dr. Kevin Fraser (Marie Curie Fellow with the NCSR) spoke on his experience on securing funding as a postdoctoral researcher.
The final day took off to a sailing start with a rain-soaked tour of Dublin bay on the Poolbeg Sea Safari. However everyone remained cheerful as Dr. Tim Sullivan (DCU) spoke about the Sensor Deployment at Poolbeg, describing the process from the production of the sensing device to the interpretation of its results. The sensor was demonstrated, and the components passed around and examined. We finally departed for lunch at DCU and the last event of the Summer School.
Following lunch, Prof. Dermot Diamond (NCSR, AIC) gave a workshop on prototyping. As a part of this, engineers and members of the NCSR and ASG groups John Cleary, Eoghan Mc Namara, Bartosz Ziółkowski and Kevin Fraser spoke about their experiences with prototyping. The Summer School ended with a presentation of Certificates by Patricia McCrory to all ATWARM and ISGEI students, finishing the week on a warm and positive note.
We thank everyone who was involved in the Summer School, ATWARM fellows and ISGEI attendees, speakers, PIs, the administrative and catering staff at DCU, staff at T. E. Labs, the Sea Safari and Allied Coaches. With everyone's input, the week ran smoothly and was enjoyable for all.
The very best of luck to all the ATWARM fellows on their decisions and projects from here on!
If readers are interested in access to some of the slides/photos from the week please contact helen.diamond@dcu.ie.

Seals as seen on the Poolbeg Sea-Safari, Photo by Ciara Byrne (NCSR)
NCSR member achieves Project Management qualification – June 2013
Congratulations to Dr Kevin Fraser, post doctoral researcher with the NCSR. Kevin recently completed a 14 week course in project management and passed with flying colours to be awarded Certified Project Management Associate IPMA-Level D. Certificate Number 1894-DN2-13.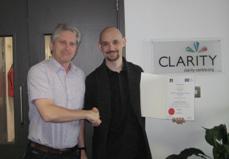 Dr Kevin J. Fraser receiving his award from Prof Dermot Diamond (Director NCSR, PI Clarity)
Monika Presents at Transducers, Barcelona, Spain – June 2013
NCSR and INSIGHT researcher Monika Czugala presented at the 17th International Conference on Solid-State Sensors, Actuators and Microsystems (Transducers). The conference was held from 16th-20th June, 2013, in Barcelona, Spain.
Transducers is considered as one of the most prestigious conferences in the MEMS community –this year's acceptance rate for oral presentations was just 15%. Monika's presentation entitled "Photo-patterning of ionogel microstructures for on-chip microvalve applications controlled by fiber optics" was one of the few accepted presentations.
Transducers 2013 continued a series of Conferences that are the premier forum for reporting research results in microsensors, microactuators and microsystems. More information about this international conference can be found at at the Transducers website.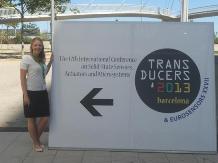 Monika Czugala at the Transducers Conference, Barclona, Spain.
Safeguarding Our Water – June 2013
03/07/13
Intel Ireland recently hosted a one-day summit on the future of water. The event took place on the 10th June 2013 at the Science Gallery in Dublin and was organised by Leonard Hobbs (Head of new business and research at Intel Ireland).
The summit was focused on the future of water and the opportunities for applying technology to the area: Agriculture & Smart Farming (Model, Monitor, Manage), ICT for preventing water damage and finally ICT to understand/map hydrological sources and supply systems.
The day's activities featured talks and presentations from global experts such as Lorie Wigle (general manager of Intel's Eco-Technology office), Prof John Sweeney (NUI Maynooth, Climatologist) and Prof Dermot Diamond (DCU, principal investigator with CLARITY and Director of the National Centre for Sensor Research).
Lorie Wigle spoke about the application of Moore's Law to the Water Industry. Prof Sweeny discussed water as the emerging critical environmental issue of the 21st century and Prof Diamond's talk was based on the use of water sensing technologies and the opportunity to create new industries around water in Ireland.
All speaker presentations are available here.
Further information on the Intel Water Summit can be found at www.siliconrepublic.com.
NCSR Beats them all at the EuroNanoForum Poster Call - July 2013
A poster by Larisa Florea was shortlisted for the prize at the recent EuroNanoForum 2013 (ENF) held in Dublin from 18th – 20th June.
Larisa's poster 'Multi-purpose capillary-integrated optical sensors based on spiropyran' made the final 16 out of 330 poster abstracts submitted. This was a phenominal achievement as the call was the most competitive so far in an ENF. Another of Larisa's posters, 'Crystal Moths, Exploding Capsules, Micro-Vehicles and Hairy Capillaries: Using Self-Assembly to Generate Functional Platforms' was used as part of a workshop on the final day of the conference. The workshop, 'Directed Self-Assembly of Materials for Devices', was organised by CRANN and Intel.
The winning poster was 'Multi-Walled Nanofiber reinforced self-healing, smart composite material production', by Dr Burcu Saner Okan from Sabanci University, Istanbul, Turkey. For more information on the poster exhibition please click here

NCSR to Transducers at Barcelona, June 2013
A delegation from the NCSR travelled to Barcelona, Catalunya, Spain, last month. Four group members made the journey to Transducers 2013, where a total of five NCSR posters were presented. As a member of the Technical Programme Committee, Dr Jens Ducrée of the BDI chaired a session on Bio-Microsystems along with Prof. Shuichi Shoji (Department of Electronic and Photonic Systems, Department of Electrical Engineering and Bioscience, Waseda University, Japan). Dr Ducrée is principal investigator for Microfluidic Platforms at the Biomedical Diagnostics Institute (BDI) and Associate Professor for Microsystems in the School of Physical Sciences at the Dublin City University (DCU).
Transducers 2013 was the 17th International Conference on Solid-State Sensors, Actuators and Microsystems. It took place from 16th-20th June 2013 and was hosted by the Centro de Convenciones Internacional de Barcelona (CCIB), in association with the Electron Devices Society (EDS), Elsevier, and the Institute of Electrical and Electronics Engineers (IEEE). The chairs were J. R. Morante (Department of Electronics, University of Barcelona) and Christofer Hierold (ETH Zurich).
The DCU presented one talk and 5 posters at the Conference:
'Multi-stage, Solvent-controlled Routing for Automated On-disc Extraction of Total RNA from Breast Cancer Cell Line Homogenate' J. Gaughran, N. Dimov, E. Clancy, T. Barry, T.J. Smith, and J. Ducrée (Dublin City University and National University of Ireland, Ireland)
'Full Integration of a Liver Assay Panel on a Centrifugal Microfluidic Platform'C.E. Nwankire, R. Burger, T. O'Connell, T. Glennon, and J. Ducrée (Dublin City University, Ireland)
'Photo-patterning of Ionogel Microstructures for On-chip Microvalve Applications Controlled by Fiber Optics' M. Czugala, C. O'Connell, A. McKeon, C. Fernández Sánchez, X. Munoz-Berbel, A. Llobera, D. Diamond, and F. Benito-Lopez (Dublin City University, Ireland, Spanish Council for Scientific Research (CSIC), Spain, and CIC microGUNE, Spain)
'Plate Reader Compatible Membrane-Integrated Microfluidic Platform for High-throughput Cellular Assays'E. Vereshchagina, D. McGlade, M. Glynn and J. Ducrée (Dublin City University, Ireland)
'Auto-actuated Sequential Release Valves for Lab-on-a-disc Systems' D.J. Kinahan, S.M. Kearney, and J. Ducrée (Dublin City University, Ireland)
'Automated On-disc Total RNA Extraction from Whole Blood Towards Point-of-care for Early-stage Diagnostics' N. Dimov, J. Gaughran, E. Clancy, T. Barry, T.J. Smith, and J. Ducrée (Dublin City University, Ireland, and National University of Ireland)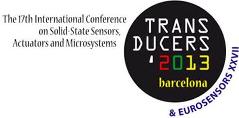 SIMS Team Takes Prize at LOPE-C - June 2013
The SIMS project team, including the BDI has won a prestigious international award for their research. The SIMS Project was awarded the prize for best publicly funded project at the organic and printed electronics conference, LOPE-C 2013, in Munich on the 12th June 2013, which is organised by the Organic Electronics Association (OE-A). The team has developed a revolutionary diagnostic device for measuring cholesterol by integrating a printed biosensor with a display and battery onto a flexible plastic substrate. The concept was demonstrated with a prototype at the conference. Dr. Aoife Morrin (BDI academic member) and Prof. Tony Killard (BDI Adjunct Professor) are part of the winning SIMS multidisciplinary team that is led out of the University of the West of England by Prof. Killard. The other consortium members across Europe are the University of Liverpool (UK), Fraunhofer ENAS (Germany), Alere (UK) and VTT (Finland). The SIMS prototype effectively demonstrated execution of an analytical sensor measurement in a new type of diagnostic device using a fully integrated printed sensor, powered by an on-board printed battery. The measurement performed by the biosensor is read out by a printed electrochromic display element that is also on-board the device. It has demonstrated levels of component integration beyond any other current technology.
The project is funded by the European Community's Seventh Framework Programme [FP7/2007-2013] ICT funding scheme under grant agreement no. 257372 and receipt of this prize demonstrates the world-leading nature of the biosensor development and communications aspects being performed at the BDI.
ASG group members present at ATWARM Conference - May 2013
ASG members Bartosz Ziolkowski and Monika Czugała were among those who made presentations for the recent international conference: 'Water: the greatest global challenge', held in the Helix, Dublin City University (DCU) from the 14th - 16th May 2013. Bartosz and Kevin Fraser presented on the day.
This conference was a great success overall. For further information please see the NCSR and ATWARM websites.
Presentation Abstracts:
Novel, stimuli-responsive materials for fluid handling in microfluidic sensor platforms
Bartosz Ziółkowski and Dermot Diamond (CLARITY: The Centre for Sensor Web Technologies, Dublin City University, Dublin 9, Ireland.)
Smart materials have been a subject of research as potential candidates for fluid handling actuators for some time. They have been said to allow miniaturisation of autonomous analytical platforms and decrease of their cost. Current autonomous sensor platforms cost >20 k€, 60% of which is sample handling components[1]. To address this issue, gels that change volume under light stimuli have been developed as remotely triggered, low power and inexpensive microfluidic valves [2, 3].
Materials research in this area has been mostly based on poly(N-isopropylacrylamide) a thermo responsive polymer with a lower critical solution temperature (LCST) at ~30 ˚C. However, recently polymerisable ionic liquids having LCST have been reported[4]. Therefore, these materials are good candidates for a new class of poly-ionic liquid responsive gels.
Here we report two ionic liquids: tetrabutyl-phosphonium-4-vinylbenzenesulfonate and tributyl-hexyl-phosphonium-3-sulfopropyl acrylate that have been polymerised with a crosslinker. These materials if placed in water quickly swell and form hydrogels within one hour. The amount of crosslinker used determined the swelling of the gel and the amount of water uptake. Since the LCST of this IL is concentration dependant we show that it can be controlled by the crosslinker amount. The LCST has been demonstrated to decrease as the crosslinker amount increased. These gels exhibited good mechanical properties and reversible shrinking by 40 % volume when heated to 60 ˚C. This demonstrates the first thermoresponsive poly ionic liquid hydrogel with potential application in microfluidic devices and sensors.
References:
[1] M. Sequeira, M. Bowden, E. Minogue, D. Diamond, Talanta 56 (2002) 355.
[2] T. Boone, Z.H. Fan, H. Hooper, A. Ricco, H.D. Tan, S. Williams, Anal. Chem. 74 (2002) 78A.
[3] J. Siegrist, R. Gorkin, M. Bastien, G. Stewart, R. Peytavi, H. Kido, Lab Chip, 10 (2010) 363.
Fully integrated portable Centrifugal Microfluidic Analysis System for on-site colorimetric water analysis
Monika Czugala, Damian Maher, Robert Burger, Kevin J. Fraser, Jens Ducree, Dermot Diamond and Fernando Benito-Lopez.(CLARITY: Centre for Sensor Web Technology,School of Physical Sciences, National Centre for Sensor Research, Dublin City University, Dublin, IRELAND)
Miniaturization of analytical devices through the advent of microfluidics is an important step forward for such applications as environmental monitoring. Micro total analysis systems provide a route to the generation of micro-dimensioned analytical instruments that could be operated in remote locations, enabling in-situ water analysis [1, 2]. In this work we report a portable, wireless system capable of in situ reagent-based colorimetric water analysis. The system is based on a reconfigurable low cost optical detection method employing a paired emitter detector diode device, which allows a wide range of centrifugal microfluidic layouts to be implemented. Due to the wireless communication, acquisition parameters can be controlled remotely and results can be downloaded in distant locations and displayed in real time. The autonomous capabilities of the system, combined with the portability and wireless communication, provide the flexibility crucial for on-site water monitoring. The system is based on microfluidic centrifugal platforms which offer many advantages over standard lab-on-a-chip systems such as the elimination of large power supplies and external pumps [3]. The presented centrifugal microfluidic platforms allow for monitoring of such parameters as nitrite, pH and turbidity of water samples. The strong correlation between the results obtained using the PEDD system and a standard bench-top instruments was achieved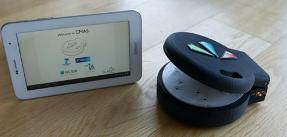 References:
[1] M. Sequeira, M. Bowden, E. Minogue, D. Diamond, Talanta 56 (2002) 355.
[2] T. Boone, Z.H. Fan, H. Hooper, A. Ricco, H.D. Tan, S. Williams, Anal. Chem. 74 (2002) 78A.
[3] J. Siegrist, R. Gorkin, M. Bastien, G. Stewart, R. Peytavi, H. Kido, Lab Chip, 10 (2010) 363.
ASG-CLARITY Group Member Visits IPRI - Jan-March 2013
Michele Zanoni, PhD student and ASG-CLARITY group member recently travelled to Australia, undertaking research with the Intelligent Polymer Research Institute (IPRI), University of Wollongong, Australia.
From the 25th of January to the 19th of March, Michele visited IPRI at the University of Wollongong. During this research trip he had the chance to develop a new concept of photo-electroactive conducting polymers that are now under study as biomaterials for tissue and neural regeneration with the supervision of Prof Gordon G. Wallace and David L. Officer. This trip visit was funded by the MASK project, a special FP7 funding programme that allowed a good number of visits from DCU to various universities in Australia, including Monash University and University of Tasmania.
During this period Michele also attended the 8th Annual International Electomaterials Science Symposium organized by the ARC Centre for Electromaterials Science at the Intelligent Polymer Research Institute. The conference was held from the 13th to the 15th of February 2013. Michele presented a talk and a poster entitled Dual Control Molecular Switches: a Journey into the Nanoworld of Spropyran-Functionalized Terthiophene Polymers.
The trip was a great success and led to the formation of collaborations which will forge research into the future.
Deirdre Cogan presesnts at ENVIRON 2013
Deirdre Cogan of the ASG gave an oral presentation at the 23rd Irish Environmental Researchers' Colloquium, ENVIRON 2013. Deirdre's presentation was entitled Next generation autonomous chemical sensors for environmental monitoring. It was focused on microfluidic technology as a potential solution to the increasing demand for environmental monitoring and the development of sensing platforms for nutrients such as ammonium and nitrate in water and wastewater.
The colloquium was held on January 30th to February 1st, 2013 in the Ryan Institute at NUI Galway, in association with the Environmental Sciences Association of Ireland (ESAI). The theme of the event was "Environment: From Ecosystem Functioning to Human Health"
For more information on the colloquium please see the EVRIRON 2013 website.
ASG at COIL 5 in Portugal - April 2013
Members of the Adaptive Sensors Group attended the fifth Congress on Ionic Liquids in Portugal from the 21st -25th April 2013.
Dr Kevin Fraser, Bartosz Ziolkowski, Vincenzo Curto and each presented a poster at the congress while Simon Gallagher gave an oral presentation entitled Temperature & pH triggered release characteristics of water/fluorescein from 1-ethyl- 3-methylimidazolium ethylsulfate based ionogels.
Kevin Fraser's poster was entitled Physical and mechanical properties of Phosphonium based poly(ionic liquids). Bartosz Ziolkowski's was entitled Photo-responsive hydrogel based on phosphonium poly-ionic liquid. The poster Ionic Liquids in biosensors: influence of hydrated choline based ILs on the bio-functionality of Lactate Oxidase was presented by Vincenzo Curto.
The next meeting of COIL will be in South Korea in 2015.
Click here for more information on COIL .
ASG Research Profiled in Australian Media
NCSR Director, Prof Dermot Diamond has been actively collaborating with researchers from the University of Wollongong, New South Wales, for twenty years in the area of intelligent polymers.
Recently, the Illawarra Mercury, a regional Wollongong newspaper described how this collaboration is leading to exciting innovations in smart textiles where clothing could be used as a sensor that interacts with the skin. The full article is available from the Illawara Mercury website.
ASG Researcher wins Thesis in 3 Competition - 1st November 2012
Congratulations to Deirdre Cogan, a member of the Adaptive Sensors Group, who was the overall winner of the Thesis in 3 competition held on 25th October at the Sugar Club in Dublin. Thesis in 3 showcases research from the 9 SFI funded Centres for Science Engineering and Technology (CSET). Each participant has three slides and three minutes to present the audience with an overview of their research. In this year's final, 18 post graduate researchers presented their research to a general audience who for the first time were given the opportunity to vote for their favourite presenter. Over 250 people attended this years event and a judging panel consisting of high profile individuals from industry, media and state agencies chose the overall winners. Deirdre's winning presentation was entitled: Protecting our Environment - Minus the Wellies". Deirdre will go on to present her talk at the SFI summit which will take place on 12th - 13th November in the Hudson Bay Hotel in Athlone.
The Thesis in 3 event was co-ordinated by Aoibheann Bird from CLARITY, Cara Greene from CNGL and Philip Smyth from Systems Biology Ireland. To read more about the other winners, please visit the SFI website here.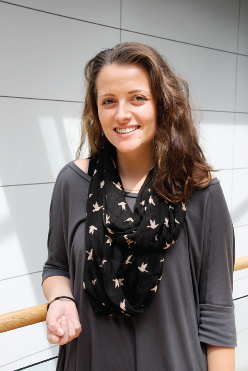 Ms. Deirdre Cogan
SFI Research Images Competition 2012 - Closing Date 26th October 2012
The SFI Research Images Photo Competition is offering SFI funded researchers the opportunity to submit compelling digital images created in the course of their research. The Competition aims to find the most innovative and imaginative research images that convey the depth and range of SFI funded research taking place in Ireland. Researchers may submit more than one image to the Competition and submissions may also be collaborative.
The runner up and winning images will be displayed at the Summit. Images may in the future be used by SFI in marketing collateral (website, publications, supplements, features, etc.) to profile and promote the SFI funded research taking place in Ireland. The winning image will be announced at the Summit dinner on Monday, 12th November 2012.
Those interested in entering, please submit your images along with a short (max. 100 words) to Dr. Aoibheann Bird at aoibheann.bird@ucd.ie by close of business this Friday 26th October.
ASG part of Irish Trade Mission to Brazil - 6th - 12th October 2012
Prof. Dermot Diamond visited Brazil as part of the Government Trade Mission and the SFI/Enterprise Ireland delegation from the 6th - 12th October 2012. During the visit, Prof. Diamond attended multiple meetings, and presented a talk entitled 'Building Strategic Brazil-Ireland Research Partnerships: From initial steps to Strategic Engagement'. at the SFI Innovation Ireland Showcase Event 'Celebrating the Success of Partnership and Forging Relationships for a New Generation of Scientists and Engineers' at the University of Sao Paulo on 8th October 2012. On the same day he attended the Science without Borders call launch and breakfast Network Reception at the Tivoli Hotel, October 8th.
On the 12th October, Prof. Diamond met with Daniel Diaz, Director of IBM Research, Sao Paulo, and a team of his senior researchers. As a result of this meeting it is hoped that researchers at DCU will work together with IBM Research Ireland to explore mechanisms to work together in the areas of natural resources, specifically water, oil and gas. In particular, the ways in which IBM can participate locally (within Ireland) and between Ireland/Brazil, will be examined.
ASG is currently collaborating with Prof. Ernane Costa from the University of Sao Paulo (USP). Current research with Prof. Costa is going very well and this collaboration made a big impact when presented at the meetings. This work is being carried out in conjunction with the public utility company SABESP and is focused on monitoring of gas emissions during anaerobic digestion of waste water.
The USP team have deployed one of the DCU developed CH4/CO2 autonomous monitoring systems (Figure 1) and the resulting data can be accessed via Google Fusion Tables from any location worldwide. The data is generating new information about the water treatment pond, with CH4 levels rising towards explosive levels at almost 18% and CO2 appearing to present a daily cyclical behaviour (see figure 2 below).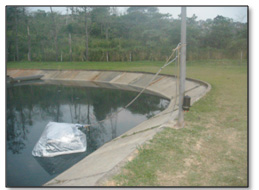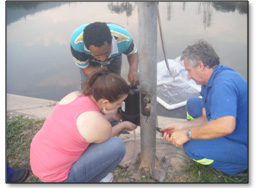 Figure 1: The anaerobic waste water treatment site showing the sampling unit (left) and Prof. Costa, Camila Nardi (trained at the CLARITY Centre, DCU) and a SABESP technician deploying the DCU Monitoring system (right).
Prof. Pavel Nesterenko visits ASG - September 2012 - 20th - 28th September
Prof. Pavel Nesterenko, from the School of Chemistry at the University of Tasmania, Australia, visited the Adaptive Sensors Group from the 20th to the 28th September 2012. Prof. Nesterenko is a collaborator with the MASK Marie Curie IRES programme and during his visit he discussed the MASK-IRES exchange programme with Prof. Dermot Diamond. The topics to be investigated as part of this exchange include the development of new materials that have potential applications for sensors and in separation science.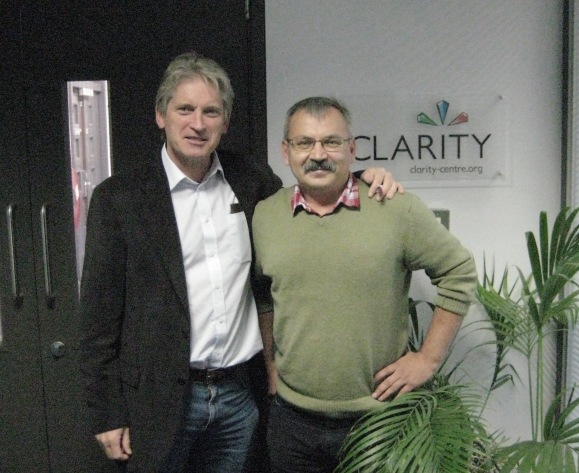 Prof. Dermot Diamond and Prof. Pavel Nesterenko
University of Wollongong Dubai visits ASG - 21st September 2012
University of Wollongong's (UOW) Dean of Science Professor Will Price and former Dean of Science and former President of University of Wollongong Dubai, Professor Rob Whelan visited Prof. Dermot Diamond's laboratories in the NCSR on the 21st September. During the visit, researchers from the University of Wollongong demonstrated how their solar cells can be used in wireless sensors that are being developed by the ASG.
The visiting researchers from the UOW are members of Prof. David Officer's research group. Prof. Officer is from the ARC Centre of Excellence for Electromaterials Science at UOW and is in the final weeks of a three-month Science Foundation Ireland (SFI) Short Term Travelling Fellowship. He has assisted ASG researchers integrate the UOW materials into the next generation wireless sensors at CLARITY.
The SFI grant has enabled Prof. Officer to share his expertise in organic synthesis, light harvesting materials, multifunctional electroactive polymer systems and solar cells with researchers from the CLARITY Centre for Sensor Web Technologies at DCU.
The visit by Prof. Price and Prof. Whelan was facilitated as part of a larger visit to DCU by leading academics from the United Arab Emirate University (UEAU), University of Wollongong (WOU) and the University of Colarado, to discuss expansion of the International Programme in Environmental Science and Health. The DCU lead meeting focussed on increased globalisation of the student experience.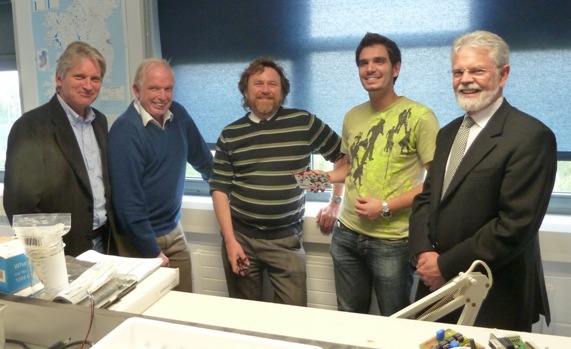 UOW PhD student Joseph Giorgio (second right) shows his solar cells to (from left) Professor Dermot Diamond, Professor David Officer, Professor Will Price and Professor Rob Whelan
CLARITY Thesis in Three - 20th September 2012
Members of the Adaptive Sensors Group took part in the CLARITY organised Thesis in Three event that took place on Sept 20th in the Speak Easy Cafe Bar 13 CLARITY. The format of Thesis in Three events is such that participants can only present their research using three slides, and within three minutes.
On the night, presentations covered all aspects of CLARITY research in "bite-sized pieces". The competition was judged by Science Foundation Ireland Scientific Programme Manager Dr Stephen Flinter, CLARITY Intellectual Property Manager Dr Peter Olwell, and UCD School of Physics Manager Bairbre Fox. Matt Patterson came first place, with Deirdre Cogan from ASG coming in second place, congratulations to both of you! Matt and Deirdre will go on to represent CLARITY at the CSET Thesis in Three competition in Smock Alley Theatre on the 25th October.
Well done to all participants for the work they put into each presentation, and to all who turned up on the night for a very sucessful event. Photos from the event can be found on the CLARITY website at www.clarity-centre.org/news/clarity-thesis-three.
2nd International Symposium on Functional Nanomaterials - 6th & 7th September 2012
The Second International Symposium on Functional Nanomaterials (ISFN) was held in DCU on the 6th and 7th September. The goal of organising the meeting was to bring together a group of creative thinkers working in Functional Materials, and to encourage participation in discussions and exchanges that will hopefully generate new ideas, research directions and collaborative networks. The symposium is particularly appropriate as Dublin was designated a City of Science by the Lord Mayor of Dublin at the beginning of the year. This designation is to celebrate Dublin hosting Europe's largest science event, the Euroscience Open Forum which was hosted by Dublin in July. Functional Materials brings together a multitude of knowledge domains, ranging across synthetic chemistry, surface analysis and visualisation, sensor science, nanotechnology, microfluidics. It has the potential to impact significantly in every aspect of life, and more than ever, it will form the basis of a multitude of applications with tremendous commercial potential.
This is inherently a very multidisciplinary topic – and no on person can be fully aware of developments across the various knowledge domains that can contribute to functional materials; from fundamental science to applied technologies and device prototyping. This symposium therefore presented an opportunity to renew contacts, and generate new friendships. The conference was a huge success, congratulations to the organisers.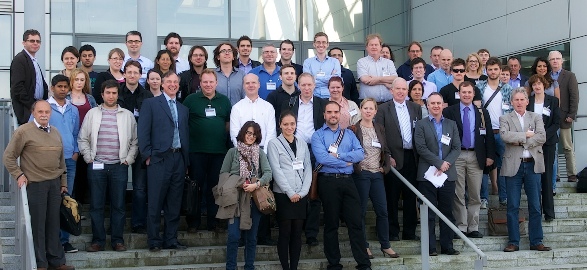 Delegates who attended the 2nd International Symposium on Functional Nanomaterials
Prof. Doug MacFarlane visits ASG - 14th August 2012
Prof. Douglas MacFarlane from the Australian Centre for Electromaterials Science at Monash University travelled to ASG on 14th August to discuss current collaborative programmes funded by the MASK Marie Curie IRES programme, and possible future collaborative ventures with staff from DCU. Prof. MacFarlane leads the Monash Ionic Liquids Group at Monash University. He is also the programme leader of the Energy Programme in the Australian Centre for Electromaterials Science. His group, numbering around 20 research staff and students focuses on a range of aspects of ionic liquids and their applicaitions, especially in Sustainable Energy applications.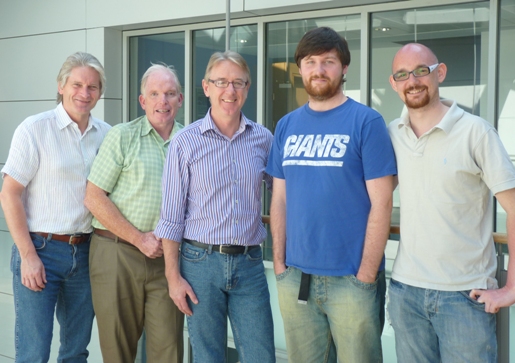 (L-R) Prof. Dermot Diamond, Prof. David Officer, Prof. Doug MacFarlane, Dr. Andrew Kavanagh and Dr. Kevin Fraser
ASG Publication is Number 1000th for CLARITY Centre - 30th July 2012
Simon Coleman, Andrew Kavanagh, Dylan Orpen, Jung Ho Kim, King Tong Lau and Dermot Diamond's publication "Analysing Chem/Bio-Markers in Saliva using a Portable Optical Detection Platform", marked the 1000th recorded publication output (counting CSET and non-CSET, Conference Papers, Posters, Journals, Workshops, Books, Book Chapters and Invited Talks) for the CLARITY Centre. The publication was presented at the 7th International Workshop on Biosignal Interpretation (BSI 2012), Palace Hotel, Lake Como, Italy, 2-4th July 2012.
Abstract:
Bipolar Disorder is commonly regulated using a varying dosage of Lithium carbonate and monitored by blood analysis. The proximity of the upper dosage level in blood (1.2mmol), to that of toxicity (>1.5mmol), presents a risk for patient wellbeing from overdose. The infrequency of blood testing creates a potential for overdose to occur between sampling and remain undetected. Additionally, the invasive and often painful nature of frequent blood draws has resulted in the search for alternative non-invasive techniques. One such medium is saliva and we describe the use of simple, well established, optical techniques integrated into a portable wireless device to analyze Chemical and Bio-markers present in this medium. This novel device allows for frequent, real-time monitoring of drug levels (Lithium) and patient psychological state (alpha-amylase) as well as supplementing patient assessments with their Physician and giving the patient a more personalised monitoring of their health during Lithium treatment.
Congratulations to all involved!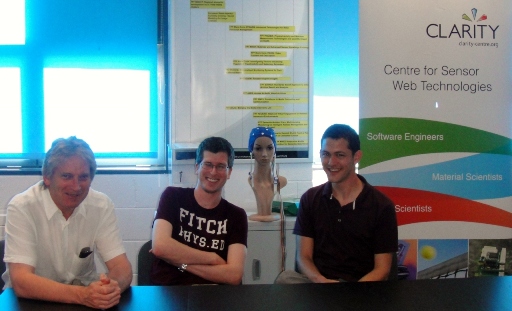 (L-R) Prof. Dermot Diamond, Dr. Simon Coleman and Mr. Dylan Orpen, authors of CLARITY's 1000th publication
Ireland's Champions of EU Research – 28th June 2012
Prof. Dermot Diamond has been selected as an Enterprise Ireland Champion of EU Research. A special event was held to celebrate the success of the programme on the 8th June 2012, in the Royal Hospital Kilmainham, Dublin. President of Ireland, Michael D. Higgins addressed the audience of FP7 Project Co-ordinators and representatives of Ireland's research and business sectors. The President also presented a number of awards to Co-ordinators whose projects were ranked 1st in Europe.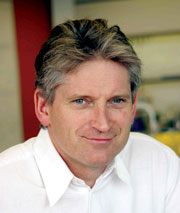 Prof. Dermot Diamond
Visit to Brazil - 19th - 24th May 2012
Prof. Dermot Diamond and Dr. Brendan O'Connor visited the University of Sao Paulo (USP) in Brazil from the 19th – 24th May 2012. Despite the shortness of this visit, a busy schedule enabled a lot of important ground to be covered. Amongst the highlights of this visit was the organisation of Brazil-Ireland 'First Colloquium of the Development of Sensor Technology Between Ireland and Brazil' at USP (Pirassununga Campus), where up to several hundred students and staff attended and both Prof. Diamond and Dr. O'Connor presented invited lectures.
The trip also included a meeting with Senior SABESP Marcelo Morgado, advisor to the CEO of Environmental Affairs, SABESP, the 4th Largest sanitation company world-wide. Prof. Diamond and Dr. O'Connor also met with Dr. Marie Anne Van Sluys, Special Advisor to the Scientific Director, Life Sciences Scientific Directorate FAPESP, the research agency for the state of Sao Paulo. A tour of the facilities at the Pirassununga campus was also organized.
The visit is the latest in a growing collaboration between the two Universities. To date Prof. Ernane Costa visited the NCSR from September 2011 to January 2012 in a structured a cooperative project that involved several elements, initiating with some small-scale focused actions, building to a more broadly structured strategic engagement.
Following this, one of Prof. Cost'a students Ms. Camila Nardi Pinto, visited the NCSR from January to May 2012. During her stay in the NCSR Centre Camila learned how to build and deploy autonomous sensors for tracking greenhouse gas emissions (CO2 and CH4) in Prof. Diamond's group (CLARITY Centre), and similarly how to build and deploy autonomous water quality (colour, turbidity) sensors with Prof. Fiona Regan's group in MESTECH. Having returned to the USP, Camila is now commencing the deployment and data harvesting phase of the collaboration. The data will be hosted by a server at DCU, from where it can be accessed for analysis and visualisation by both teams, independent of location.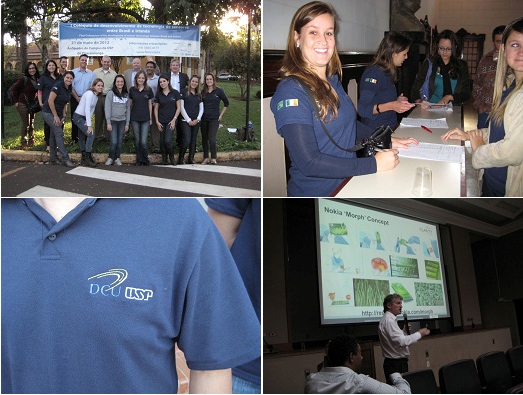 Figure 1: Photos from the USP-DCU Colloquium (top left): Volunteers and speakers for the colloquium under the meeting banner, including Dermot Diamond, Ernane Costa and Brendan O'Connor (rear row, from right); (top right), Registration for the Colloquium (with Ireland-Brazil branding on the volunteer's sleeve; (bottom left) branding of DCU-USP cooperation on volunteer's shirt; (bottom right) Dermot Diamond speaking at the colloquium.
Prof. Sandra Martins Franchetti presents "Characterization of biomodifed polymeric films" seminar - 27th April 2012
Prof. Sandra Martins Franchetti, Associate Professor at the University of São Paulo Brazil, presented her seminar entitled "Characterization of biomodified polymeric films" on Friday 27th April 2012.
During her talk she summarised 10 years of research in the field of polymer/microorganisms interaction, and showed how we may overcome the main bottleneck in the polymer biodegradation process. Prof. Martins Franchetti is an expert in photodegradation and biodegradation of polymeric films. She is currently Deputy Program Chair of Postgraduate Studies in Applied Microbiology at UNESP.
The National Centre for Sensor Research is currently establishing links between DCU and the University of São Paulo Brazil. Prof. Ernane Costa from the University of São Paulo carried out research with the ASG as part of a 3 month visit to the NCSR at the end of last year and it is hoped that an exchange visit will take place during this year.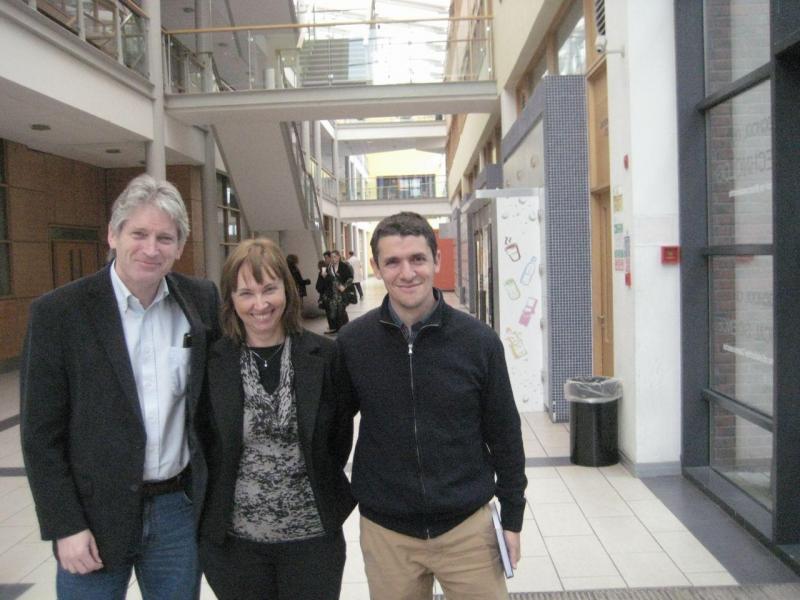 (L-R) Prof. Dermot Diamond (DCU), Prof. Sandra Martins Franchetti (University of Sao Pãulo), Dr. Enrico Marsili (DCU).

ASG PI on Linking Arts and Science - Talk April 13th, 4pm, Helix
Professor Dermot Diamond, ASG Principle Investigator, was recently on RTE Radio1's Arts Tonight Show on the discussion of Linking Arts and Science. Dermot is the author and performer, with actor Fergus Cronin, of the touring show 'The Science of Flann O'Brien', which explores Myles na gCopaleen/Flann O'Brien's sharp and fantastical grasp of science, and argues that he at times brilliantly anticipated scientific discoveries to come.
You can also download a podcastof Professor Diamond on Arts Tonight (Feb 20th). His section of the programme starts from 40mins.
Update: Professor Diamond will be participating in an event to mark the 80th anniversary of Ernest Walton's and John Cockcroft's 'splitting the atom' on 14th April 1932.
"How they 'split the atom' and brought the news to the world"The Gallery, The Helix, Dublin City University, Friday 13th April 2012, 4pm.
Prof. Wallace presents seminar on "Nanofabrication for Organic Bionics", Friday 30th March 2012
Australian Laureate Fellow and Australian Research Council Federation Fellow Professor Gordon Wallace is currently the Executive Research Director at the ARC Centre of Excellence for Electromaterials Science, and Director of the Intelligent Polymer Research Institute.
Professor Wallace's research interests include organic conductors, nanomaterials and electrochemical probe methods of analysis, and the use of these in the development of Intelligent Polymer Systems. A current focus involves the use of these tools and materials in developing bio-communications from the molecular to skeletal domains in order to improve human performance via medical Bionics.
With more than 600 refereed publications, Professor Wallace has attracted more than 14,000 citations and has a h-index of 55. He has supervised 60 PhD students to completion at the Intelligent Polymer Research Institute.
Professor Wallace is an elected Fellow at the AustralianAcademy of Science, the Australian Academy of Technological Sciences and Engineering, the Institute of Physics (UK) and the Royal Australian Chemical Institute.
In addition to being named NSW Scientist of the Year in 2008, Professor Wallace was also appointed to the Korean World Class University System, and received the Royal Australian Chemical Institute HG Smith Prize.
In 2004, Professor Wallace received the Royal Australian Chemical Institute Stokes Medal for research in Electrochemistry, after being awarded an ETS Walton Fellowship by Science Foundation Ireland in 2003. The Royal Australian Chemical Institute awarded Professor Wallace the Inaugural Polymer Science and Technology Award in 1992.
(L-R) Gordon Wallace (University of Wollongong), Damien Thompson,(Tyndall National Institute), Dermot Brabazon (DCU), Dermot Diamond (DCU), Kieran Daly (Schimmer)
ASG PI receives Certificate of Appreciation from ACS Publications - 13th February 2012
Prof. Dermot Diamond has received a Certificate of Appreciation from the Publications Division of the American Chemical Society, in recognition of his contribution and dedicated service in the peer review of manuscripts submitted to ACS journals. Dermot has been reviewing papers for ACS for over 15 years, was on the editorial board of the ACS journal 'Analytical Chemistry' for 3 years, and has been regularly invited to speak at ACS conferences.
Congratulations Dermot!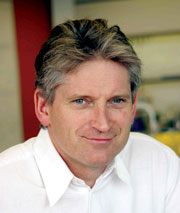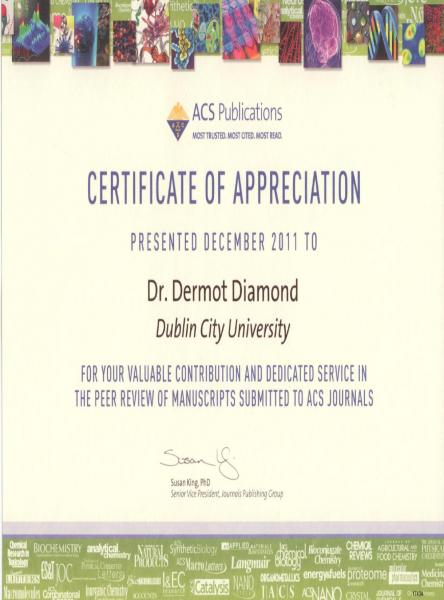 Prof. Dermot Diamond appointed to IAB of ACES Centre - January 2012
Congratulations to Prof. Dermot Diamond, ASG Principal Investigator, who has recently been appointed to the International Advisory Board of the Australian Centre of Excellence for Electromaterials Science (ACES) Centre.
The Australian Research Council (ARC) ACES Centre comprises currently of six research organisations, whose common goal is to explore electromaterials and how they can be applied to the way we live. Established in 2005, ACES expands on the research program of the ARC Centre for Nanostructured Electromaterials and draws together researchers from a range of disciplines, including biologists, clinicians, chemists, physicists and engineers.


(Pictured) Prof. Dermot Diamond.