Centre For Interreligious Dialogue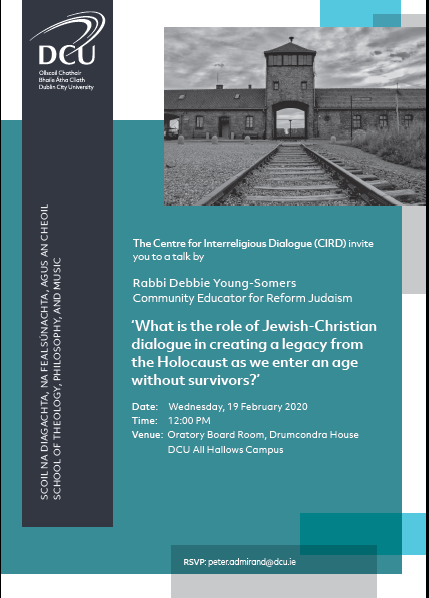 Below Image
Report: Talk by Rabbi Debbie Young-Somers with Shoah Survivor, Eva Paddock
Report from Dr Peter Admirand, Director of the CIRD:
For Rabbi Debbie Young-Somers' CIRD talk, she was joined by Eva Paddock, a Kindertransport survivor. Eva's presence was both fitting and poignant on a topic asking about the future of Jewish-Christian dialogue as we enter an age without survivors.
Rabbi Debbie provided an interactive and engaging session examining the process of memorialization and ethics in the Shoah and hauntingly noted the fact that many non-Jews know how Jews died, but not how they live.
Sharing personal stories and narratives of her own interfaith journey, Debbie guided and helped the participants to assess difficult questions of identity and memory. Dividing everyone into groups with different texts, participants engaged in the Jewish practise of havruta and then shared their insights and discussions with the rest of the group, on topics like Edith Stein's sainthood.
The Rabbi closed with a video on remembering Holocaust survivors through holographic technology.
Eva then told some of her remarkable life story of how she and her sister survived the Shoah as one of the survivor children of the kindertransport. After fleeing the Czechoslovakia, she lived in England with a foster family before reuniting with her parents. She also detailed the remarkable stories of how her parents survived and were able to join her—including her father having "the hutzpah" to enter Germany after the Nazis were on the verge of overtaking Prague. He also survived through amazing acts of altruism from others—including a stranger who paid for his flight (because the airline wouldn't accept his home currency). Her father later paid the man back after the war.
A lively roundtable discussion ensued. Rabbi Young-Somers followed her DCU talk with an evening lecture for the Irish Council of Christians and Jews at Lutherhaus on the future of Jewish-Christian dialogue.