Aisling Crean Lynch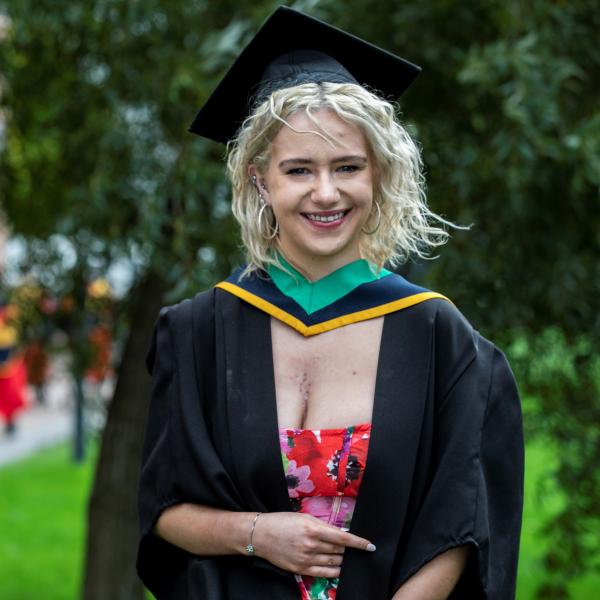 DCU was the only college offering entry into Actuarial and Financial Mathematics when Aisling Crean-Lynch was unsure if "the BSc in Actuarial Mathematics would be a good fit for me."
The Dublin woman, who is graduating with her BSc in Actuarial Mathematics explained, "I originally chose the Common entry into Actuarial and Financial Mathematics course prior to streaming into the BSc in Actuarial Mathematics in my 3rd year." She had a "keen interest in mathematics and working in the financial/insurance sector however I wasn't sure if the actuarial degree would be a good fit for me."
"I liked that the common entry course gave me a little extra wiggle room to decide what I wanted to do while also providing me with the opportunity to interact with people working in industry and give me a good idea of the kind of work and study material involved with training as an actuary. Ultimately this is what helped me decide to move forward with the BSc in Actuarial Maths."
She had options around which university to pursue her interest but said, "DCU was the only one providing a common entry course. Going to the open day and getting an idea of the facilities and atmosphere around the DCU campus, it became my number one choice!"
Another factor for Aisling were DCUs' links to industry and,  she explained that, "the INTRA programme in 3rd year played a big part in my decision to study here."
From the words 'INtegrated TRAining', INTRA is DCU's internship programme and it is an accredited and highly valued part of student learning and a compulsory part of many degree programmes. 
It provides real world experience, helps students to develop transferable skills and, ultimately, enhance their employability.
"I completed a nine-month placement with AIG insurance. I gained a lot from this experience learning more about the day-to-day work of an actuary and general office culture and developing skills in different programming languages and online office tools. Overall, it was a fantastic experience and one I would recommend to any prospective students who have it as an option!"
Now working as a trainee actuary with PriceWaterhouseCoopers she believes the skills and general industry knowledge gained on her INTRA, "were vital in helping me get this position.
COVID-19 resulted in "almost overnight college moving fully online with lectures being delivered over Zoom and exams and assignments becoming open book."
"While this change was quite sudden for everyone it was (almost) seamless with preparations to move online beginning a few weeks before the lockdown was announced. Lecturers and admin were very helpful with this transition, adjusting course material to reflect the new learning environment and exam structure and being available to help whenever any issues arose."
There are a number of student support services and Aisling availed of the disability support services "throughout my time in DCU. I found them incredibly helpful around exam time providing access to special study supports and separate rooms for the exams themselves. This was something I never had in secondary school, and it really did make a world of difference when it came to completing my exams in DCU."
She feels "very positive" about her future with her degree from DCU. "I've gained so much through my academic studies and INTRA experience that I think will benefit me massively going forward. Outside of academics I've had some amazing experiences during my time at DCU and met some incredible people who I'd hope to stay in touch with for life!"
She says her experience of DCU, "has been brilliant," and anyone considering a career in actuarial maths, "I would encourage them to consider pursuing their third level education in DCU. I've friends who've done all types of courses in DCU, from arts to business studies to science degrees and every single one agrees that their time in DCU is something they'll always look back on fondly.
DCU Prospectus - Go back to Actuarial Mathematics