Bobby Cudden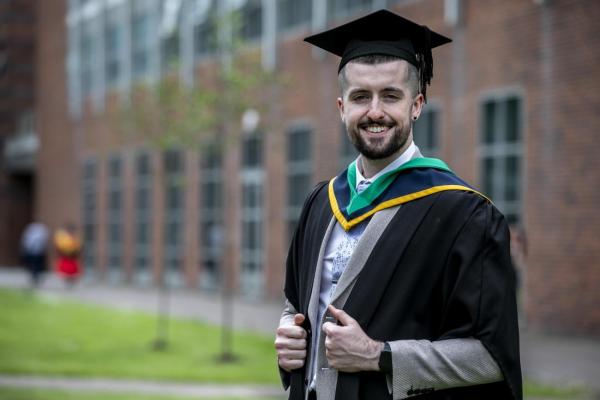 Bobby Cudden was determined to get to DCU so when his Leaving Certificate results were not what he had wanted, he did a PLC to ensure he could study science at his university of choice.
He was also a successful basketball player having represented Ireland at under 17 level and the location of the DCU campus in Glasnevin was close to his team Tolka Rovers.
Bobby, from County Louth, said, "I was one of the very lucky ones because I  knew I wanted to do science from the time I was about 13 or 14 years old."
He did chemistry and biology in secondary school and says maths is a "huge part of chemistry. I ended up failing maths and nearly failing in chemistry."
He decided to do a Post Leaving Certificate course and chose Pre-University Science at Coláiste Dhúlaigh College of Further Education. It is an Access course and was developed with DCU to meet the needs of students who wish to study science to degree level in university.
"My main goal was to go to DCU and that is why I went ahead and did the PLC.  There was also a stigma around PLCs but we researched it and realised it was the best option. I knew for a fact I wanted to go to DCU and I was looking at a route ahead of me that would get me there even if it took me an extra year."
Bobby had visited DCU on a school tour in 5th year and said "I loved the campus. I thought it was so cool, I really wanted to go there. Anytime I thought of college, it was the first one to come to mind."
Basketball was also an important factor in selecting it. He said, "DCU was known for its sports as well as the academic side of things. That was a huge draw for me, having a nice balance between sports and academics."
Having completed the four year degree course, he said the first year provided a grounding and knowledge about "all the sciences and maths."
"You could go into first year thinking you want to do genetics and cell biology and by the time it comes to 2nd year you could want to do astrophysics."
By Christmas in first year he had his mind set on chemistry and opted for Chemical and Pharmaceutical Science.
In the summer break between 3rd and 4th year he did his INTRA at  Servier Industries in Co Wicklow. 
From the words 'INtegrated TRAining', INTRA is DCU's internship programme.  It is an accredited and highly valued part of student learning and is a compulsory part of many degree programmes. 
It provides real world experience, helps students to develop transferable skills and, ultimately, enhance their employability.
Bobby spent 6 months working as a quality control analyst and said "it gave me an idea of what I wanted to do."
He said INTRA "is another thing you have to commend DCU for. It seems to be a big selling point for DCU that it provides the internship."
He believes that to have a CV with a 6 month internship on it will make graduates more attractive to employers.
For his final year project titled  'A New Generation of Water-Soluble near Infra-Red Absorbing Fluorinated Phthalocyanines for Application in Photodynamic Therapy and Theranostics,' he said, "we researched the use of injectable substances called photosensitisers and their interaction with particular wavelengths of light (in the form of lasers) to produce a therapeutic anti-cancer or antimicrobial effect in the body using molecular oxygen, a form of oxygen that is highly toxic to harmful cells."
Reflecting on his time at DCU he said "the professors, the teachers, the lecturers and all the people I worked with have been incredible and genuinely so helpful all the time. I feel the staff are second to none."
He also said the standard of the teaching is another advantage.  "You learn more and you learn more in depth at DCU. It really prepares you for what you are getting into in the industry."
As Leaving Certificate students, and other applicants for third level, consider going to DCU, Bobby's advice is to "genuinely just look for what you will get out of college and what will make you want to go, what will keep you there and make your time enjoyable. See if the college you are looking at has it and the chances are whatever you look for, DCU is going to have it."
Reflecting on his route to DCU, Bobby said that he says to his basketball teams and the Leaving Cert students that he coaches, "don't turn your nose up at PLCs. The PLC is a great option and don't be afraid of it."