Cillín Greene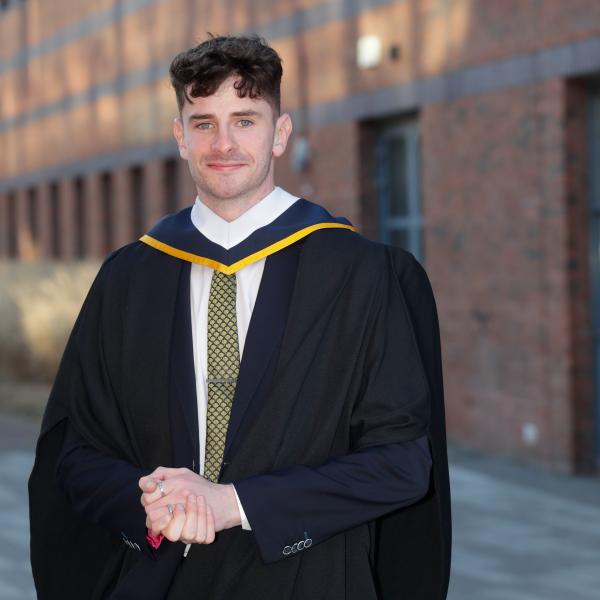 Having explored many other courses, I chose this BCL degree in DCU because I felt it was the most suitable for my career and personal growth. In particular, I valued the opportunity to complete the INTRA programme as part of the third year of the degree. This is a unique opportunity which DCU offers and it allowed me to graduate with a year of in-firm experience. Moreover, I was aware of the outstanding quality of lecturers at DCU which are very involved in student life. There is a real sense of support and interest from the lecturers towards the students and I feel this is unique to DCU.
What are the highlights of your undergraduate experience at DCU?
The highlight of my undergraduate degree was definitely having the opportunity to live in the student-athlete scholarship house for the duration of my studies. As it was my first time moving away from home, it was a relief to enter an environment filled with people of similar interests and lifestyle as me. I felt this helped me develop into the person I am today and learn from those around me.
What are your career plans or hopes? 
I am currently finishing a Masters of Law and after I complete it, I will begin studying for my FE-1 exams and starting my traineeship with a Dublin firm (after some time to enjoy myself and travel too!) Again, I was hugely grateful for the opportunity to have completed the INTRA program at DCU as it made my choice of work after graduation more straightforward as I had a stronger sense of clarity about the field of work I was entering.
Have you any advice for incoming students? 
I would definitely recommend getting involved in as much as possible! It can be daunting beginning at a new University and making new friends but it is also an opportunity to meet new people who will potentially be your friends for life. There are so many fantastic clubs and societies in DCU and there really is something for everyone. Often, I found the ones I had zero experience with or interest in before college were the ones I had the most fun with! It is great to branch out and meet people who you otherwise might not have met.