Emily O'Rourke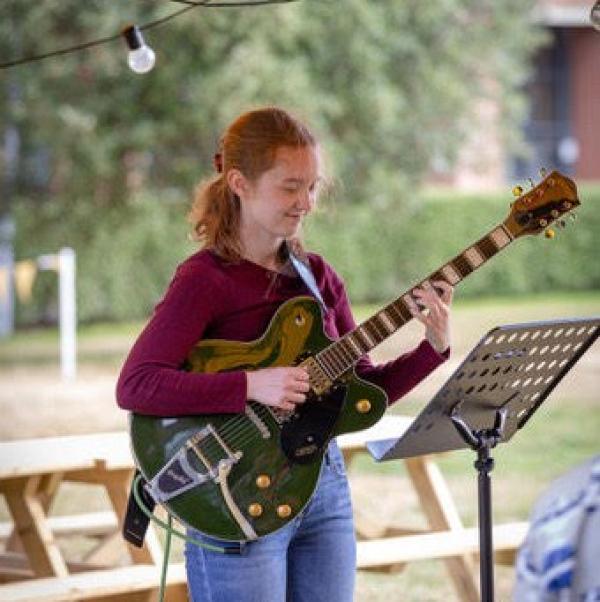 I chose this particular degree as I wanted my college education to expand my knowledge of music theory and help me develop my skills as a guitarist. This course trained me to a high standard in both of these fields.
What are the highlights of your undergraduate experience at DCU?
There are a lot of highlights but in my final year I helped establish DCU's Jazz Society and was the first chairperson. Organising and taking part in jam sessions, social events and masterclasses in jazz really helped develop the skills I was learning in the classroom as well as making friends with incredible people who shared my love of music. Another fond memory is from the composition module in fourth year. Hearing my classmates' beautiful music every week and seeing how far we had developed musically since first year is something I will never forget.
What are your career plans or hopes? 
I was very lucky during my final year I started performing and gigging sporadically on the jazz scene in Dublin. Since finishing my studies I have had at least one gig every week and some weeks I could have four or five. I am teaching guitar in a music school and still writing and composing music. My plan is to continue to be able to fill my life with music, this course has prepared me for that. There is no one way to be a musician. You have to be patient and work out what it will be for you.
Have you any advice for incoming students? 
Starting this course can be a bit of a shock, it is not like any other learning environment you will have been in before. Be kind and be patient with yourself. I really would encourage anyone on the course to try to see their progress across a number of months, not day-to-day or even week-to-week. Where you really see the difference in your playing and the benefit of constant practice is when you look from September to December and then January to April. Be patient! And join the Jazz Society! Make friends with people in all the years of the course. They will bring you so much comfort and are always a lot of fun.
DCU Prospectus - Go back to Jazz and Contemporary Music Performance