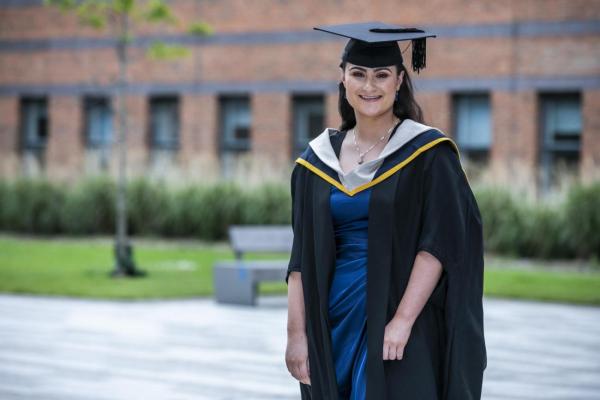 Fiona Seery
Fiona Seery decided to do her Master's in Accounting in DCU straight after completing her primary degree with honours because, "I had really liked going to college in DCU."
 Her Masters was sponsored by her employers KPMG; she did her DCU internship with them in the summer between second and third year and she works there as an Audit assistant.
 That internship was part of the three year undergraduate degree and she chose that after looking at all of the options at third level that reflected her interest in accounting.
"The DCU course had more of a focus on accounting with some business in it rather than a course that was business with a bit of accounting in it. We did cover aspects of business such as strategy but accounting was what I wanted to do, it had been my favourite subject in secondary school, and DCU had its focus on that. That's really why I went with DCU for my degree over the others."
In her BA in Accounting and Finance students had the opportunity to list to visiting guests who gave them, "lots of ideas of the different jobs in diverse areas that your degree in accounting opened up for you. When I started my course I thought I might go on to teach accountancy but when the large companies, the Big Four as they are called, came in to talk to us, I began to think of a different career path."
"We had different people from different industries talk to us throughout my time there and they gave us a flavour of where we could move to. Some of them were former students of DCU."
At the end of her third and final year, she had a job offer from KPMG and had to choose between starting work straight away or continuing her third level journey.
"I had the option of doing my Master's, which would be sponsored by my employer, or I could have gone straight into the company."
"I'd initially thought I would go straight in (to work) but on reflection, I thought I'd like to do the Master's, I had liked college and was happy to stay in DCU for another year. After that I started working with KPMG."
She did the Master's in Accounting on a full time basis starting in September 2019 and worked on her dissertation 'Data Analytics and Audit: Research to date and future directions,' throughout the year.
She took up her position with KPMG in 2020.
She said that the career opportunities that in terms of the career opportunities coming from her time in DCU "were brilliant, nearly everyone went into a job straight away. The Master's had a module where past graduates were brought in on a regular basis to just talk to us about their experience. So we could see what we could do, it was really helpful"
"In my work I have met many people who are DCU alumni and it seems to me that having a finance or accounting degree from DCU is a big draw. They really prepare you for the next step in your career.