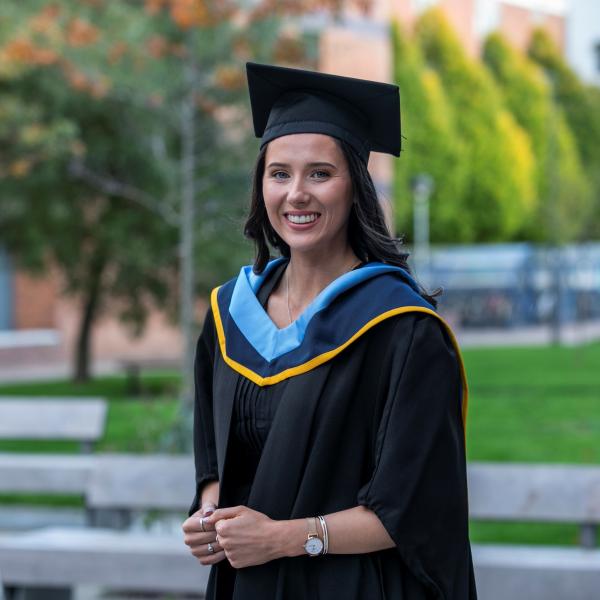 Kim O'Hare
Kim O'Hare competed for DCU in hockey and athletics and says she was drawn specifically to DCU for her third level education because of the reputation of its' athletics department.
As she graduates with a BEd in Early Childhood Education, Kim said, "DCU has clubs and societies for everyone. It is an inclusive, diverse and inviting college which helps with the nerves of third level education."
She began her four year course in September 2018 which meant that she had to transition to 18 months of learning, and work placement, online.
Kim, who secured a developmental sports scholarship for athletics to DCU, explained she chose the BEd in Early Childhood Education because, "I have always been interested in working with children. I decided on this specific course as the modules really appealed to me - they were very practical, diverse and allowed for a lot of options moving forward in my career. It allows for careers in speech and language development, child development and lots more."
Choosing to study at DCU was something she wanted to do, "from a very young age. The athletic department drew me to the college because it is one of the best and most successful university programmes in the country."
"I was lucky enough to get a developmental scholarship from first year which helped me greatly in my athletic success over my time in DCU. Their facilities, such as the two gyms, an athletic track, the coaching team and the aid of the Athletic Therapy and Training department are all key factors that cemented my decision to go to DCU."
18 months of her four year course were delivered online due to COVID-19. Kim said the DCU did an "amazing" delivery of online learning.
Lectures were delivered using Zoom which meant students were still able to see each other and the lecturers. "It allowed me to still feel connected even though we weren't able to physically spend time in each other's company."
Her course requires placement and Kim says has worked, "in an array of services from full-time creche to Montessori to a primary school and there was a full semester of remote online placement."
"The value of placement was that it allowed me to transition what I had learnt in college into real life situations. It helped me to grow as an educator, find my own professional identity and to develop my skills in a practical way."
She feels excited for the future and said, "DCU has a wide variety of connections which can allow you to go in any direction with your career. My time at DCU has given me the opportunity to experience work, has shaped me as a human and it has given me the skills required to go out into the working world."
"I had the best time during my four years in DCU. I competed for the college in hockey and athletics and was also on the DCU Athletics club committee which allowed me to make meaningful and long-lasting friendships."
"In DCU there is a course for everyone. It is such a welcoming community with a beautiful campus location. The facilities are superb with new improvements constantly happening for example DCU has just taken over Morton Stadium which is the national stadium for athletics in Ireland. This is an exciting time for DCU and is brilliant news for anyone interested in athletics. I couldn't recommend DCU highly enough and I thoroughly enjoyed my time here."
DCU Prospectus - Go back to Early Childhood Education