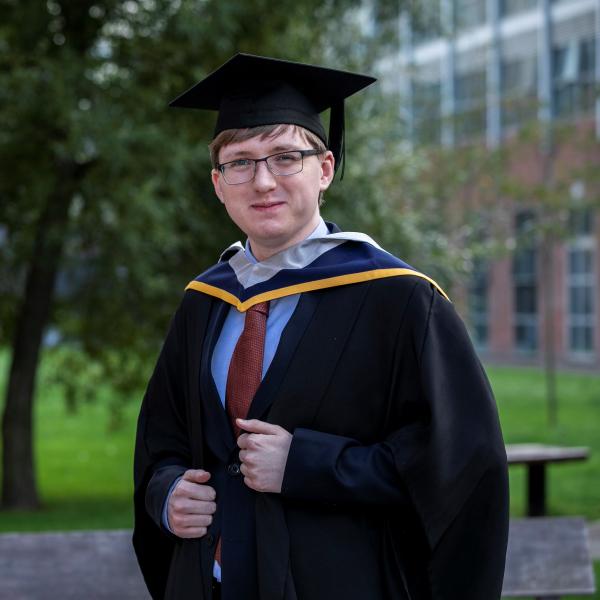 Luke Derwin
Luke Derwin's interest in coding started as a child and is linked to DCU. As he prepared to graduate with a BSc in Computer Applications, Luke explained, "I attended a course at DCU's Centre for Talented Youth Ireland back when I was in primary school."
"We learnt how to code using a very simple language called Scratch. I was into video games so when I went home I made a few simple games using Scratch. I would play around with it on my own and I figured out a few tricks I could do with it and that got me interested in coding."
That interest continued through secondary school and when it came to selecting the best college course, Luke said, "the final factor in my decision was I wanted a job that could take me places, that could take me into different industries, into different countries and that would open a tonne of different doors for me."
"I realised coding was not just a key to one industry, it was like a master key. We did look around at various universities and concluded that DCU was the best choice. It was at the forefront of developments in coding and the fact that I had experience with DCU, with CTYI and that I lived close by meant that it ticked every box."
The four year course was impacted by COVID-19 and the switch to online learning and while Luke feels the transition went smoothly, he said, "the loss of social connections did sting. It gave me a feeling of distance between people, which put me off."
During third year Luke did his INTRA in at the Adapt Centre in DCU.
From the words 'INtegrated TRAining', INTRA is DCU's internship programme.  It is an accredited and highly valued part of student learning and is a compulsory part of many degree programmes. 
It provides real world experience, helps students to develop transferable skills and, ultimately, enhance their employability.
Again, due to COVID-19, it was completed from home but he still feels there are significant benefits to having it as part of his four year course.
"The most important thing I got from it is that employment will not be a massive or enormous change to what I am used to."
Luke, who is currently doing a Master's in Data Analytics in DCU, said that he availed of the student support services now and then and also found that beneficial.
He explained, "as someone with ADHD and on the Autism spectrum, my journey through education is a story of slowly becoming independent but also getting the help I might have needed along the way."
His independence grew as he progressed in education and, "now I am completely independent. I came to realise about my condition and people in general, that while the world has to give you accommodation, you still have to meet them half way.  It is a two way thing."
Luke also enjoyed meeting people and making friends through DCU's clubs and societies. "I interacted with the Dungeons and Dragons Society and I am a proud nerd!  Through that club I met some of my closest friends."
 "My experience was that when you are in DCU, it is very easy to find people who are like you, you just need to join the right club or the right course."
"I am looking forward to joining the world of employment when I finish my Master's and maybe one day academia will call to me again! For now the future looks bright!"
DCU Prospectus - Go to the BSc in Computer Applications