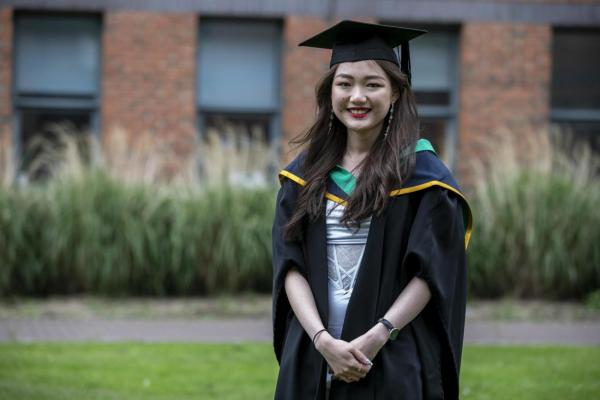 Michelle Aw
Having an internship built into her degree was part of what attracted Michelle (Jia Ern) Aw to DCU; she has since graduated with a BSc in Actuarial Mathematics.
Her love of maths came in secondary school where it influenced her choice of course for third level.
Michelle, who is from Malaysia, said, "I wanted to study abroad and to do Actuarial Mathematics."
The process for studying in Ireland was more convenient than other English speaking countries and she chose DCU.
One of the reasons DCU appealed to Michelle was because of the INTRA placement that takes place during the third year of the four year course.
From the words 'INtegrated TRAining', INTRA is DCU's internship programme. It is an accredited and highly valued part of student learning and is a compulsory part of many degree programmes.  
It provides real world experience, helps students to develop transferable skills and, ultimately, enhance their employability.
Michelle said, "We got to go into the real world and got to know people in our sectors, that was really important for our INTRA."
"We were still doing things relevant to the course but not actually studying and sitting exams.  I think it was really helpful."
In first and second year she said the course covered a lot of mathematical concepts and built maths knowledge and with INTRA they were able to apply that knowledge.
"It helped us to understand the concepts being used in the real world." 
She said the work completed in the first two years of the degree helped students to better understand "the maths that is used behind everyday calculations, everyday usage within the company."
Michelle did her INTRA in AIG Ireland. She said that after her internship her contract was extended and so was able to work on a part-time basis during her final year and as a result, "I came out of college with 18 months of experience."
Michelle was involved in a number of societies and organisations during her time in DCU. One was the Financial and Actuarial Mathematics Society (FAMS) which she was secretary of for two years.
One of the talks arranged for FAMS members was from the founding members of Reitigh Software Ltd, who are all DCU Alumni.
Through that she heard the company was starting a graduate programme and hiring graduates. 
"I applied and got the job," said Michelle who is a junior consultant with the company adding, "I don't think I would have known about the company but for my involvement in the society."
Before the pandemic she was also involved with the Malaysian Student Association of Ireland where she was in charge of corporate communications for two years.
Two years after she left DCU she is still in touch with her former classmates. "We are graduates of the same course and in the same field and are still a group of friends. We are basically friends for life and that is really great as well."