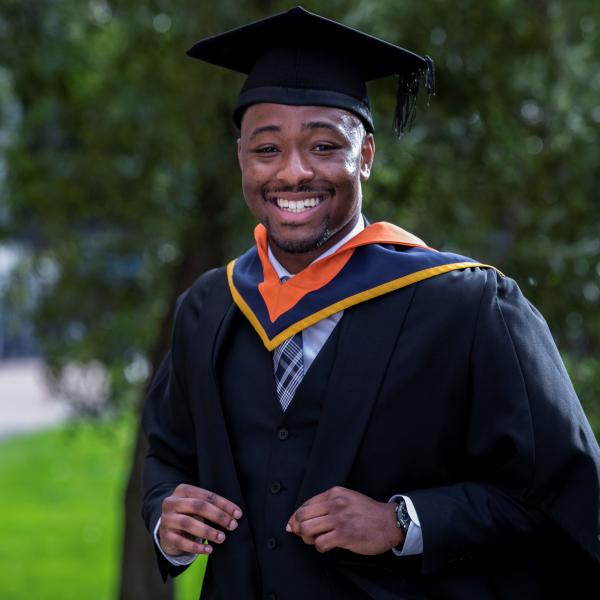 Sele Clements
"There is nothing that can compare to the value I received from my four years in DCU and I feel a lot of people can say the same thing. It's priceless!"
Sele Clements, who graduated with a Bachelor of Engineering in Mechatronic Engineering, chose the course because of his interest in robots as well as the mechanical and electronic side of engineering.
He explained, "Mechatronics was the ideal course to get the best of both sides; it combined two elements of engineering which I was interested in."
Choosing DCU was easy because "of the reputation it had in regard to engineering as being more practical than other colleges, which is something I appreciate. When I began, in 2018, it was also one of just a few that offered this degree."
He doesn't deny that another reason he wanted DCU was, "it is well known for its extracurricular societies. I had heard of the great events that are held on campus and outside, such as trips abroad. All these factors contributed to my desire to study in DCU."
The pandemic and subsequent public health restrictions resulted in some of the four year course moving online and then followed by hybrid learning.
"It was hard at first but with time I got used to it. The pandemic seeped into the years where we were to do more hands-on practical work in engineering. I feel the lecturers and staff at DCU provided satisfactory replacements for and, for example, what used to be a module dedicated to working on a team to build a mobile car, turned into an individual programming set of challenges with a virtual car. This improved my programming and individual project management skills."
In third year Sele did his INTRA placement in Jacobs Engineering.
He said, "I learned a lot from my internship including key soft skills such as how to work with a multi-disciplined engineering team, technical communication, dealing with clients and expectations etc. I also learned how to design Piping and Instrumentation Drawings (P&IDs) and PLC programming."
He is now working for Jacobs Engineering and said, "I got the job as a result of my DCU qualification and my INTRA placement."
DCU offers a number of student support services and Sele said he availed with support for maths.
"During first year I struggled with certain maths topics for certain modules. I emailed the Maths Learning centre and someone met me and helped me out with these issues I was having. They also recommended some great reading sources to have more understanding on the maths that I was having issues with. This really helped me progress in my course."
Sele, who is from Dublin, feels, "well equipped with my degree from DCU for wherever life will take me. I feel that my degree is a ticket that can get me access to anywhere I want."
For sixth year students who are considering options for third level, he said, "my DCU experience was great. I couldn't have imagined the life I lived as a Mechatronics student in DCU. I made life-long friends and travelled to different countries as part of the Space and Robotics Society and the Engineering Society."
"I felt DCU was dedicated to the students and cared about the general well-being of each student. DCU has a vibe like nowhere else and it's so easy to integrate into and flourish. My final words on DCU, and they are a cliché but you will probably have the best years of your life in college here."
DCU Prospectus - Go to Mechatronic Engineering