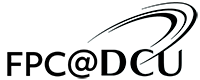 The Fraunhofer Project Centre for Embedded Bioanalytical Systems "FPC@DCU" - an initiative jointly supported by Science Foundation Ireland and Fraunhofer-Gesellschaft - is a one-stop shop for the development of microfluidics-based solutions for decentralised bioanalytical testing.
In FPC@DCU, Dublin City University (DCU) and the German Fraunhofer Institute for Production Technology (FhG-IPT) partner to provide time- and cost-efficient research and technology development of microfluidic systems. With its consequent "Quality-by-Design" approach, platform strategy and capability of seamless scale-up from prototyping to production, FPC@DCU is able to rapidly advance to high technology readiness levels (TRLs), thereby substantially de-risking commercially driven product development. Typical applications of these next-generation "Lab-on-a-Chip" platforms are sample-to-answer integration for biomedical point-of-care and global diagnostics, liquid handling automation for the life sciences, process analytical techniques and cell line development for biopharma as well as monitoring the environment, infrastructure, industrial processes and agrifood.
FPC@DCU focus on supporting commercially-relevant research and development through strategic research programmes, generation of intellectual property, and close-to-market process and product development. To tackle the highly multidisciplinary challenges, FPC@DCU will very actively seek technological collaboration with partners from industry, research institutes, academia and end-user networks.