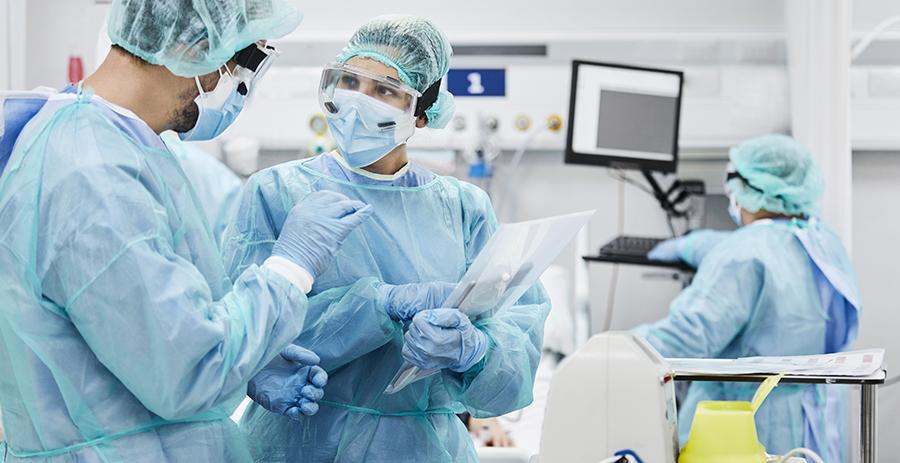 DCU launches survey to appraise PPE produced for front-line workers during pandemic
A new survey from DCU is being carried out to appraise the quality and design of Personal Protective Equipment (PPE) produced for front-line workers and identify areas for improvement. Researchers involved are calling on front-line workers who have used or purchased PPE to take part and share their experiences to date.
In Ireland, many companies and resourceful innovators have assisted in making up the shortage  of PPE by diversifying their product-line or changing course completely to produce PPE shields, gowns and other materials. 
Led by Dr. Róisín Lyons, Assistant Professor of Entrepreneurship in DCU Business School, and Prof. Dermot Brabazon in the I-Form Research Centre at DCU, this study will also examine the role that open-source innovation has played in the rapid ideation and manufacturing process, and look at how online communities came together to crowd-source solutions in times of crisis.
It is hoped the information gathered from this survey will allow bodies to improve national and international strategies in their efforts to fight the ongoing pandemic, and future crises that may require rapid ideation and manufacturing.
Speaking about the research project, Dr. Roisin Lyons, said:
"We were struck by how many companies, industrious individuals, hobbyists and school students came together over the last few months to produce shields, gowns and other materials to supply and protect frontline staff. We want to hear from all those who were involved in the open-source ideation, production and use of these materials.

Within DCU, the I-Form Advanced Manufacturing Research Centre and DCU's School of Mechanical & Manufacturing Engineering pooled resources, opened laboratories, and began to produce emergency supplies, working closely with a number of hospitals, voluntary groups and online innovation communities to attain rapid feedback and novel ideas to improve design and manufacture.

We would like to hear from anyone who has received and used Personal Protective Equipment during the Covid-19 pandemic or indeed anyone who has participated in an Open Source Innovation community. This will help us get a clearer picture about the products that were used and recommend improvements for future national and international strategies to fight the ongoing pandemic or future crises."
The research study is funded as part of the DCU Covid-19 Research and Innovation Hub, and by a SFI Covid-19 research award through the SFI I-Form, Advanced Manufacturing Research Centre at DCU. To take part in the survey, please visit DCU Business School survey